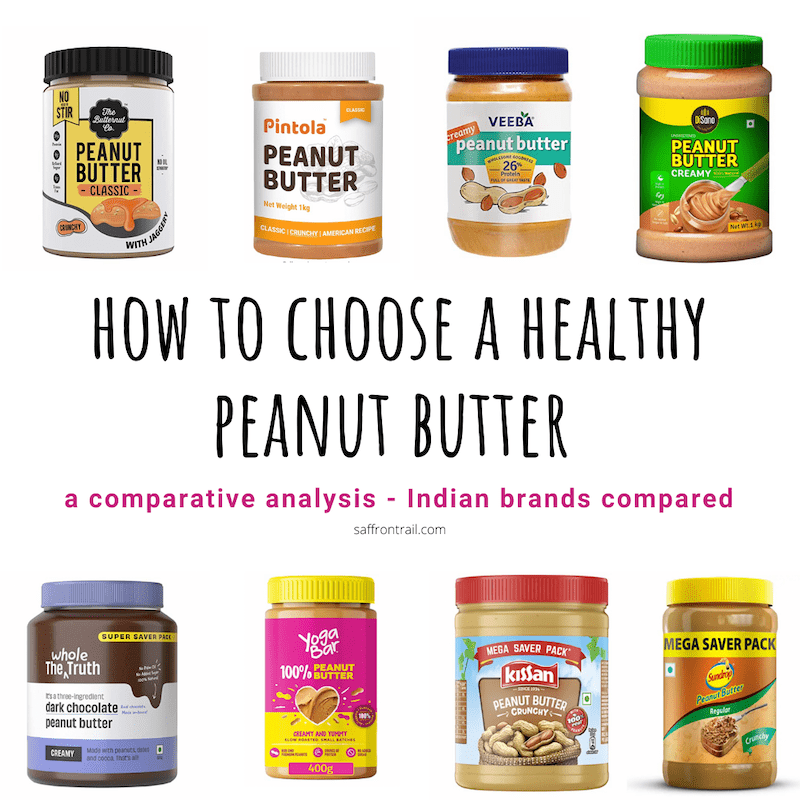 How to choose a healthy peanut butter

Topics
Peanut butter's entry into India
The Good and the Bad in peanut butter
A comparison of 8 peanut butter brands popular in India
The Analysis
Conclusion
 Peanut butter was a late entrant into Indian kitchens. The brand Prutina was launched in 1962 by a Kolkatta businessman, inspired by his visit to the USA. He subsequently secured a contract to supply it to the Indian army. It was still not a staple to go with sliced bread until Sundrop launched peanut butter in India in 2009.
This set the stage for the peanut butter market to slowly grow over a decade and then explode. From ordering a jar of peanut butter over the phone from your local Kirana (grocery shop) without even specifying the brand name, we are now staring at 50+ brands on Amazon, each having multiple variants. It is tough to choose the right brand from the endless scroll through options.
Compared to high sugar jams and preserves, peanut butter is hands down the better choice nutritionally. Adding it to smoothies or oatmeal or used as a spread in a sandwich, or even in baking, peanut butter is a quick and easy way to add to daily protein consumption, especially for vegetarians and vegans.
Pin
I have been meaning to do a comparative study of some of the popular peanut butter brands available in India. Doing the analysis made me realize that I was sticking to my favourite brand over the last 2-3 years for the taste factor and not considering some other brands which have a much superior nutritional profile.
Before jumping into analysing the brands, let us understand what actually goes into peanut butter.
The good and the bad in peanut butter 
The good
Peanuts, technically legumes, are an everyday superfood. It is a relatively cheap and easy source of protein, health-boosting MUFAs (monounsaturated fatty acids) and fibre. Peanuts are rich in antioxidant resveratrol from the pink colour of their skins like that in red wine.
The bad: The extras
Commercially available peanut butter usually has unnecessary additives.
Added sugar – Do note that brands using honey, molasses, jaggery may use 'no added sugar' on their label, but it is common information that all these ingredients are forms of sugar and have a similar impact on blood glucose and insulin secretion. Do check the ingredients list to get a clear picture of added sugar.
Added salt – 6mg seems to be the minimum level of sodium in peanut butter brands even without the added salt. Some brands have very high sodium content from the addition of iodized salt. If you are advised a low sodium diet due to high blood pressure or any other reasons, then do watch out for sodium levels on the nutritional label.
Emulsifiers and stabilizers – Emulsifiers such as palm oil, hydrogenated palm oil, soybean oil and rapeseed oil are added to peanut butter to prevent oils from separating in the jar. This oil separation is a natural process and can be easily remedied by stirring the jar before use or keeping the jar upside down.
The stabilizer commonly used in peanut butter is 471. Derived from mono and diglycerides of fatty acids, sourced from vegetable oils (coconut, soy, canola) or animal fats (lauric acid, oleic acid). This makes the peanut butter more spreadable and less sticky.
Other additives, not necessarily bad
Flavourings like chocolate, extra protein from whey concentrate or pea protein
Vitamins and minerals
A comparison of 8 peanut butter brands in India
The following are the details of 8 peanut butter brands in India, most of them very popular on Amazon with a high customer rating.
All information is per serving of peanut butter (30-32 grams)
Pin
Pin
The analysis
Pin
Among these 8 brands, I have tried DiSano, The Butternut Co. Jaggery, Veeba and Sundrop.
If I remember right, all of these brands fared well in the spreadability department without tearing the slice of untoasted bread, which is the most annoying thing about making a peanut butter sandwich.
Among all of the brands I have tried, I have liked the taste of The Butternut Co. (Classic with jaggery) the best.
With that out of the way, let's get to the interesting nutritional comparison.
CALORIES
Most peanut butter brands have a similar calorific value. If they have other ingredients like cocoa, sugar etc., the quantity of peanuts is reduced, the overall calories remain the same.
ANALYSING THE INGREDIENTS LIST AND THE NUTRITIONAL LABEL
The first sensible step is always to check the ingredients list. If it has only peanuts, then it is a clean one-ingredient-only label with no other additives. Brands with a laundry list of ingredients are best avoided, especially ingredients like hydrogenated vegetable oils like palm or soybean. It means that the product is highly processed and far away from the natural form.
The main ingredient in all peanut butter is roasted peanuts ranging from 100% in single-ingredient brands to 63% in The Whole Truth Dark Chocolate variety among the brands analyzed for this post. More the extra ingredients in peanut butter, lesser the percentage of peanuts. Some brands mention the percentage of peanuts upfront in the ingredient list, making it easy to understand the composition of the peanut butter.
Some of the ONE INGREDIENT ONLY peanut butter brands in India using 100% peanuts are as follows:
 Brands from the comparative study
DiSano peanut butter, All Natural (unsweetened)
Pintola all natural peanut butter (unsweetened)
Yogabar 100% Pure peanut butter
Other brands
Alpino Natural Peanut Butter (unsweetened)
AS-IT-IS Nutrition Peanut Butter (Natural and unsweetened)
If your goal is to get maximum protein by making peanut butter a part of your diet, it makes sense to choose unsweetened, unflavoured, 'one ingredient only' peanut butter from the above list offering a maximum of 10g protein per 2 tablespoons. All of these have similar nutritional specs with respect to protein, dietary fibre and sodium.
If you have high blood pressure or any other heart-related conditions or are on a low sodium diet for any other reasons, then choose a peanut butter with 100% peanuts which comes with the lowest sodium level of 6mg per standard serving size of 2 tablespoons / 32 grams. Steer clear of brands that have a high sodium content.
Depending on your requirement such as flavour, extra protein, sweetness – you can look for something with chocolate, whey protein, natural sweeteners like dates etc.
Pin
FLAVOURED PEANUT BUTTER
For kids (and adults) who like chocolate flavoured or sweetened (or both) peanut butter, choose one with the shortest ingredient list. It makes more nutritional sense to pick a brand that has a better sweetener such as dates over picking one with plain sugar.
The Whole Truth Dark Chocolate peanut butter is sweetened naturally with dates, which also offers nutrients in addition to sweetness. It has good quality cocoa (cacao nibs, cocoa butter and cocoa powder) for the dark chocolate component. The flipside is the lower protein content as compared to all the brands analyzed (6.2g/serving compared to the best of 10g/serving).
EXTRA PROTEIN
Pintola's High Protein Peanut Butter / Dark Chocolate has the same protein per serving as their regular peanut butter – 10 g/ 2 tbsp which is somewhat confusing.
Muscle Blaze High protein natural peanut butter with a clean label of 80% peanuts and 20% whey protein concentrate has 11.8g protein per serve, 2 grams more than the all-natural peanut butter.
The Whole Truth – No Added Sugar Protein Peanut Butter similarly has 11.2 g protein per serve – with 88% peanuts and 12% whey.
bGREEN by Muscleblaze Vegan Protein Peanut Butter has 12.5 g protein. The ingredients list comprises peanuts, pea protein, brown rice protein and vitamin B12.
In my opinion, you get an extra 1-3 grams of protein from these brands. You can well get it from other sources in your diet. But if you must choose one of the higher protein peanut butters, here are my observations.
Also read: 10 high protein foods for vegetarians
CONCLUSION: Choosing a healthy peanut butter
If you want good quality peanut butter, choose one with 100% peanuts. It delivers high protein, dietary fibre with the least carbs, sugar and sodium.
When buying flavoured peanut butter, look at the ingredient list at the back of the pack to ensure that it still delivers a decent protein %, at least 7-8 grams per serving. There should be no artificial additives and flavours. Ensure that the list of ingredients is short (3-4 max).
How to choose a healthy peanut butter? A comparative analysis of 8 popular Indian brands of peanut butter
Click to Tweet
—-