Semolina Recipes | Buttermilk Upma with vegetables for breakfast
Pin
The word Upma evokes strong reactions. Comfort food for some and the stuff nightmares are made of, for others. Funny, isn't it? My reaction towards upma can swing between these two extremes depending on how it is made.
I once feigned a stomach ache so I could escape eating a vegetable upma with tons of green beans and random gourds (!!). This was at an elderly lady's house and I did not want to come across as rude by refusing to eat. But she saw through my act and asked me, "you don't like upma, right?". I nodded meekly as I didn't want to tell her, "just not this kind".
So yes. I love a plate of upma for breakfast or even for a dinner for one, eaten hot off the pan.
How to make a soft and fluffy upma
Roasting the rava -When using semolina in Indian recipes, make sure you slow roast it for 8-10 minutes before proceeding with the recipe. If the sooji rava is roasted well, the upma wont turn out sticky, which is one of the reasons people do not like upma. Each grain absorbs water and turn out fluffy. 

Stirring – While adding the roasted rava into the boiling hot water, ensure you stir continuously so that you don't get big lumps. Breakdown any small lumps immediately using a spatula.

Serve hot – The upma tends to clump together if not fluffed up when done. So ensure that you do it and serve immediately while piping hot.
Some people like my husband, like upma to be of a thicker porridge consistency and not fluffy. For this you can increase the water ratio by a bit.
What is the best rava / semolina for upma
Semolina or rava is available in a few different varieties. Chiroti is a very fine grain rava mixed with a portion of all purpose flour or maida. Bombay rava is dehusked wheat ground into a coarse grain, best for making good upma. Wheat rava or bansi rava is the whole wheat grain which is coarsely ground, giving it the brown colour, as against the off white of a semolina or Bombay rava. Different kinds of semolina are used in different recipes in India. The most common semolina recipes being upma varieties which are made for breakfast in various Indian communities.
Here are the steps to make a perfect rava upma:

Choose Bombay rava. Roast it with some ghee or dry roast on a low flame for 8-10 minutes until you see a slight change in colour. You will also get the aroma of roasted rava.

Finely chop vegetables like onion and carrot. Green peas can also be added. Finely chop green chillies and ginger.

In oil or ghee, temper mustard seeds, urad dal, curry leaves, chilies and ginger. Fry the chopped vegetables until half cooked. Add 3 times the quantity of water (for 1 cup rava, 3 cups water), season with sufficient salt and let this come to a boil. The flavours of the aromatics and vegetables make this a kind of stock, while the vegetables get cooked.

Reduce the flame and with continuous stirring add the roasted rava little by little. Cover and cook until all the water is absorbed. Fluff up the upma and if too dry, sprinkle some more water, cover and cook for a few minutes.

Garnish with a spoon of ghee or coconut oil, if desired.
While I make many semolina recipes here is a variation on the regular rava upma.
We make butter and ghee at home every week from the cream that we get in the milk. After making butter, there's usually a tub of buttermilk leftover for which I find some use or the other. Kadhi, moar kuzhambu, masala mor are the usual suspects.
This time I decided to make a buttermilk upma.
Roasted semolina is soaked in salted buttermilk while the vegetables are sauteeing. The hot rava absorbs most of the liquid in the soaking stage itself. It gets further cooked and fluffy when this mixture is added to the pan, covered and cooked. Buttermilk upma has a pleasant tanginess which adds to the flavour of the upma. If you don't have butter milk, use slightly sour yogurt thinned with 3-4 parts water.
Pin
More Breakfast Upma Recipes
Aval Upma (made using poha / beaten rice)
Arisi Upma (made using coarsely ground rice)
More Semolina recipes
For more such vegetarian breakfast recipes, get my book The Everyday Healthy Vegetarian! Get all the info about my book and order it here. 
Like what you see here? Stay connected with me on Instagram, Facebook, BlogLovin' and Pinterest.
Sign up to my newsletter by putting in your email in the box in the home page, to get all latest posts in your email. No spam. Promise.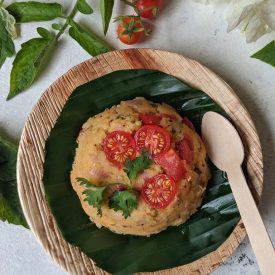 Semolina Recipe for Breakfast | Buttermilk Upma
Ingredients
1

cup

rava

3

cups

slightly sour buttermilk

see notes

1

tbsp

oil

I use coconut oil

3-4

green chillies

finely chopped

1

tsp

grated ginger

2

sprigs curry leaves

1/2

tsp

mustard seeds

1

large onion

finely chopped

1

medium tomato

finely chopped

1/2

cup

mixed vegetables

peas, carrots, mung sprouts etc.

1.5

tsp

salt

1.5

tsp

sambar powder

optional
Instructions
To prepare buttermilk upma, roast rava on medium flame for 8 minutes until aromatic.

Soak this in the bowl of buttermilk and salt.

Meanwhile, heat oil in a large pan. Add mustard, chillies, ginger, curry leaves, and fry for 1 minute.

Add onions, veggies and saute on high flame for 3-4 minutes. Lower flame, cover and cook for 5 minutes. Add sambar powder and soaked rava.

Stir well to combine.

Cover and cook this for 7-8 mins until rava is cooked well and all the moisture is absorbed.

Open the pan and fluff up the upma. Serve hot.
Notes
Instead of buttermilk, whisk ¾ cup yogurt with enough water to get 3 cups of liquid and use that instead.