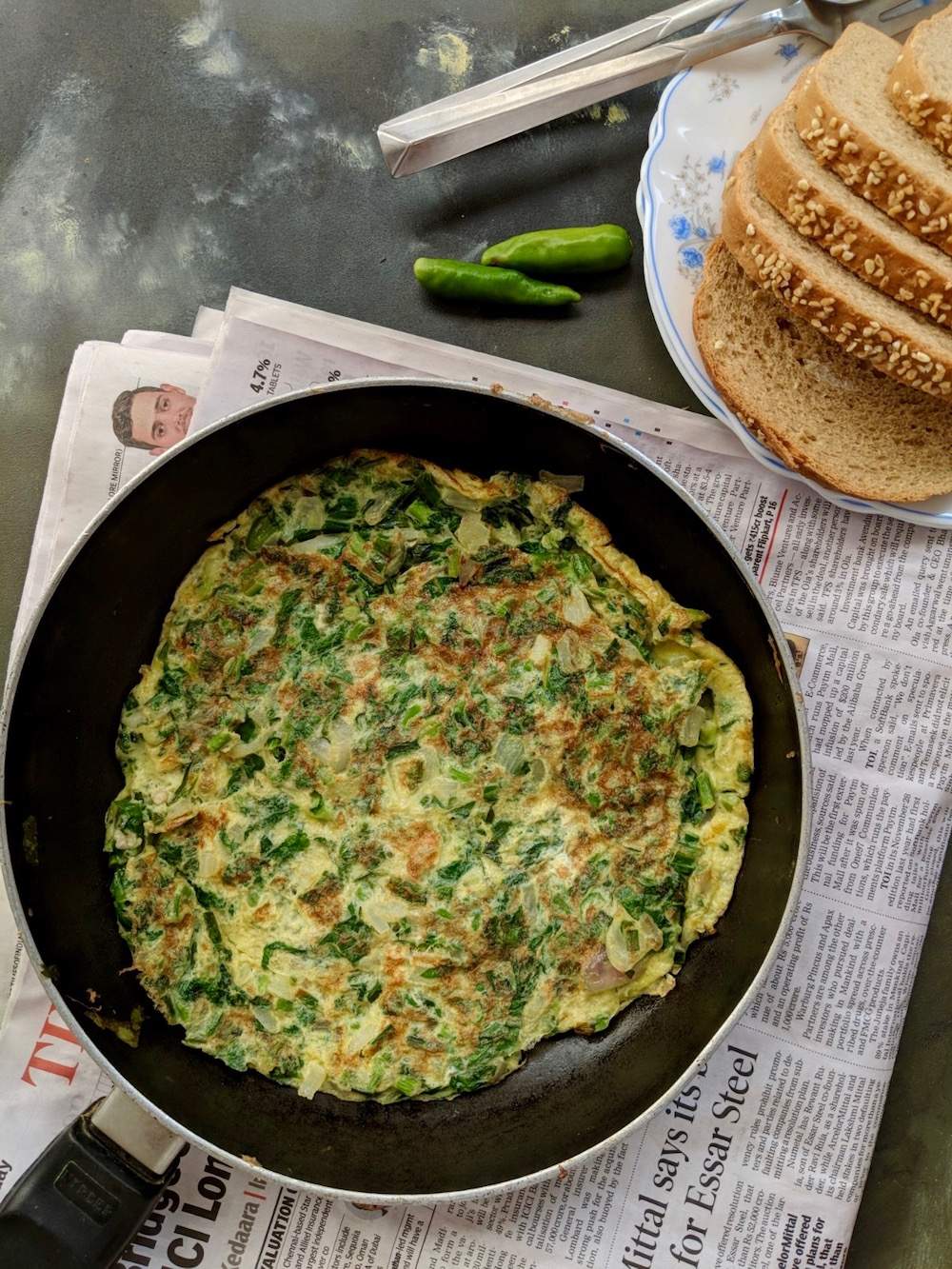 Spinach Omelette has a ton of greens in a regular omelette, keeping you full for longer as well as giving you a hearty serving of nutrient rich green leafy vegetables for breakfast.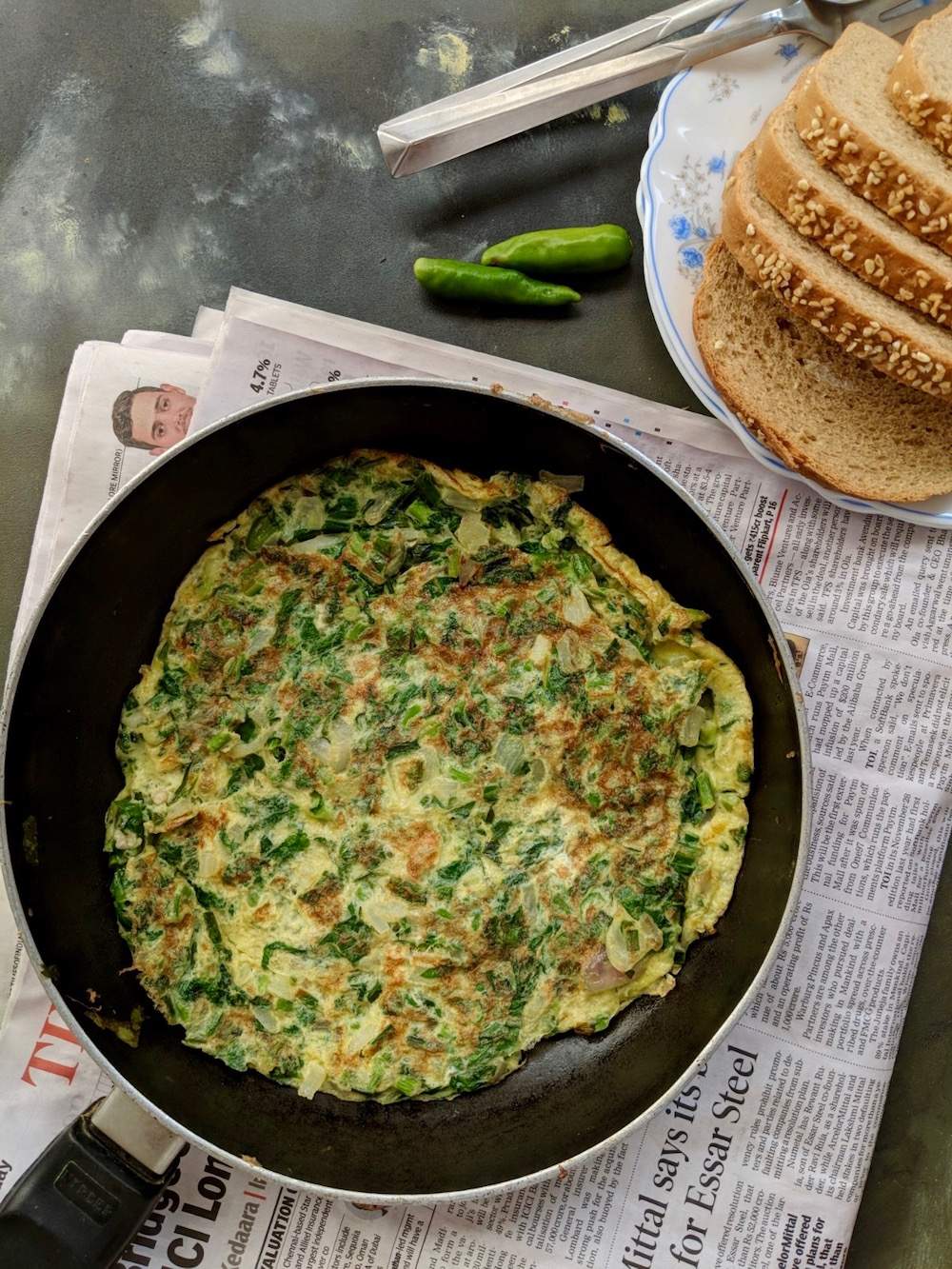 Pin
I can eat omelettes for any meal. Leftover rotis from dinner make the perfect partner along with these omelettes. Add some sliced raw onions and coriander. Top with crunchy bean sprouts, roll it up and you have a filling breakfast with hardly any effort.
Pin
In this recipe for spinach omelette, I have added finely chopped garlic greens (chives) for an extra flavour boost. This was also because I had just harvested some garlic greens from my kitchen garden. I believe in using up all kinds of greens are best used on the same day for maximum freshness and flavour. I chopped the garlic greens finely and sautéed them with the spinach and green chillies and onions. Adding this to the egg mixture ensures that the greens are uniformly distributed throughout the omelette and not just sitting pretty on the top. Sautéing the garlic greens in oil also releases the garlicky aroma better than just stirring them in raw into the egg mixture.
If you happen to have baby spinach on hand, then by all means chop and add it to the eggs directly instead of sautéing as they cook in no time.
Another way to prepare spinach omelette is to make regular omelettes. Toss baby spinach in extra virgin olive oil and some feta cheese. Use this spinach stuffing in the omelette and fold it over.
More easy egg recipes for breakfast
White beans, eggs and greens in a skillet
Egg Kothu Parotta – use up leftover bread or rotis along with eggs in this scramble
A Sunday brunch idea with scrambled eggs
Spinach and bell pepper frittata
Huevos Rancheros – Mexican style breakfast of eggs, salsa, beans on a tortilla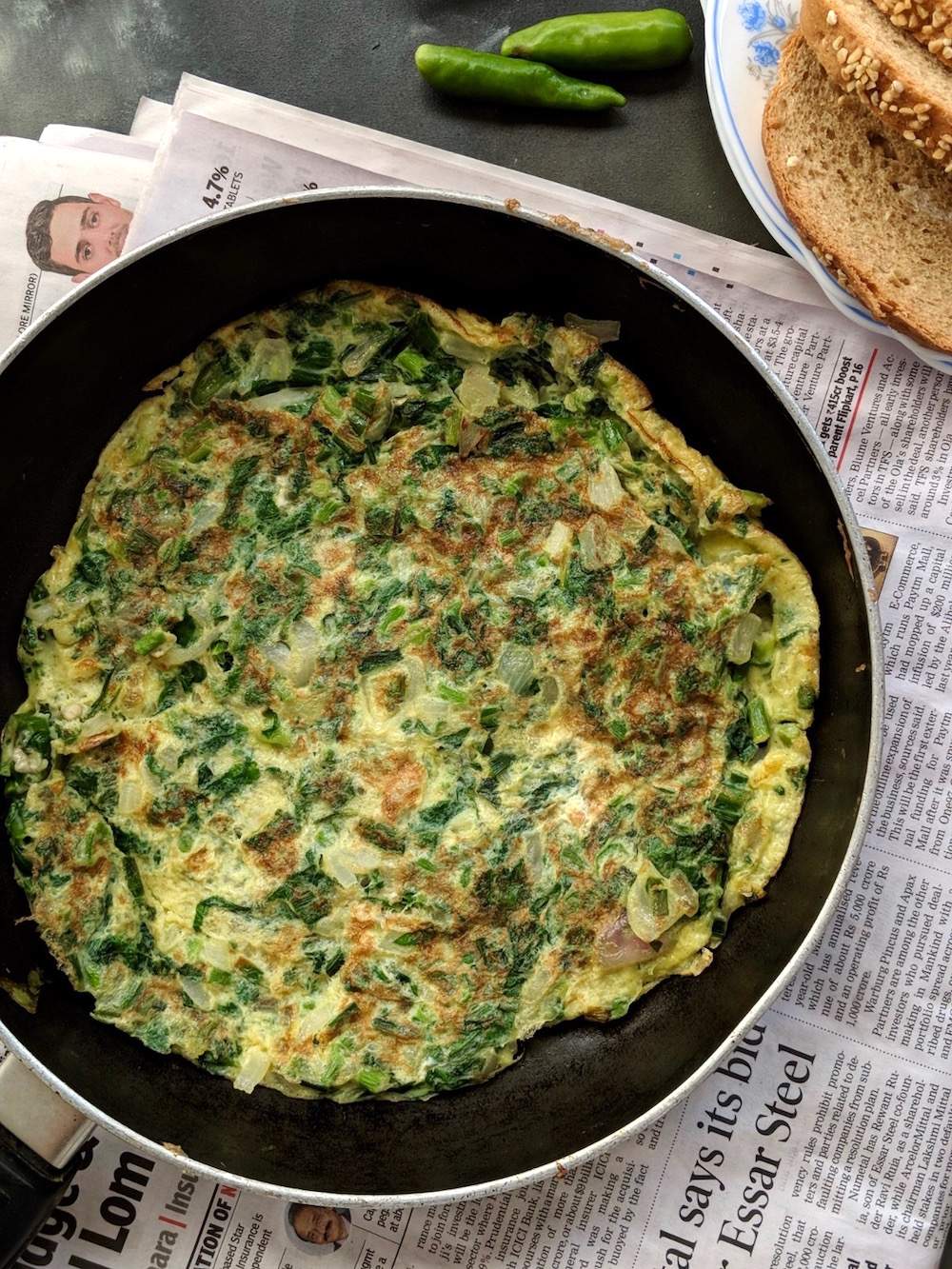 Pin
Spinach Omelette with Green Garlic and Chillies
Ingredients
2

tsp

olive oil

1

cup

spinach

finely chopped

1

small

onion

finely chopped

1/4

cup

finely chopped spring onions

or green garlic

2

green chillies

finely chopped

3

Eggs

2

tbsp

milk

black pepper

freshly ground

1/2

tsp

salt
Instructions
To make spinach omelette, heat the oil in a non stick pan. Fry the finely chopped onions, spinach, garlic greens (or spring onions) and chillies for 3-4 minutes on a high flame.

Meanwhile, crack the eggs in a bowl. Add the milk, black pepper and salt and whisk until you get a smooth mixture.

Combine the sauteed greens mixture into the eggs, whisking it in quickly.

Pour this mixture in the same pan and allow to cook on a medium heat. Once it looks nearly set, carefully turn it over to cook the other side.

Use two spatulas to help turn the spinach omelette over. Or else, turn the omelette over into a dish and then slide it back into the pan to cook the other side.

Serve hot as it is or with toast.
Notes
Other ingredients you can use in this spinach omelette are sun dried tomatoes, finely chopped bell peppers or finely chopped mushrooms. Saute this along with the greens, onions and chillies and proceed with the recipe.
Cut the omelette into wedges and it can also be served cold between slices of bread or along with a salad for a quick lunch.
Originally published on May 07, 2006. Updated with new photos and text.
For more such healthy recipes, get my book The Everyday Healthy Vegetarian! Get all the info about my book and order it here. 
Like what you see here? Stay connected with me on Instagram, Facebook, BlogLovin' and Pinterest.