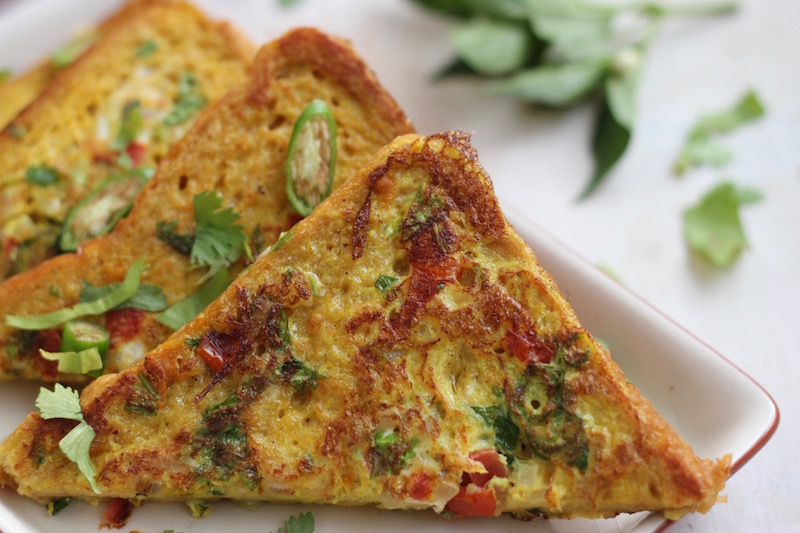 If you haven't had a savoury French toast Indian style (Masala French toast), all spiced up, then it's time to remedy that pronto. Pantry ingredients, 5 minutes, easy enough for a newbie cook and breakfast is ready. 
Pin
This is one of the quickest things you can make if you have bread and eggs on hand. If you think preparing an omelette and toasting bread is not fun enough, then you've come to the right place. Say hello to the Savoury French Toast Indian style. Inspiration for this recipe comes from the canteen in Ogilvy in Mumbai, where I worked many moons ago. People used to keep ordering food to keep their creative juices flowing and this savoury French toast or Masala French toast was a hot favourite. Just writing Masala and French together in a recipe name is like bringing two completely different worlds in one dish, and I do find it quite amusing 😀
Believe it or not, the same recipe can be made vegan, if you substitute the egg with a slurry made of chickpea flour (besan) and water, thick enough to coat the bread. Keep all the other ingredients intact and use a bit of vegetable / peanut oil to cook the toasts instead of ghee.
Pin
You start this recipe for the savoury French toast similar to any other French toast – eggs and milk – and that's where the similarity ends. The savoury French toast egg mixture gets an Indian touch with the addition of green chilies (use any hot peppers you can lay your hands on, and use only as much as you can tolerate), a touch of turmeric for that quintessential golden yellow hue of Indian savoury dishes. Very finely chopped tomatoes, onions and coriander add some crunch, flavour and colour to the toasts. You can replace coriander with any other green herbs, and omit tomatoes if you are not a fan of them on toast.
The recipe here is a quick breakfast for one, but you can very easily make this Savoury French Toast Indian style for a brunch for a crowd. Cut up the bread slices into triangles, arrange in a large baking tin. Prepare a big bowl of the egg mixture, pour uniformly over the bread and bake in the oven at 180°C for 20-25 minutes. You can also sprinkle some grated cheese over the top to make it more brunch-worthy! Garnish with some freshly chopped coriander and you have a colourful platter ready for a crowd.
So, why wait! Bring this delicious Indian version of the French toast into your life and I promise you'll be making it again and again!
The savoury French Toast Indian style goes best with a cup of steaming hot ginger chai. Recipe for How to make Indian Ginger Chai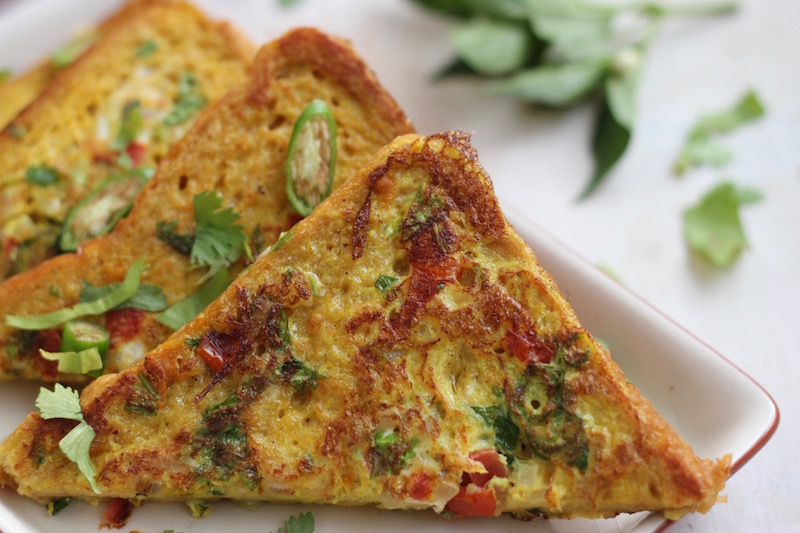 Pin
Like what you see here? Stay connected with me on Instagram, Facebook, BlogLovin' and Pinterest.
Savoury French Toast, Indian style
Savoury French Toast, Indian style is the prefect breakfast for busy people. Pantry ingredients, 5 minutes, easy enough for a newbie cook and breakfast is ready.
Ingredients
2

slices

whole wheat bread

1

egg

2

tbsps

milk

1

tbsp

finely chopped coriander

1

green chilli

finely chopped

1

tbsp

finely chopped onion

1

tbsp

finely chopped tomato

1/4

tsp

turmeric powder

1/4

tsp

salt

.

1/4

tsp

ground black pepper

1

tsp

ghee
Instructions
All all the ingredients except the bread and the ghee in a wide mouthed bowl. Whisk well with a fork.

Heat a non-stick pan and brush lightly with 1/2 tsp ghee.

Dip one slice in the egg mixture, sticking half of the onion-tomato mix on both sides and then place it on the hot pan. Reduce heat to medium. Repeat the procedure with the other slice and place it on the pan.

Once the eggy mixture is cooked, turn over and cook for 1-2 minutes until lightly golden brown and crisp.

Serve hot with tomato ketchup and ginger tea on the side.
Notes
Do check out my other favourite Indian egg recipe - Egg Pepper Fry, simple to a fault and takes hardly any effort!
[Post and photos updated on 7 April, 2017]