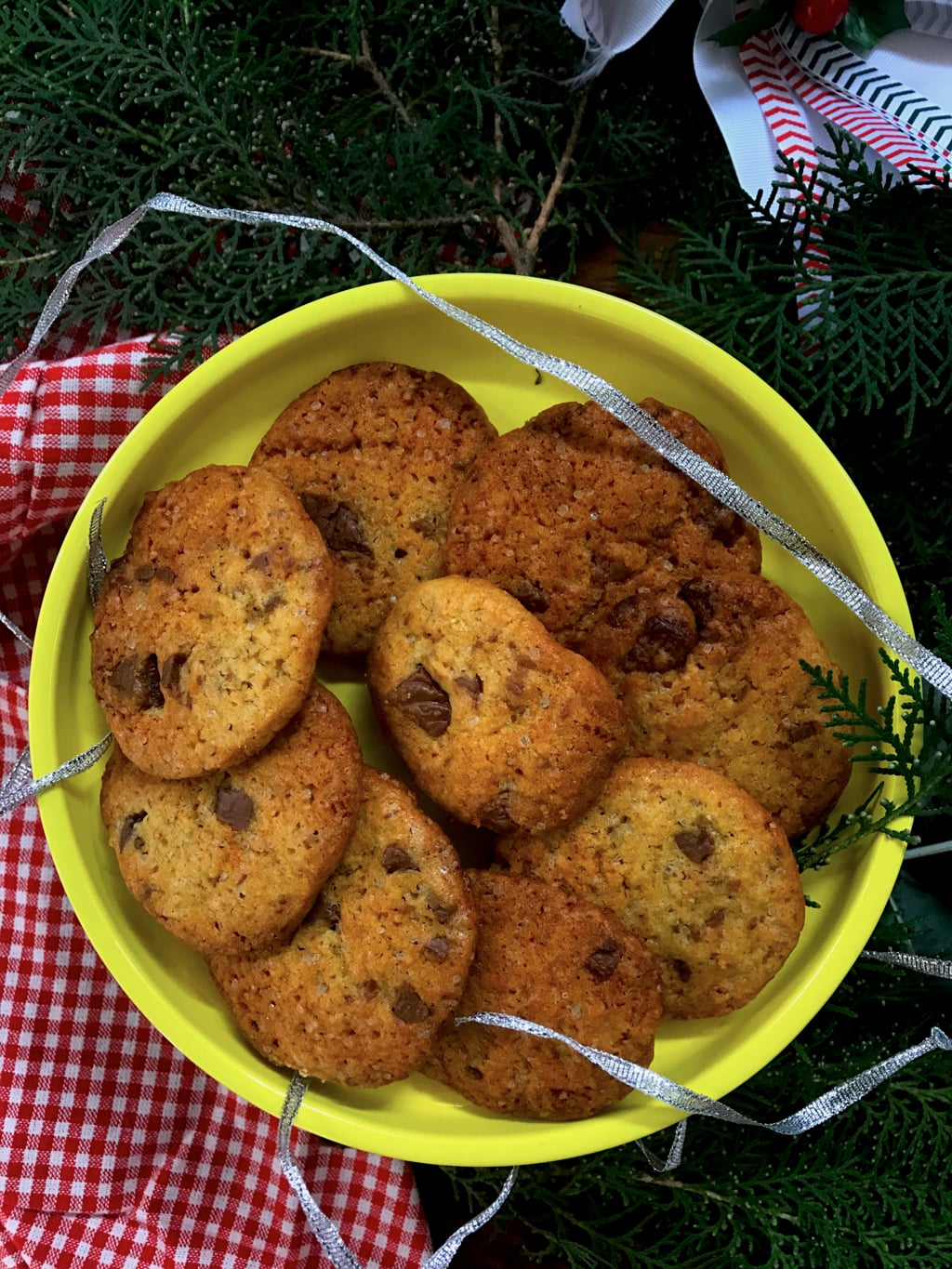 On finding great recipes in the unlikeliest of places and a recipe for extra chewy extra chocolatey chocochip cookies | Christmas Cookies
You can find great recipes in the most unlikeliest of places. The more obscure the source, the more fun it is to discover a recipe that works like a charm, especially because you least expect it to.
As a kid, I would love to peel off the paper wrapper off the Milkmaid tin, because there would be a recipe on its reverse. I was not even into cooking those days, but it was just the excitement of the surprise. Some Indian calendars like Kaalnirnay also print recipes and other useful tidbits and kitchen hacks on the reverse. This not only ensures that all of the space is used up but also gives people more reasons to buy these calendars. Our family jewellers in Chennai come out with a calendar each year that have the best recipes, little stories, DIY pieces on the reverse and I love to get my hands on it every year.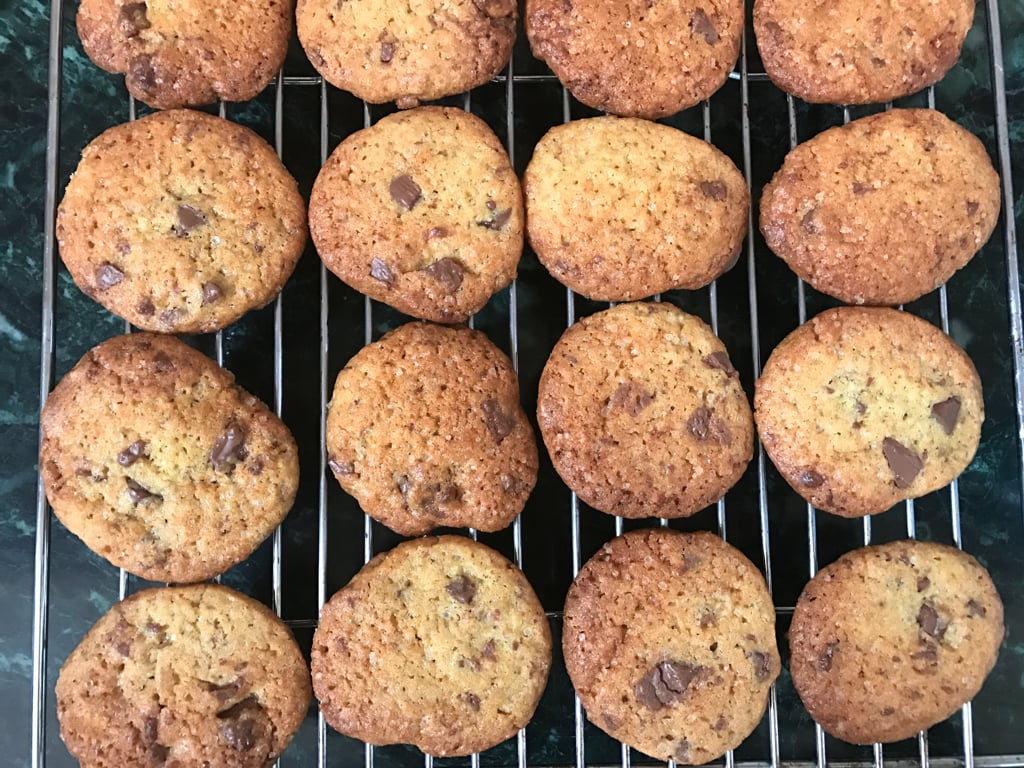 On a trip to Pondicherry few years ago, while browsing through a bookstore in the French quarters I found a cookbook published over 60 years ago, with easy home baking recipes. I didn't know if I would be making anything from that book, but the old cookbook appealed to the vintage lover in me. The old copies of Cordon Bleu Summer Desserts and Salads that belonged to my husband's grandma are now in my possession for the same reason. Most of the recipes in these books are quite outdated asking for ingredients that are not even available in present times, but there's always the possibility of creating something from these old gems.
Almost every Indian home has these old recipe books that came with the pressure cookers. I say old, because while the cooker has gone through quite some design changes and modernisation, the book that comes with the cooker hasn't undergone any change. You'll find the same gajar ka halwa, avial and mutton curry that you found in them three decades ago. I'm assuming these are really good, fool proof recipes that have stood the test of time, which is why these brands continue to carry them in their books since decades, something like the Vicco Vajradanti ads that you see before a movie in the theatre
Talking about recipe discovery, this is the story of how I stumbled upon what is now my FAVOURITE chocochip recipe. My son started reading the Geronimo Stilton books a couple of years ago. All I know about this series is that it is about mice and in each book these mice are upto something crazy like going into space or discovering kingdoms of fantasy. While reading this book called 'Phoenix of Destiny' my son came across two recipes. One, a recipe for Extra Chewy Extra Chocolatey Chocochip cookie and another, a recipe for Vampire Soup, which was a tomato and red bell pepper soup. He was gung-ho to make the soup all by himself, so I helped him gather the ingredients and prep for the soup, which he made and we both enjoyed for dinner one day. In fact, this was during my early days on Snapchat, and I actually made him do this video step-by-step on Snapchat. What fun it was!
He decided we were going to make the Extra Chewy Extra Chocolatey Chocochip cookies next. "Just the name of this recipe makes my mouth water," he said, his eyes sparkling at the prospect of sinking his teeth into these very temptingly named cookies. So we ended up making it that weekend, and I realised that by accident I had just hit upon the best chocochip cookie recipe! You don't really expect a recipe in a kids' fantasy book to knock your socks off, but this recipe did just that.
I have made chocochip cookies using this recipe over 6 times now, including for my kid's birthday. It's buttery, chewy with chunks of chocolate bringing a smile to the kids' faces. It's surely not a 'healthy' recipe, but if you want to make chocochip cookies at home, look no further. This is the real deal! Close your eyes and enjoy every little bite to the fullest.
Recipe notes: I have tried this recipe in a few different ways and it leads to a slightly different end result each time.
1. Refrigerate the cookie dough for a minimum of two hours in the form of logs, like the recipe says, then slice and bake. This makes thinner cookies and if the chocolate chunks / chips are larger in size, it does create problems with even slicing, which you then have to smoothen out with your fingers.
2. No refrigeration of the dough- Spooning portions of dough onto the baking tray and baking immediately gives thin, much spread out cookies and if you bake them for the said 8-10 minutes, they turn out much crisper, and not chewy.
3. The third option is to lightly flour your palms / fingers and roll out small balls and bake immediately. This leads to chewier, thicker cookies. If you flatten them before baking, they will turn out somewhat thinner.
Feel free to follow any of these techniques, but note that if you want chewier cookies, then remove them out from the oven sooner (8-10 minutes tops), and bake them for a few minutes more if you want them crisper (12 minutes tops).
I've used powdered organic jaggery instead of light brown sugar, which is a little tough for me to find at short notice and the results have been just fine.
Instead of chocolate chips, you can also coarsely chop a bar of dark chocolate into chunks and mix it into the dough just before baking. It helps to rotate the baking tray once in the middle of baking for even browning / baking.
You can get 24- 30 cookies from this recipe depending on the size. I prefer making them a little smaller to keep the portion size small 🙂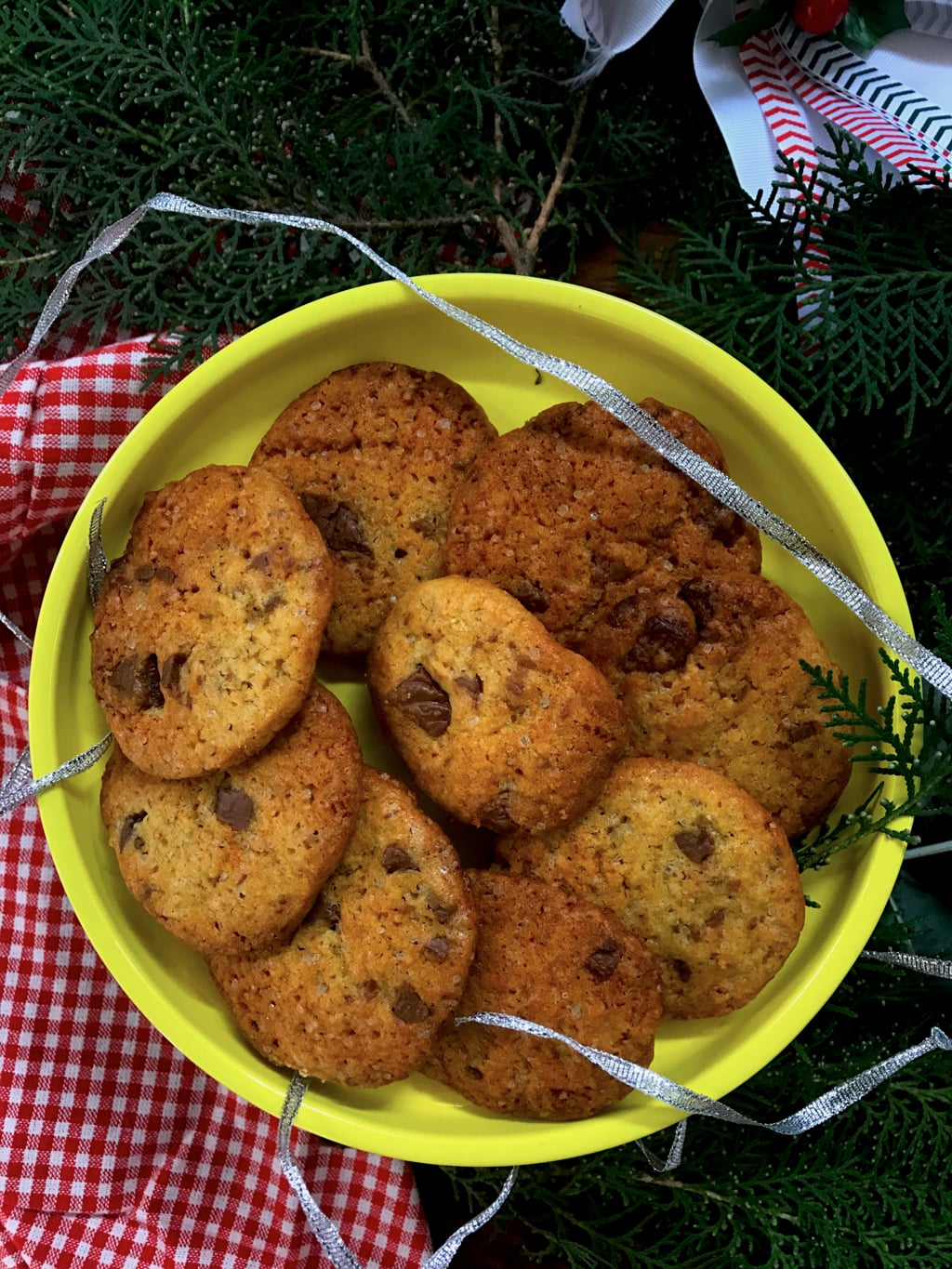 Extra Chewy Extra Chocolatey Chocochip cookies
On finding great recipes in the unlikeliest of places and a recipe for extra chewy extra chocolatey chocochip cookies , that I stumbled upon by accident in a kids' fantasy book. Your search for the best chocochip cookie ends here.
Ingredients
1 1/4

cups

flour

(maida)

1/2

tsp

baking soda

1/2

tsp

salt

113

grams

butter

soft (at room temp - use 100 grams + 2 tsp)

1/3

cup

white sugar

granulated

1/3

cup

brown sugar

light (or powdered jaggery)

1

egg

1

tsp

vanilla extract

1

cup

chocolate

chips (or chopped bar)
Instructions
Sieve the flour, salt and baking soda. Keep aside.

In a bowl, place the butter and sugars. With a wooden spoon or an electric beater, beat the butter and sugar until pale and creamy.

Add the egg and beat until well incorporated.

Add the vanilla extract and mix well.

To this, add the dry ingredients and mix until well combined.

Add the chocochips and gently mix until uniformly distributed.

If the dough is very sticky, refrigerate for 10 minutes. Divide into two portions and roll out into 2 logs. Wrap in cling film and refrigerate for a minimum of 2 hours. Else follow any of the methods described in the write up above.

Preheat the oven to 180C.

Prepare two baking trays with a silicon mat or baking paper.

Remove the logs from the fridge, and peel off the cling film. Cut into slices 1/2 inch in thickness.

Place on prepared baking tray and bake for approximately 10 minutes until golden brown. Remove and allow to cool on a wire rack for 10 minutes. Place in airtight container.
Notes
Cooking baked for 8 minutes are crisp around the edges and deliciously chewy in the centre. Cookies baked for 10-11 minutes are crisp, perfect if you like to dunk cookies in your coffee. Use fresh butter for best results, and you'll be in love with the flavour of butter and vanilla and every bite giving you at least one bite into a chocochip.
My son even secretly microwaves the cookie for 10 seconds, so the chocochip feels even meltier (and messier) when he eats them.