This post contains the recipe for homemade vegetarian / vegan tostada shells and a recipe for tostadas topped with salsa, refried beans and cheese
Tostadas are crisp corn tortilla shells that are served with a variety of toppings. Typically made using corn meal and deep fried, baking them yields perfectly acceptable results. You can even use them for making the Fully Loaded Nachos by just replacing the nachos with tostadas. And these are baked, so think of all the guilt you can avoid, or use the saved calories for more cheese! yay!
You can use a variety of toppings on these tostadas. Best is to prep all these little things in advance and putting together appetisers for your next party is a breeze.
If you don't care for millet or whole wheat flour, by all means use 100% all purpose flour. But the one with the millet flour (bajra / pearl millet) turns out super crisp and you cannot eat them without your family knowing that you are chomping on some fun crispy stuff.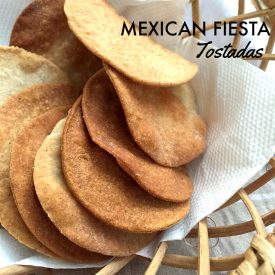 Homemade Multigrain Tostada Shells
Vegetarian recipe: Tostadas are crisp discs that are served with a variety of toppings. Typically made using cornmeal and deep fried, baking them yields perfectly acceptable results.
Ingredients
1

cup

Maida all purpose flour

/

1/2

cup

Millet flour

1/2

cup

Whole wheat flour

1

tsp

Salt

1

tsp

Baking powder

2

tbsps

Vegetable oil

as required

water

Hot

as required

Plain flour

to roll out tostadas
Instructions
Mix in the flours, baking powder and salt in a large bowl. Make a well and add the oil.

Mix the oil into the flour with finger tips.

Using as much hot water as required, make a smooth pliable dough.

Keep this covered with a damp kitchen towel and allow dough to rest for 30 minutes - 1 hour.

Make 4 equal sized balls and roll out each one on a clean countertop, quite thin into a large circle or rectangle.

Using a cookie cutter or a sharp edge of a round cup or bowl, cut out around 1.5-2u201d circles. Make as many circles as you can from the entire dough.

Preheat the oven at 190xb0C. Line a baking tray with baking paper or a silicon mat. Place the tostadas in a single layer.

Brush vegetable oil on top of the tostadas and bake for 5-7 minutes or until the tops turn golden brown. They can burn very quickly, so keep a watch on the oven door.

Bake in 2-3 batches depending on the size of the baking tray and oven. Allow to come to room temperature and store in an airtight container until ready to use.

To assemble tostadas, top each one with some refried beans, charred corn salsa, pico de gallo and some grated cheese.

Serve immediately. You can also lay out the tostadas and a variety of toppings on the table so your family / guests can assemble it themselves.