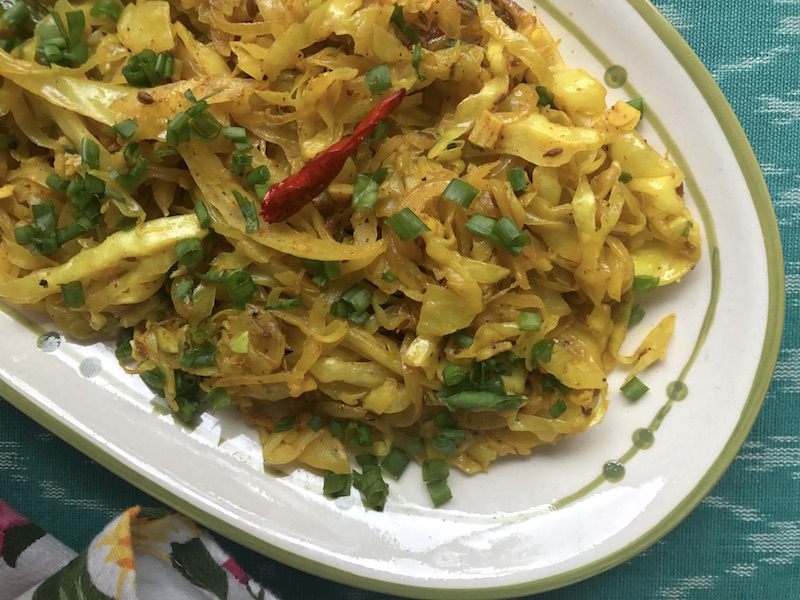 Recipe for Spicy Cabbage Sabzi | Cabbage curry for Rotis / Chapathis | Spicy Cabbage Curry
Cabbage is an incredibly useful vegetable for those aiming for a low-cal or low-carb diet. Being quite a bland vegetable, it needs to be cooked right in order to make it more acceptable to a food-lover's palate 🙂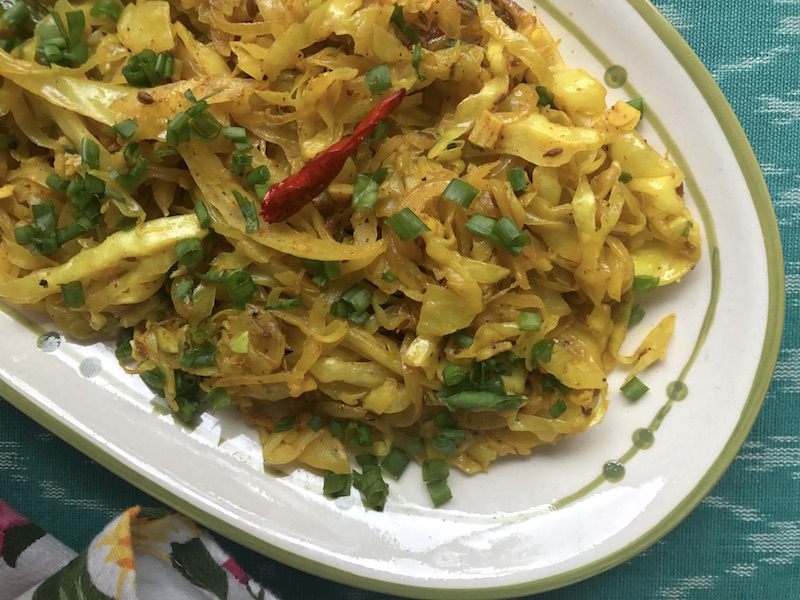 Pin
My favourite way to eat cabbage
I have never been a big fan of cabbage, but there is something about the simple cabbage curry (poriyal) that my mother makes. It all starts by selecting the right cabbage, she says. A tender, pale green cabbage cooks faster and tastes better. It is then chopped finely and cooked just that much so as to retain a slight crunch, and finally topped with enough fresh coconut that makes me want to eat a pan full with sambar or rasam rice. There is no turmeric or any other masala used in this cabbage curry which maintains its jade green colour. Often, I ask her, how do you make this simple curry so well, much to her embarrassment : ) This is one of my favourite ways to eat cabbage, my Amma style, minimalistic, doing full justice to fresh produce.
As much as I love my mother's simple cabbage curry, I cannot eat it with rotis. That needs a spiced up cabbage sabzi, whose flavours stand out even when scrunched up inside a piece of roti. There is a Gujarati version of a cabbage sabzi that goes amazingly well with phulkas. Small diced potato is pan fried until nearly soft and shredded cabbage added to the pan with a host of spices, cooked together until cabbage is soft. This one uses considerable quantity of oil and a medley of spices. The presence of potato makes the cabbage sabzi more appealing (well, of course).
To potato or not to potato
No potatoes in my cabbage sabzi recipe for you today, because the goal is to have a decent low-carb side dish for chapati / roti 🙂 I will give you a couple of variations (one with potato) that can be tried out. Check recipe notes at the end of the post.
Also check: An unusual cabbage chutney that you will love to have with rice or idlis and dosas
How to prep a cabbage
The MOST important thing to remember while dealing with cabbage is to discard the woody pieces and use only the tender leaves. Nothing is more unpleasant that the uncooked tough white stem in a cabbage dish. Here's a wonderful step by step guide on cutting a cabbage the right way.
More Healthy Cabbage Recipes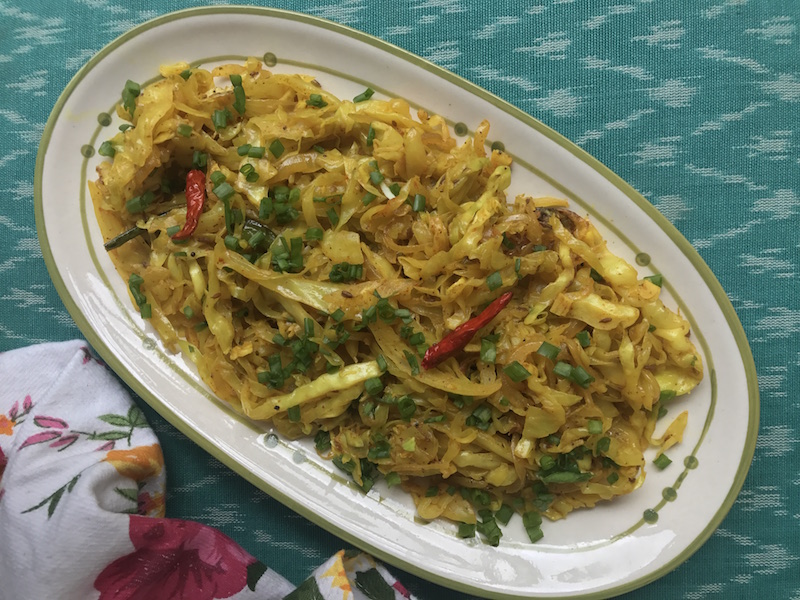 Pin
Equipment needed for Cabbage Subzi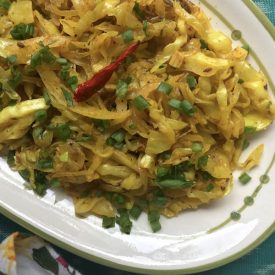 Spicy Cabbage Sabzi for Rotis
Ingredients
1

tablespoon

groundnut oil

or any other oil you prefer

pinch

of asafoetida

3/4

teaspoon

cumin seeds

3

cloves

garlic

finely minced

2

dried red chillies

broken into halves

1-2

green chillies

finely chopped

1

medium onion

thinly sliced

4

cups

shredded cabbage

1/2

teaspoon

turmeric powder

2

teaspoons

coriander powder

1/2

teaspoon

cumin powder

1/2

teaspoon

red chilli powder

1/4

teaspoon

black pepper powder

1/2

teaspoon

salt

1/2

teaspoon

garam masala powder

2-3

tablespoons

chopped spring onion greens
Instructions
Heat oil in a saute pan. Sprinkle asafoetida and give it a quick stir. Throw in cumin seeds. As soon as they crackle, add the garlic, chillies and onion. Fry for 5-6 minutes on a medium flame until onion is translucent.

Mix in the shredded cabbage and all the spice powders + salt, except garam masala. Toss well to combine. Lower the flame, cover and steam cook for 6-7 minutes until the cabbage is cooked through but retaining its texture a bit.

Garnish with finely sliced spring onion greens for a pop of colour and added flavour.
Notes
Variations
A handful of fresh or frozen green peas can be added to the sabzi along with the shredded cabbage to make a cabbage peas curry.
Peel and dice a medium potato. Pan fry with the whole spices for 3-4 minutes before adding shredded cabbage. Cover and cook until potatoes + cabbage are cooked.
Capsicum or green bell pepper is another vegetable that pairs well with cabbage. If you have a little of each in your refrigerator, chop both lengthwise (shredded) and add to pan together once the spices +onions are fried.