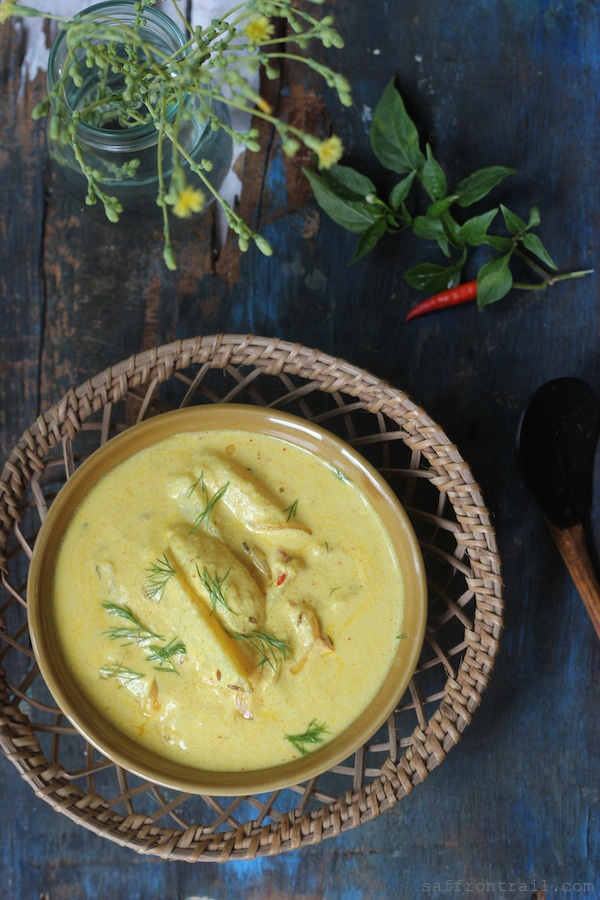 Recipe for Pahari Aloo Palda / Himachali Aloo Palda / Pahadi aloo
This summer vacation, we went to Dharamshala, in Himachal Pradesh. The mountain ranges followed us everywhere, giving us sightings of the snow capped Himalayas every once in a while. Our mobile phones wanted to capture every single picture postcard scene, and when we got tired of clicking, we simply put our phones aside and stared at the marvel of nature around us. One morning we went to Kangra Fort and after soaking in the history and the stunning architecture, we came back to Dharamshala way past lunchtime, ravenous, looking for a place to eat.
We spotted The Kunal, approved by Himachal Tourism. The hotel looked somewhat jaded, like it had seen better times. We ordered some basic food – the parathas, some subzis, dal and weren't expecting too much. When the food came, we were utterly blown away by how delicious it was. I almost got this thought of trooping into the kitchen, kidnapping the chef and bringing him with me to Bangalore. Better sense prevailed and we quietly dug into our food. One of the Himachali dishes was called Palda. When I asked the waiter what it was, he said it is just our Kadhi, nothing special. I asked him to get it anyway. It was definitely not 'just-a-kadhi'. It was thick, smooth and punctuated by chunks of spiced boiled potatoes, the aroma of cardamom and hints of mustard oil. I made a mental note to try this at home.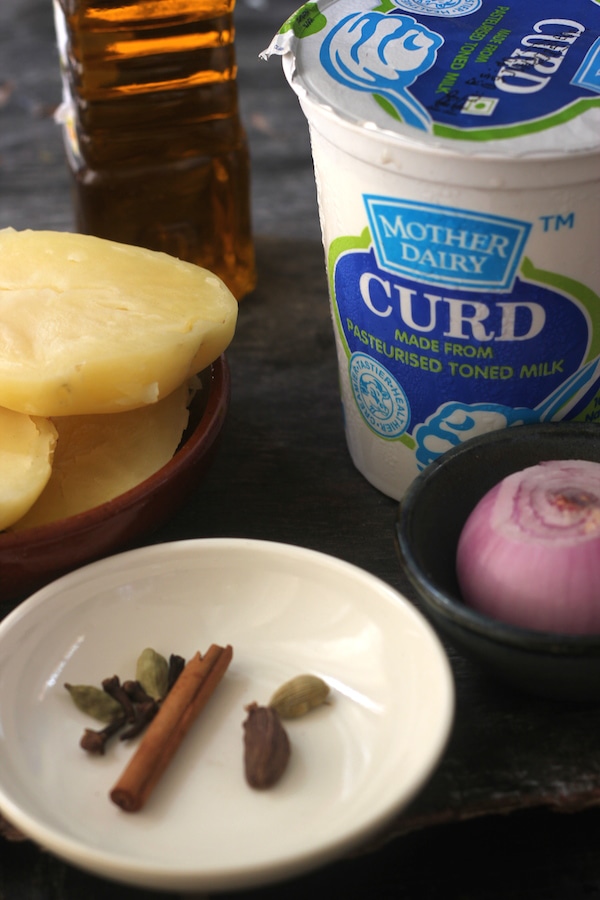 I did a search online of various Palda recipes, and I arrived at one that seemed closest to authentic. When Mother Dairy asked me to contribute to their #summerofhappiness to add to Chef Vikas Khanna's recipes, I knew that the one thing I wanted to make with the Dahi was Palda. Here's the recipe for this humble potato dish, Aloo Palda, from the mountains of Himachal.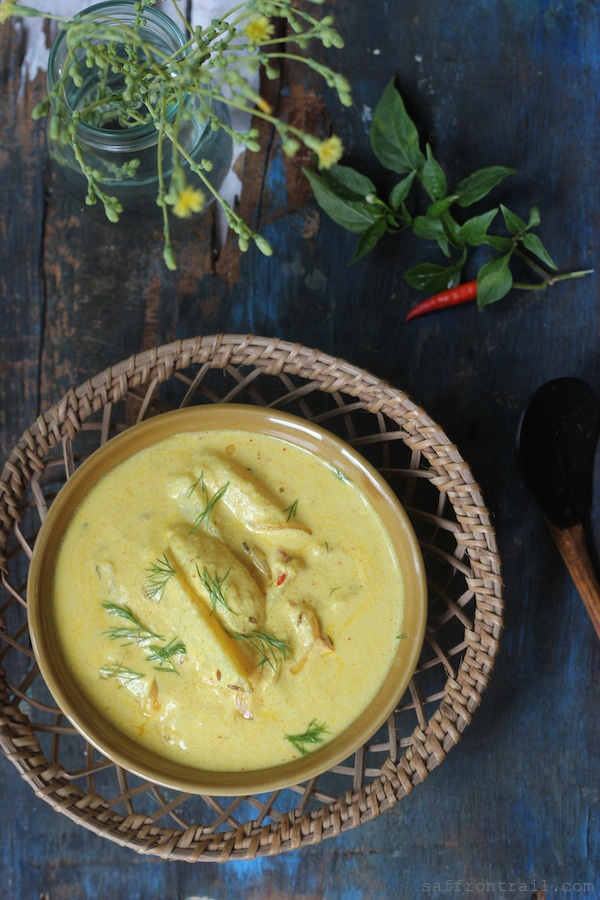 Adapted from: The Restaurant Fairy's Kitchen
Himachali Aloo Palda / Pahari Aloo Palda
A potato curry from Himachal: A thick, smooth curry and punctuated by chunks of spiced boiled potatoes with the aroma of cardamom and hints of mustard oil.
Ingredients
400

grams

Dahi

Mother Dairy (thick yogurt)

1/2

tsp

turmeric

powder

1/2

tsp

salt

2

tbsps

raw rice

2

cardamom

green

2

tbsps

mustard oil

1

cinnamon

stick

1

cardamom

black

1

tsp

cumin seeds

4 - 5

cloves

pinch

asafoetida

of

1

onion

medium , finely sliced

3 - 4

potatoes

medium boiled

2

tsps

coriander

powder

1/2

tsp

red chilli

powder

1/2

tsp

garam masala

powder

1

tsp

salt

coriander

finely chopped for garnish
Instructions
Whisk together Mother Dairy Dahi, turmeric and 1/2 tsp salt. Keep aside.

In a small mixer jar, grind together the raw rice and green cardamom, to a fine powder. Add 3-4 tbsp of water and grind to a thin paste. Add this to the dahi, whisk well.

In a heavy bottomed pan, heat the mustard oil. If you do not prefer the taste, substitute with ghee. Mustard oil gives the traditional pahadi flavours and you must give it a try!.

Once the oil is near smoking, add the cinnamon, black cardamom, cumin seeds, cloves and asafoetida. When the spices puff up / splutter, add finely chopped onions and stir on a medium flame for 4-5 minutes until almost soft.

Meanwhile slice the boiled potatoes into thick finger lengths.

Once the onions are softened, add the sliced potatoes, coriander powder, chilli powder, garam masala powder and salt.

Toss gently until well coated with spices and allow to cook on medium flame for 2-3 minutes so the potatoes absorb the flavours.

At this point, reduce flame to minimum and add the prepared yogurt mix, stirring constantly.

Bring this to a gentle simmer. Remove into a bowl and garnish with coriander.

Serve hot with steamed rice