Recipe for Soya chunks curry – a protein rich vegetarian curry
Pin
In a recent survey, the Indian Dietetic Association revealed that 73% of Indians consume a protein deficient diet which is a matter for concern. In association with the Protein Foods Nutrition Development Association of India, a protein week has been announced from 24 July -30th July to generate awareness around protein intake.
There is always the concern if a vegetarian diet provides adequate protein. It is easy to get all the necessary protein from a vegetarian diet, provided one eats a variety of foods that are rich in protein. I know that sounds like stating the obvious. Reality is that a lot of vegetarians rely on that cup of thin dal or a couple of pieces of paneer or the milk in the tea or coffee to add up to our recommended daily allowance of protein and it just does not cut it. A more focussed approach towards protein intake will go a long way towards better health.
How to include more protein in a vegetarian diet
Make sure protein is included in every meal, from breakfast to snacks
Soy products like soya milk, soya chunks, granules, tofu can easily be incorporated in the daily diet in a variety of dishes. Nutrela soya chunks are the #highestsourceofprotein for vegetarians at 52%.
Combine legumes and grains in dishes to get all essential amino acids. Both pulses and grains are incomplete sources of protein, but when combined, they make up for the shortfall in each other, providing all 9 essential amino acids.
Use lentils and beans for more than just dal and curries. Using moong sprouts in salads, grinding soaked moong into dosa/idli batter, using all kinds of beans to make hummus etc. ensures more consumption of protein rich pulses.
Encourage your children from their early years to each protein rich snacks like peanuts, peanut butter, almonds, cheese cubes, hummus+ veggie sticks etc instead of reaching out for commercially available chips and biscuits. Homemade bars using oats, peanut butter, nuts, sweetened with dates is an example of a protein rich snack
Include protein and healthy fats rich sesame seeds, flax seeds, pumpkin seeds in podis and curries.
If you are a lacto-ovo vegetarian, including a few servings of dairy and egg based dishes help reach the protein requirement for the day quite easily.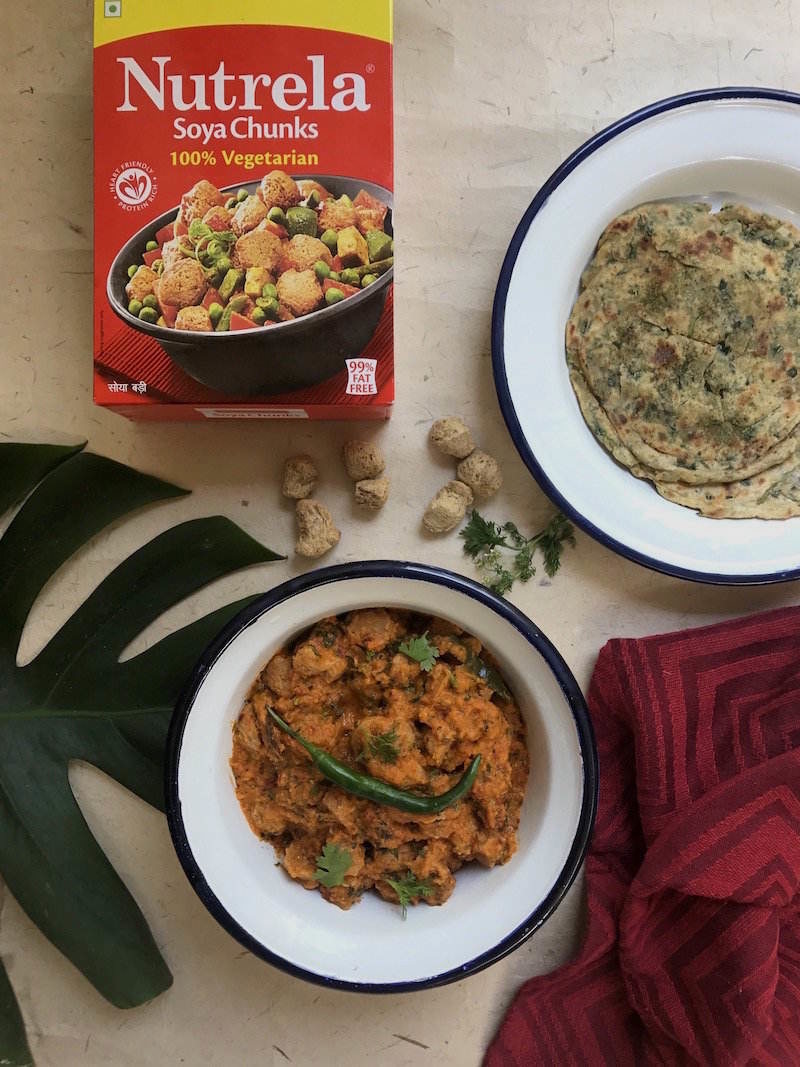 Pin
Why include soya chunks as a part of your diet
Incorporating soya chunks 2-3 times a week provides a good protein boost to a vegetarian diet. Even kids like the texture of chunks and granules, and these can be used creatively to prepare dishes for meals / lunch boxes.
Soya chunks are a versatile ingredient, ready to absorb any flavours.  One of my hacks to make a  protein rich poha is to combine soya granules with the rice flakes. It tastes as good and it manages to add a good percentage of protein to your breakfast. Soya chunks, cooked and mashed provide a base to make cutlets, kababs and burgers. Check these Sweet Potato Kababs with Soya Chunks. 
Nutrela has both regular sized and mini soya chunks that can be used in preparations like soya mixed vegetables, soya Tikka, manchurian and biryani. Soya granules can be used in cutlets, as a stuffing in momos and also in Pav Bhaji. 
I have just the recipe for a super healthy pav bhaji! Yes, it is possible 🙂
Soya Chunks Curry is my recipe for #Proteinweek  – a mildly spicy curry using soya chunks that pairs well with both parathas and rice. You can also add fresh green peas or diced potatoes to this curry.
Equipment needed to make Soya Chunks Curry
Mixer to grind the spice paste
A large saute pan
Soya Chunks Curry
Ingredients
3

dried red chillies

Bedgi variety

4

cloves

garlic

1

cup

soya chunks

1

tsp

salt

divided

1

medium onion

roughly chopped

1

large tomato

roughly chopped

1/2

tsp

grated ginger or roughly chopped

2

tbsp

fresh / frozen or desiccated coconut

grated

1

tbsp

coconut oil

5

cloves

2

cinnamon sticks

1/2

tsp

cumin seeds

2

tsp

kasuri methi

dried fenugreek leaves

2

tbsp

fresh cream

optional

fresh coriander for garnish
Instructions
In a small bowl, pour boiling hot water over the red chillies and garlic. Cover and keep aside for 10 minutes.

Take around 1 litre water in a medium sized pan and add soya chunks into this with 2 pinches of salt. Bring to a boil. Reduce flame and simmer for 3-4 minutes. Drain the soya chunks using a colander, pressing down with the back of a cup to squeeze out all the water. If the soya chunks are of a larger size, cut into smaller pieces and keep aside.

In a small mixer jar, combine onion, tomato, ginger, coconut and the remaining salt. Drain the soaked chillies and garlic. Add it to the mixer jar. Grind this to a fine paste.

Heat coconut oil in a wide heavy-bottomed pan. Throw in the whole spices and stir until the cumin seeds splutter. Scrape the prepared paste from the mixer jar into the pan. Stir on medium flame for 7-8 minutes until the raw aroma of garlic disappears and the paste acquires a glossy look, with most of the moisture dried out.

Pour 1 cup water in the pan to the fried spice paste.

Crush kasuri methi leaves between finger tips and sprinkle over the simmering gravy. Transfer the cooked soya chunks to the gravy and simmer on a low flame for 3-4 minutes, allowing the soya chunks to absorb the flavours of the curry.

This is an optional step that rounds off the flavours beautifully. Once the curry is ready, turn off the flame and stir in fresh cream or thick yogurt, until it is absorbed into the curry. To keep it vegan, avoid the cream or yogurt.

Remove into a serving bowl and garnish with fresh coriander leaves.

Serve with rotis or rice.
This post was brought to you in association with Nutrela – Get lots of recipes on their Website  and follow them here — Faceboook | Twitter | Youtube 
Like what you see here? Stay connected with me on Instagram, Facebook, BlogLovin' and Pinterest.