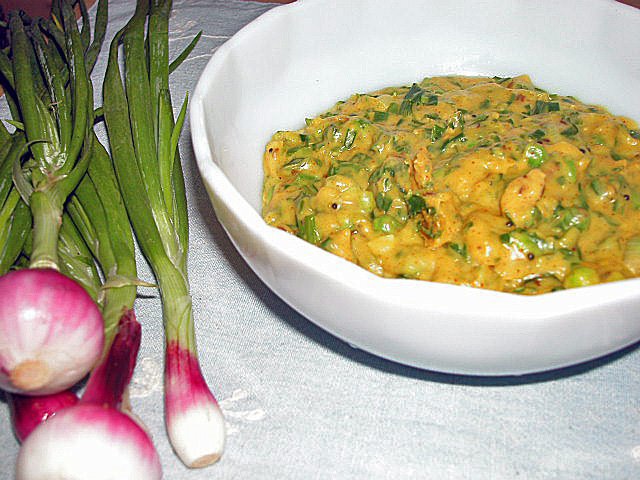 A simple spring onion curry made hearty with the presence of chickpea flour or besan. This spring onion curry goes best with rotis or parathas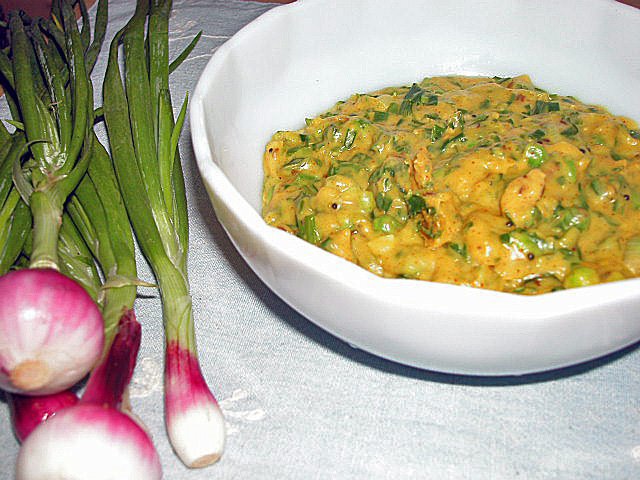 Pin
Spring onions or as some may call green onions or Scallions are an interesting vegetable /herb. Mainly used for garnishing/ salads or in Chinese soups, noodles and sauces, I have never tried to use them as a main ingredient in my cooking. It's available in Bombay vegetable markets almost all year round. They are sold in bunches, one bunch having upto 8-10 sprigs. I have noticed that the smaller the onion bulb, the fresher the leaves are.
You can't store spring onions for too long as they start wilting in a 2-3 days.This time a vegetable vendor managed to sell me a really huge bunch. Just using them for garnishing would have resulted in rotten onions in a couple of days and hence this recipe for a curry made with spring onions struck me. Sometimes, one just starts of chopping a vegetable without having a definite plan in mind and as one keeps adding ingredients intuitively, a new dish is born.
In Maharashtrian cooking, there is something called a zunka-which is basically a cooked gram flour paste. The spring onion curry with chickpea flour turned out something akin to a Zunka at the end of my cooking adventure.
Wondering how to use that big bunch of spring onions? Here are some other recipes that make use of spring onions:
Spring onion, Pumpkin and Lentil Soup 
Irish Grilled Cheese Sandwich – the picture is enough to entice you
Eggplant and Millets with spring onions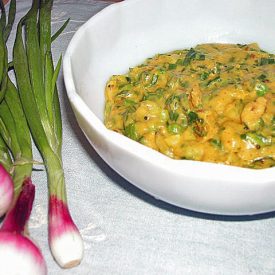 Spring Onion Curry with Besan
Spring onions, usually used a garnish, can also be made into a delicious curry along with besan (chickpea flour) that tastes really good with rotis. Try this healthy recipe with just 1 tsp oil!
Ingredients
1

big bunch

spring onions

Washed thoroughly and chopped finely

1

cup

chickpea flour

(besan)

2

cups

water

2

green chillies

finely chopped

1

red chilli

dried , broken into small pieces

1/2

tsp

finely chopped ginger

1/2

tsp

finely chopped garlic

1

sprig

curry leaves

1/2

tsp

cumin seeds

1/4

tsp

mustard seeds

pinch

asafoetida

powder

pinch

turmeric

salt
Instructions
To prepare the spring onion curry, heat the oil in a non-stick pan. Add the cumin seeds, mustard seeds, curry leaves, asafoetida, chopped chillies, ginger, garlic. Saute for a few seconds.

Add the finely chopped spring onions and a pinch of salt. Saute for 1-2 minutes. These onions cook in no time at all.

Meanwhile, make a thin paste of the gram flour in 2 cups water with a pinch of turmeric powder and salt to taste. Once the spring onions are sauted, pour the gram flour paste into the pan and keep stirring constantly on a medium flame. In 5-6 minutes the gram flour will get cooked as the curry thickens.

Taste and check if gram flour is cooked. (It shouldn't feel sticky when you taste it) Remove from flame into a serving bowl. Serve hot with Phulkas / Chapatis.
Notes
Notes:
Rinse the onions thoroughly as dirt may be lodged between the leaves. Trim any wilted parts and the tip of the pink root.
You will find gram flour in any of the Indian grocery stores.
This curry is very flavourful from the mild spring onions and tastes rich too. It's something you can make in a hurry without any prior preparations.
Nutrition Bytes
Spring onions are very rich in Iron, Calcium and Vitamin A.
Gram flour has a very low Glycaemic Index and high in protein, which makes this an extremely healthy recipe for weight watchers as well as Diabetics.
Like what you see here? Stay connected with me on Instagram, Facebook, BlogLovin' and Pinterest.
SaveSave