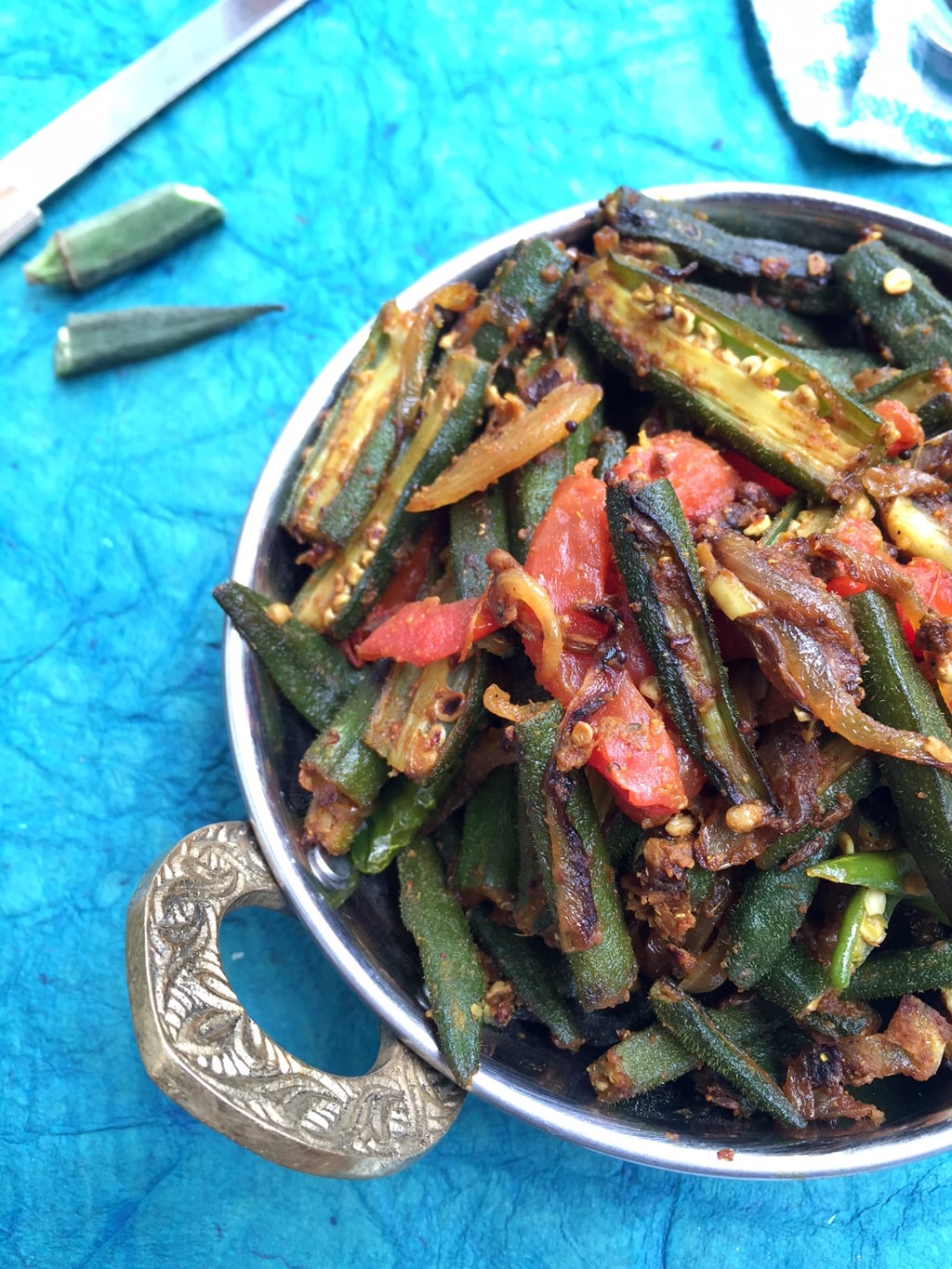 Recipe for Bhindi Masala with step by step pics – Stir fried okra with onion and tomatoes, an easy side dish to go with roti / paratha or naan – a naturally vegan and gluten free curry
Bhindi / Okra / Lady's finger or Vendakkai is one of the favourite vegetables of my adulthood. When I was a kid, it was a different story. Like how it happens in many South Indian families, my folks used to lure me with tales of how eating vendakkai ( the tamil word for Okra) can help me score full marks in Maths!
I could never figure out the connection between eating bhindi and maths, unless of course I was doing calculations on the huge number of seeds that came along with it, but hey we didn't argue much as kids did we?
While this Bhindi masala is simple enough for beginners, the spices give it the kind of flavour we love in the curries served in an Indian restaurant, minus the excess oil.
The one thing that may keep newbie cooks from cooking with okra / bhindi is the slime factor.
How to avoid slime while preparing okra / bhindi
Wash the okra well and dry using an absorbent cotton kitchen towel until there's no moisture on them. I just roll up the washed okra in a towel and keep it aside for 30 minutes or so. Make sure the okra is completely dry before you start slicing it.
Cut off the top and tail and slice as per your recipe.
When you start cooking the okra, add it to the oil in the pan and stir fry on high flame for 2-3 minutes so that the moisture dries out quickly.
Adding spice powders like coriander, cumin, amchoor etc. help dry out any remaining moisture by absorbing it and coating the okra with a layer of spices, which also adds to the flavour. Amchoor also acts as an astringent in this recipe.
You can also add a teaspoon of oats flour or gram flour (besan) sometime during the process of cooking to dry out any moisture.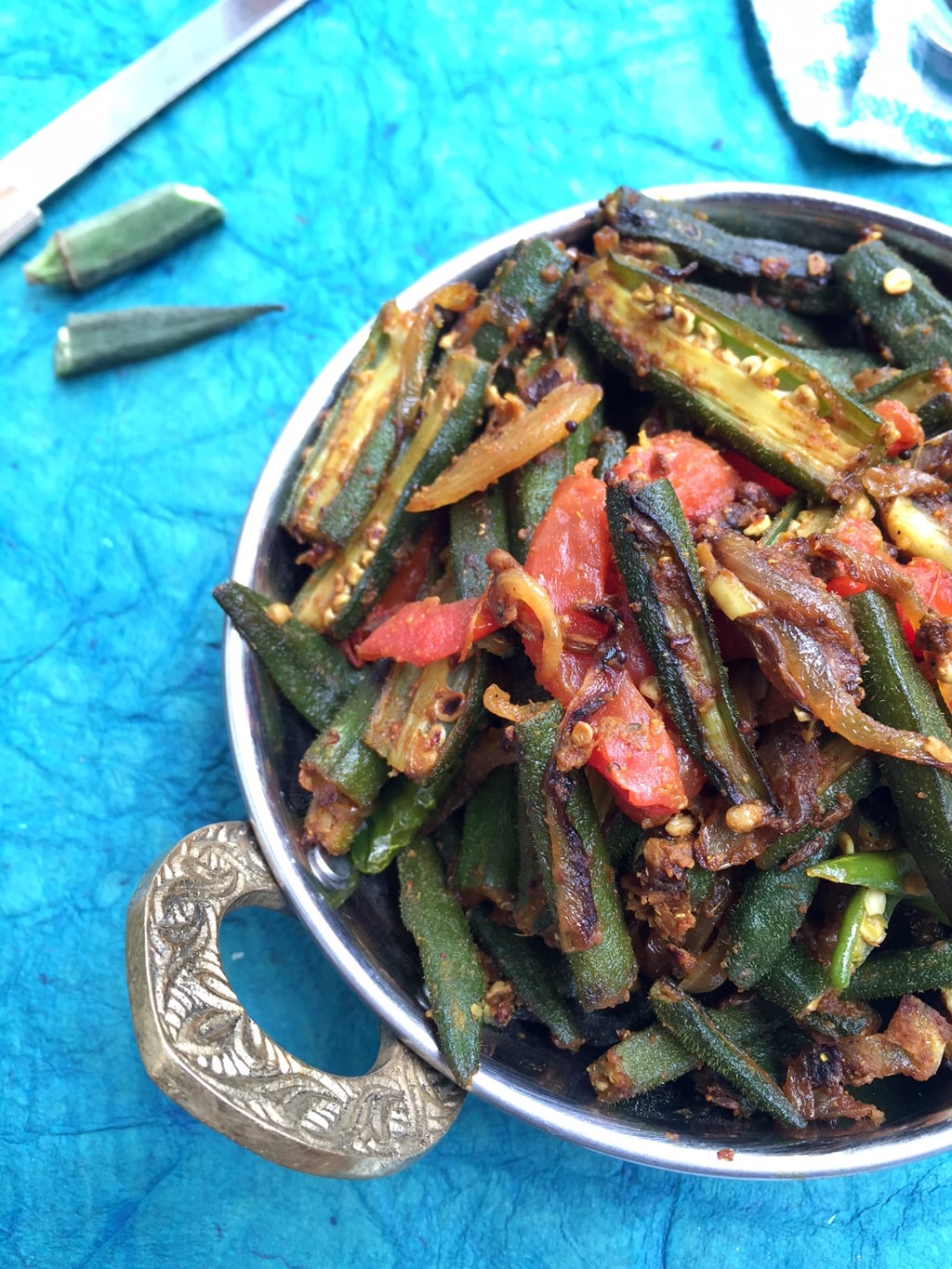 Serve bhindi masala with rotis or rice and Methi Dal[originally published in March 2007]
Bhindi Masala
Bhindi masala - A popular Indian curry made using Bhindi (lady's finger / okra), onions and tomato, using common Indian spices. Best served with roti or dal & rice. Get the simple recipe here.
Ingredients
250

gms

okra

(bhindi or lady's finger)

1/2

inch

ginger

fresh

4

cloves

garlic

1 - 2

tbsps

oil

1

tsp

cumin seeds

2

medium

onions

halved and sliced thin

1

green chilli

slit and chopped fine

1

large

tomato

halved and sliced thin

1/4

tsp

turmeric powder

powder

1/2

tsp

red chilli powder

powder

1

tsp

curry powder

or Kitchen King masala

1

tbsp

coriander powder

1

tsp

salt
Instructions
Wash and wipe bhindi/okras until thoroughly dry. Slice of tops and tails. Cut into half length wise and then chop in half or thirds as per length of okra. Make 2-2.5 cups of sliced okra, keep aside.

Pound the ginger and garlic to get a coarse paste.

To prepare the bhindi masala, in a heavy bottomed or a non-stick pan, heat the oil. Fry the cumin seeds until they start spluttering. Add ginger-garlic paste and fry for 30 seconds.

Add the sliced onion along with slit green chili and stir on medium flame for 7-8 minutes until onions are almost soft.

Next, add the chopped bhindi. Keep the flame on HIGH while stirring the whole mix together for 2-3 minutes.

Once the bhindi/okra are dark green and shiny, add the tomatoes with all the remaining spice powders and salt.

Keep the flame on medium-low and saute for about 5 minutes until the okra is done. At this stage, you can even cover the pan with a lid and allow the vegetable to cook through and mix with the spices, for 3-4 minutes.

Remove into a serving bowl and serve with rotis/rice and dal.
For more such healthy vegetarian recipes, get my book The Everyday Healthy Vegetarian is out! Get all the info about my book and order it here. 
Like what you see here? Stay connected with me on Instagram, Facebook, BlogLovin' and Pinterest.
Sign up to my newsletter by putting in your email in the box in the right sidebar, to get all latest posts in your email. No spam. Promise.