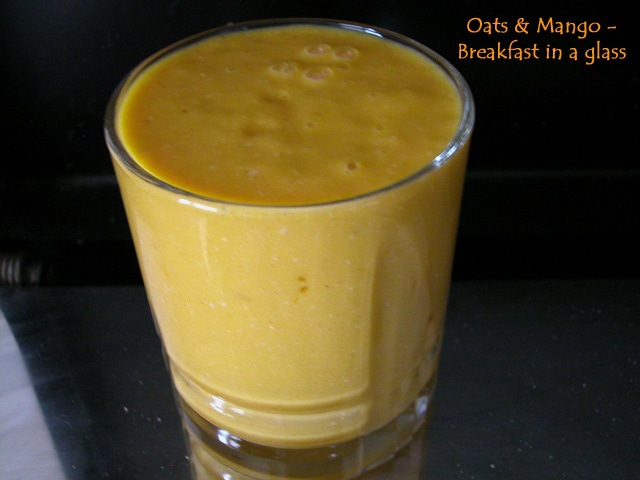 Oats and Mango breakfast smoothie combines the healthy goodness of oats with antioxidant rich seasonal mangoes for a quick breakfast in a glass for busy people!
For those of you who despise oats, I have one theory about oats. The simpler and blander an ingredient, the more you can dress it up, the more creative you can get. It's like working on a blank canvas. Oats for me is one such blank canvas, it is just there to absorb any flavours you might care too add. This Oats and Mango Breakfast Smoothie in a glass is a two minute breakfast. With something as fast and healthy as this one on hand, you have no excuses for skipping the most important meal of the day.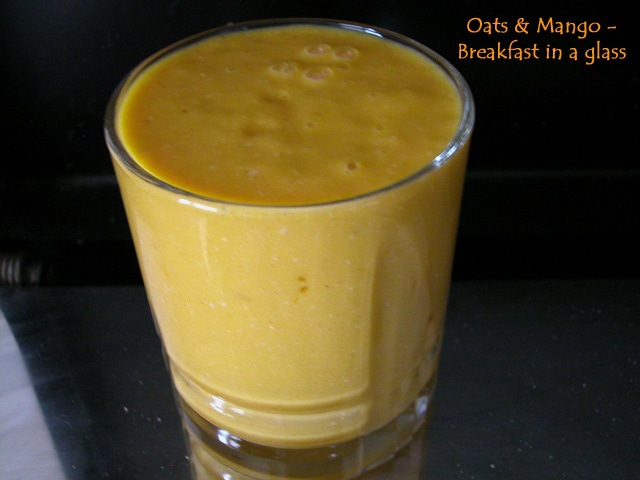 Oats and Mango – Breakfast in a glass
Category: Breakfast drink
Time taken: Under 10 minutes
Makes 2 glasses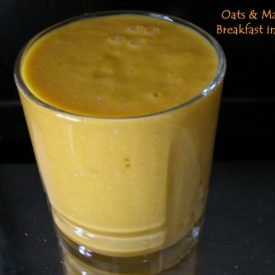 Oats and Mango - Breakfast in a Glass : WBB # 13
A super quick and healthy breakfast smoothie made using soaked oats and seasonal mangoes
Ingredients
3/4

cup

oats

quick cooking

1 1/2

cups

water

1

mango

ripe, peeled and cubed

1

cup

milk

skimmed

2

tbsps

jaggery

powdered (or brown sugar)

1

large pinch

cardamom

powder

3 - 4

ice

cubes
Instructions
To prepare the oats and mango breakfast smoothie, soak the oats in 1 1/2 cups water in a microwave safe bowl and microwave on high for 1 - 2 minutes till soft. If you have more time on hand, you could simply soak the oats in warm water for 10-15 minutes.

Blend all the ingredients together along with the softened oats to make a thick smoothie and serve immediately.
Notes
Note: You could substitute the mango with papaya and use a spice of choice instead of cardamom, such as cinnamon or all spice powder. The oats supplies the fibre, mango is rich in beta carotene and fibre. Skimmed milk is rich in calcium without any additional calories from fat, jaggery is a natural, healthier sugar alternative - all of which make this a super-healthy breakfast option. Even if you are not an oats lover, the other flavours will more than compensate for it. This is a perfect option for those who have very hurried mornings.
Also check out Oats for Dinner from an earlier post.
This is my entry for WBB # 13 starring Oats at Madhuli's Foodcourt. If you are an oats believer too, go ahead, make something, post it and rush your entries to her before the 25th July. I shall be back from my holiday to check out the round of all healthy breakfasts.