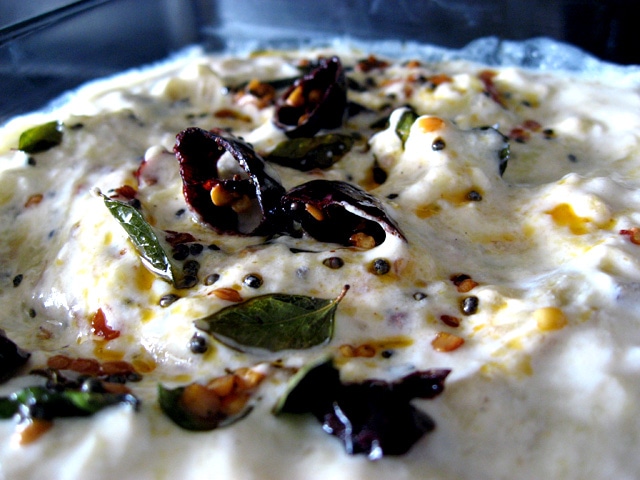 Sutta Kathrikkai Pacchidi – Charred eggplant and yogurt Indian style raita
Grill an eggplant on an open flame, peel it and and you have a variety of ways to use the flesh. I can list 5 right away
Prepare a gravy with onions, tomatoes, ginger garlic paste and spice powders like red chilli powder, coriander powder and turmeric and you can make a delicious Baingan ka Bharta.
Blend it with some garlic, tahini, yoghurt and it turns into Baba Gannoush. Or make a Mutebal perhaps!
Blend it with some sauteed onions, flavour with saffron strands and pine nuts and it turns into a Badenjan dip.
Whisk in some fresh yogurt and do a traditional South Indian tadka and what you get is a Sutta Kathrikkai Pacchidi.
Make a side dish called Gothsu that is perfect with Pongal.
This is a traditional South Indian Pacchidi (Raita). You could use small green chillies to make it fierier and garnish with fresh coriander. The eggplant pachidi goes well with most South Indian rice preparations like lemon rice, coconut rice or even tamarind rice.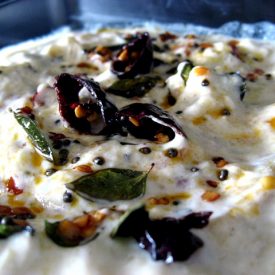 Chargrilled Eggplant in Yoghurt
Fire roasted eggplant and yogurt raita, with a crunchy tempering, a great accompaniment for a simple South Indian meal
Ingredients
1

medium

globe eggplant

1.5

cups

yoghurt

1/2

tsp

salt

1

tsp

vegetable oil

2

dried red chillies

1

tsp

urad dal

1/2

tsp

mustard seeds

1

sprig

curry leaves
Instructions
Char grill the eggplant on a flame, rotating it every minute or so, until the entire surface is blistered and charred, and the eggplant is cooked right till its center. A medium sized eggplant will take not more than 7-8 minutes. You can also do this over a grill or in the oven. Place this in a bowl and place a lid over it until it is cool enough to handle and peel.

Discard the peels and large chunks of seeds (if any). In a bowl, mash the eggplant pulp till soft with fingers or a whisk. You can even make it into a paste in the blender, but I like the rustic, uneven texture.

Beat in the yoghurt with salt.

In a small pan, heat the oil. Put in the mustard seeds. Once they pop, add the snipped red chillies, udad dal, curry leaves. Wait until the dal turns golden brown. The Kashmiri chillies colour the oil red and gives it a smoky, mildly spicy flavour. Transfer the content of the pan over the eggplant-yoghurt mix, give it a stir. Serve chilled.
Notes
Health note:
If you want to cut calories you can use fat-free yoghurt, but make sure you use homemade Indian style or Greek yoghurt that is fresh. Since this recipe has only two main ingredients, both need to be of the best quality.
For a vegetarian low-carber, eggplant is a great choice. Yoghurt provides the proteins and probiotics that play a great role in many aspects of well being.