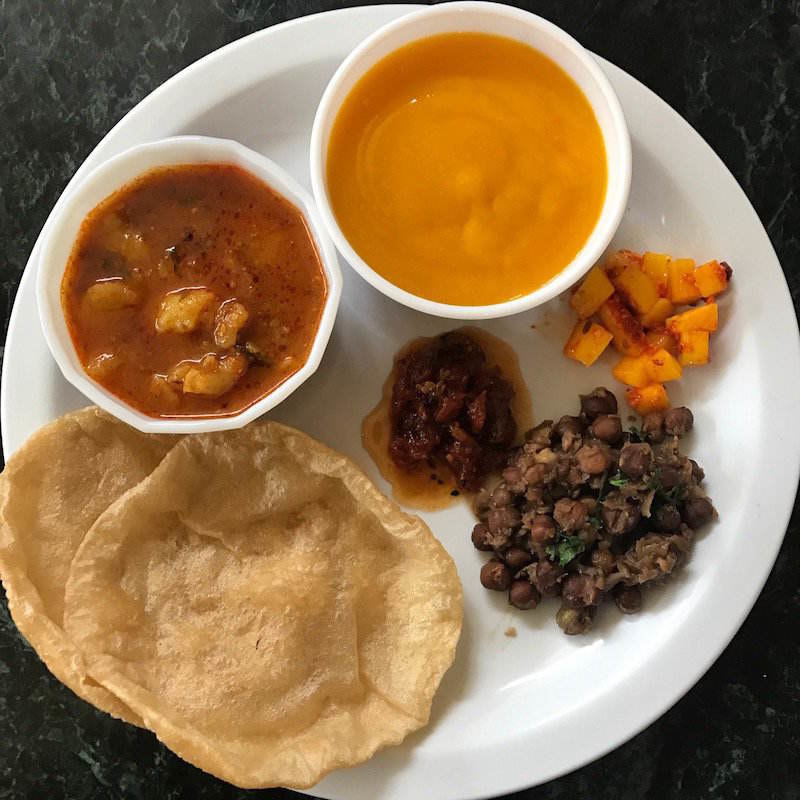 Kala chana – Kaale chane is a North Indian chickpea curry, a dry preparation made using brown chickpeas. This is usually served with Pooris / puris, the deep fried Indian bread made using whole wheat flour. A handful of ingredients combine with cooked brown chickpeas to give this hearty and simple Indian dish.
Pin
I have learnt of this recipe for Kala Chana made in a Punjabi household from a dear friend who is relocating to Riyadh this week. She learnt it from her Punjabi friend. And that's how traditional family recipes go around from a Punjabi kitchen into a Tamilian kitchen. S had a tough time explaining to me what Kaala chana – the base ingredient was. I asked her if it was Sundal chana and she said NO. It is just kala chana.
I take pride in the fact that I have a fair knowledge of most Indian and quite a few global ingredients. And that I couldn't place this bean was just not an easily digestible (pun intended) fact. On my way back from her house, I stopped by at a local 'kirana' (grocery) store and asked for 250 g of 'Kala chana' – the bigger variety. There are two sizes of the same beans.
I also bought two of the other main spices that go into this uniquely Punjabi recipe. My friend's mom also brought to light the fact that it is this chana that is served on the way to Vaishno Devi temple before the crack of dawn. I can imagine that this piping hot chana on a dark cold morning would indeed be a welcome treat. That too when offered as a prasad, it is relished even more.
Apart from onions, there are only two spices that lend their flavour to this Kala Chana. They are not very commonly used in Indian dishes, so you may need to stock up on them before venturing into making this recipe. They are black cardamom with a strong camphor like aroma and  Shah Jeera or Caraway seeds. If you don't have them at home or cannot buy them, I have given you a substitute in the recipe notes. But the flavour of this dish without black cardamom and caraway seeds may not end up like the original.
Love Chickpeas? Try this Kale and Chickpeas Curry
Serving suggestion for Kala Chana
Kala Chana goes best with Puris. If mangoes are in season, aamras, which is ripe mango puree, and a potato curry with a thin gravy go very well to complete the meal.
Kala Chana Nutrition Facts:
They are a concentrated source of nutrients like protein, fibre, calcium and iron. 1 cup of cooked kala chana provides 360 calories, 17 grams of fibre and 19 grams of protein. Typically one would each 1/2 cup of cooked chana in a meal, so that gives you almost 10 grams of protein, which is excellent. Like most beans, this is also 60% carbohydrate, so it is not exactly a low-carb ingredient. It does make a healthy ingredient to include as a part of a nutritious diet.
Pin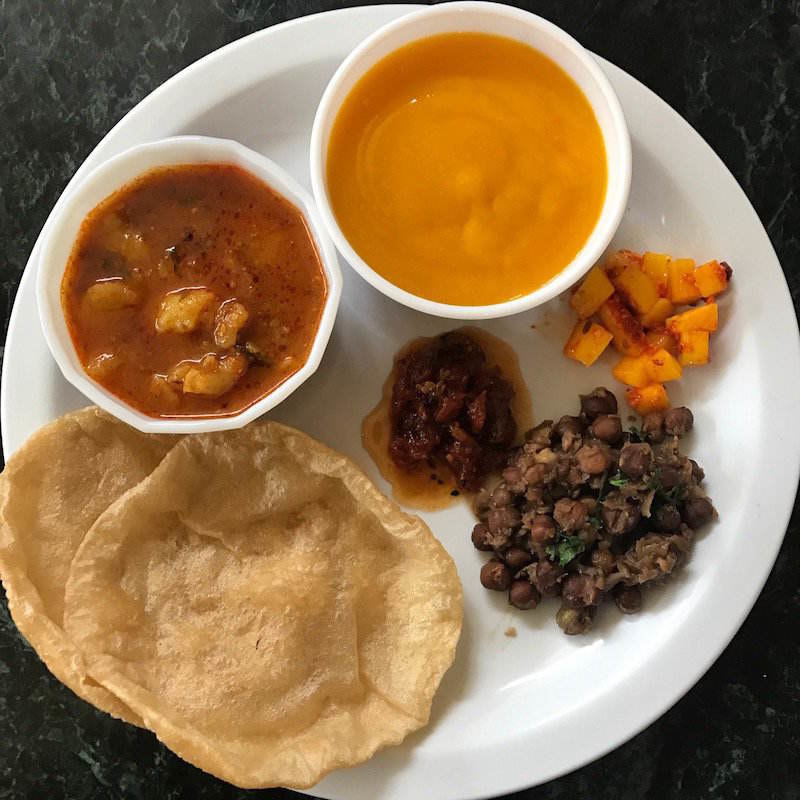 Recipe for Kala Chana
Kala chana or Kaale chane is a North Indian chickpea curry, a dry preparation made using brown chickpeas. This is usually served with Pooris / puris, the deep fried Indian bread made using whole wheat flour.
Ingredients
1/2

cup

chana

dry brown chickpeas

1

pinch

baking soda

1

pinch

asafoetida

(optional)

2

black cardamoms

1/2

tsp

shajeera

caraway seeds

2

tsp

ginger garlic paste

2

medium

onions

very finely chopped

2

green chillies

slit

salt

to taste

salt

1

tbsp

coriander leaves

for garnish
Instructions
To prepare Kala Chana, there is overnight prep involved to rehydrate the brown chickpeas. Soak the brown chickpeas overnight (or minimum 8 hours) in plenty of water with a pinch of baking soda. They will swell up to almost 3 times their original size. Drain and keep aside.

Place the drained brown chickpeas in a pressure cooker and cover with 4 cups of water with a pinch of baking soda and asafoetida. After 4 whistles, keep the flame on sim (lowest setting) for around 10 minutes and turn off the flame. Open cooker when it has cooled.

In a heavy bottom cast iron pan / kadai (Don't use non-stick pan here if you want the best results) - heat a tbsp of oil. Throw in the black cardamom and shah jeera. After 30 seconds, put in the ginger garlic paste and saute till golden in colour. Now add in the finely chopped onions.

Now comes the call for patience. Keep the flame between medium-high. Let the onions get brown and as they just start sticking to the bottom, add a few tsp of water to 'deglaze' the pan or loosen up the burnt bits. Let the flame be on medium high and keep repeating this procedure of letting the water evaporate, onions starting to stick to the pan and deglazing with water some 5-6 times. You would be using roughly 1/2 cup of water during the entire process which will take upto 20 minutes.

The result of this process will be blackish brown caramelized onions, turned extremely soft and superbly RICH in flavour - both from its own caramelization and infusing the flavours of the spices used. Using a non-stick pan will not give you the depth of flavour that is the cornerstone of this recipe.

By this time, the chana in the cooker would have cooled off. Open the cooker lid and check if the Chana are cooked to a soft consistency. They should crush easily between your thumb and index finger with a slight pressure. Black chickpeas are quite thick skinned so they will never cook to a mush, which is why you can safely overcook them in a pressure cooker without expecting a slush in the end.

Drain the cooked chana. Reserve the liquid. Add the cooked chana to the onions. Also put in the slit green chillies and salt. Keep the flame on medium high and let the chickpeas cook some more with the onion mix. Add the reserved liquid little by little if you find the curry going too dry. In all, let them all simmer together happily for some 15 minutes. If by chance the chickpeas were old and they didn't succumb to pressure cooking, you can do one more round of the whole curry in the cooker for around 5 minutes.

Remove from flame. Garnish with some fresh coriander. Serve with freshly made hot puris.
Notes
Special Equipment:.
A small pressue cooker is almost a must-have for this recipe, or else these tough beans could take almost 2 hours of boiling to get cooked. A slow cooker would be the other best option.
A few more words:.
Please don't skimp on the onion sauteeing time or the second simmering time. Trust me, slow cooking brings out some amazing flavours. And I'm surprised the hasty cook in me is actually telling you this. The long cooking time makes up for the lack of too many ingredients and spices. This is simplicity at its best. Although this is the first time I've made this one, it's definitely going to be a regular in my home. Try it and you'll be happy you made this. So will your guests.
I'd also like to reiterate 'No non-stick pan for this one please'.
You could easily try this in one of those slow cookers, plug it in and wake up to a beautiful breakfast. If you do try that way, please let me know the results.
The chickpeas are a tad heavy on digestion if you eat it for dinner. Breakfast or lunch are the best times so that it gets digested by the time you go to sleep.
If you don't have shahjeera or caraway seeds, use regular jeera (cumin seeds). You can use green cardamom instead of black cardamom, but the strong flavour will be missing.