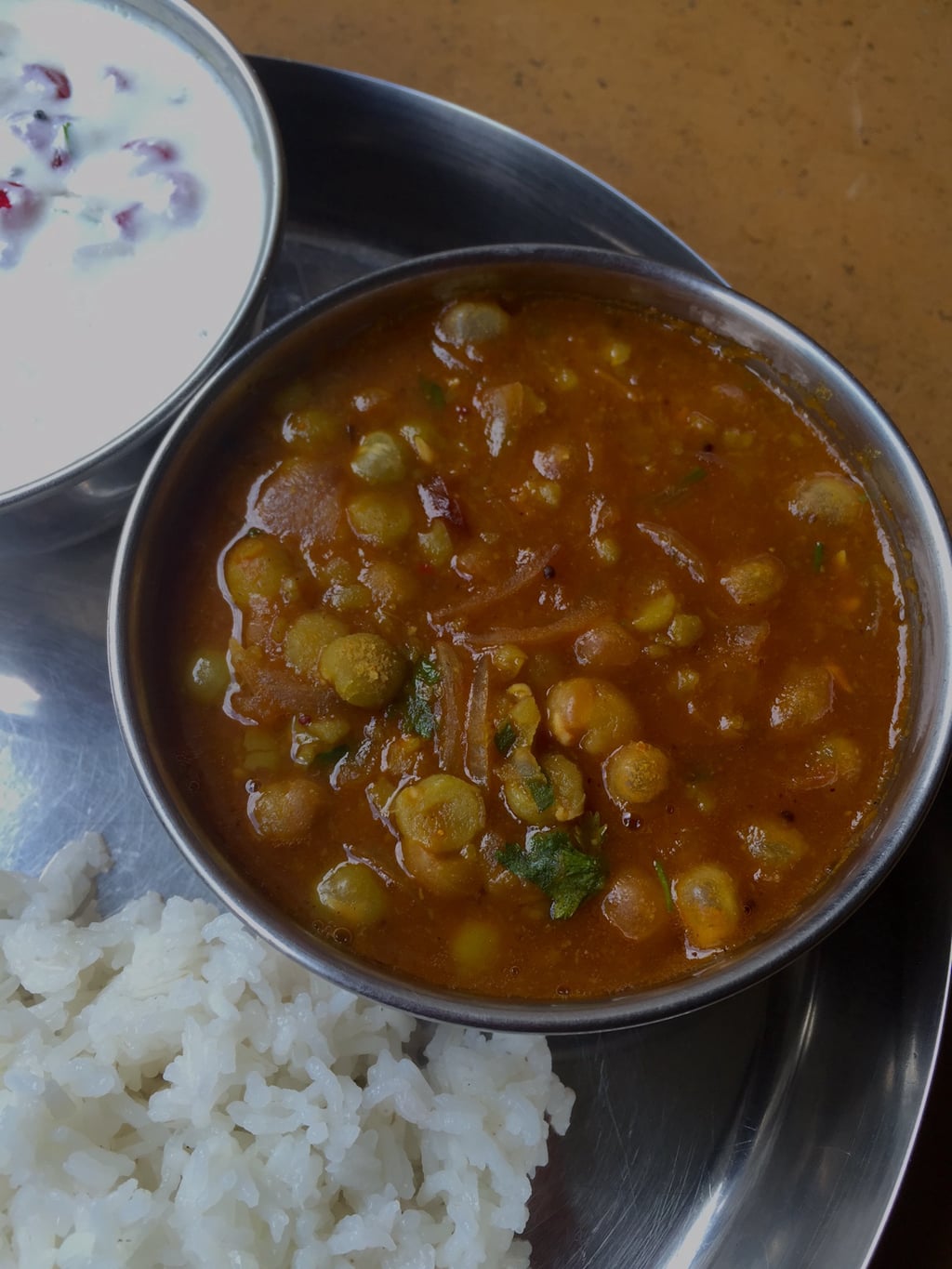 Recipe for a simple curry made using dried green peas | Hara Vatana curry
The thing about an Indian kitchen is no matter if the fridge is empty, a well stocked pantry with its grains and pulses will have enough to sustain you for a week, at least.
I end up buying way too much grocery for the small family that we are, and am constantly reminded by my housekeeper to finish off what's already languishing in the kitchen cabinets before ordering more.
I usually stock up on dried peas -both the green and the white varieties (also called hara & safed vatana), because they make a good misal for a misal pav (apopular Mumbai street food). I also make a mean hummus with these dried peas. Ghughni is another hearty street-side dish that is prepared using dried white peas, in parts of Eastern India (Bengal, Odisha, Bihar). These spiced up cooked peas are served with puffed rice.
While these dried peas belong to the same family as the fresh green peas, the variety grown for the dried peas is different from that harvested for eating fresh / frozen.
Nutrition: 100 grams of cooked dried green peas has 19.7 grams protein, 4.5 grams of fibre and 315 calories
A quick curry prepared using the soaked dried green peas, cooked up quickly in my trusty little pressure cooker, some onions sautéed in mustard oil for a unique flavour, tomato puree and a sabzi masala (curry powder), and you have a full-on flavour accompaniment with rice, rotis or both.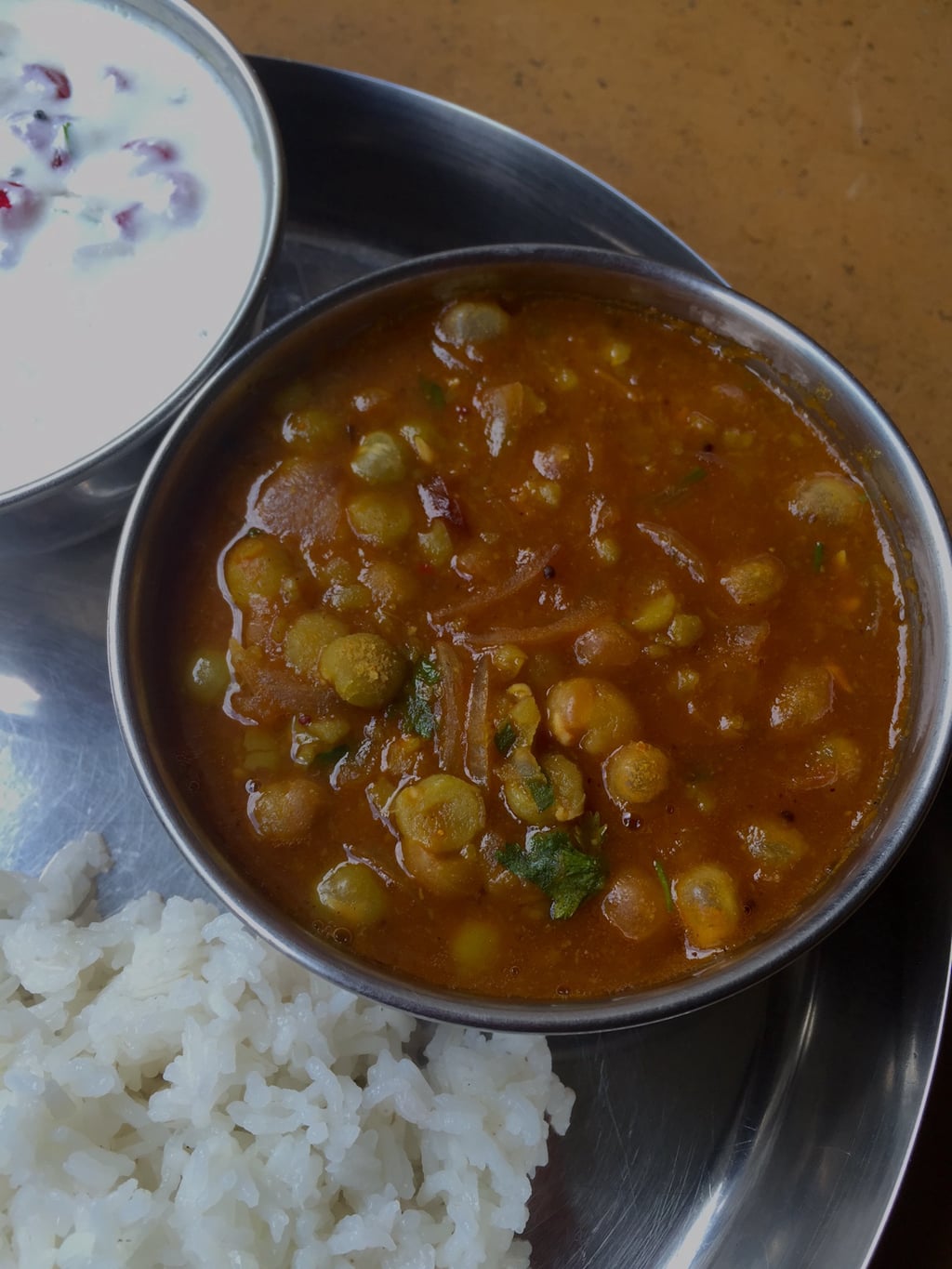 Dried Green Peas Curry
Recipe for a simple curry made using dried green peas | Green Vatana Curry - a quick recipe using this versatile pulse which is protein and fiber rich.
Ingredients
1/2

cup

green peas

dried

1

tbsp

mustard oil

1/2

tsp

cumin seeds

1/2

tsp

mustard seeds

1

pinch

asafoetida

2

green chillies

, slit

1

onion

medium , thinly sliced

1/2

cup

tomato

puree

1/2

tsp

red chilli

powder

1/4

tsp

turmeric

powder

1

tsp

masala

sabji (curry powder)

1

tsp

salt
Instructions
Soak the dried green peas in plenty of water, overnight, or for 6-8 hours.

When they are sufficiently rehydrated, drain the soaking water. Place this in a pressure cooker with 2.5 cups of fresh water. Pressure cook for 1 whistle and keep on sim (lowest heat) for 10 minutes.

While the peas are pressure cooking, prepare the base for the curry.

Heat mustard oil in a heavy bottomed pan. Add the cumin, mustard, asafoetida and ginger. (if you have panch phoron, then use that instead of the cumin and mustard seeds)

Once the seeds splutter, add onion slices and saute on medium flame for 5-6 minutes or until onions are golden brown.

Add the tomato puree, dry spice powders and allow this to simmer for 2-3 minutes.

Once the cooker is cool enough to open, remove the cooked peas and add to the prepared curry base.

Season with salt and allow to simmer for 2-3 minutes. Thin with some water to bring to desired consistency.

Garnish with fresh coriander leaves.
Notes
Serving suggestion:
This dried green peas curry tastes good with both plain steamed rice or roti / paratha. Serve with a raita of choice.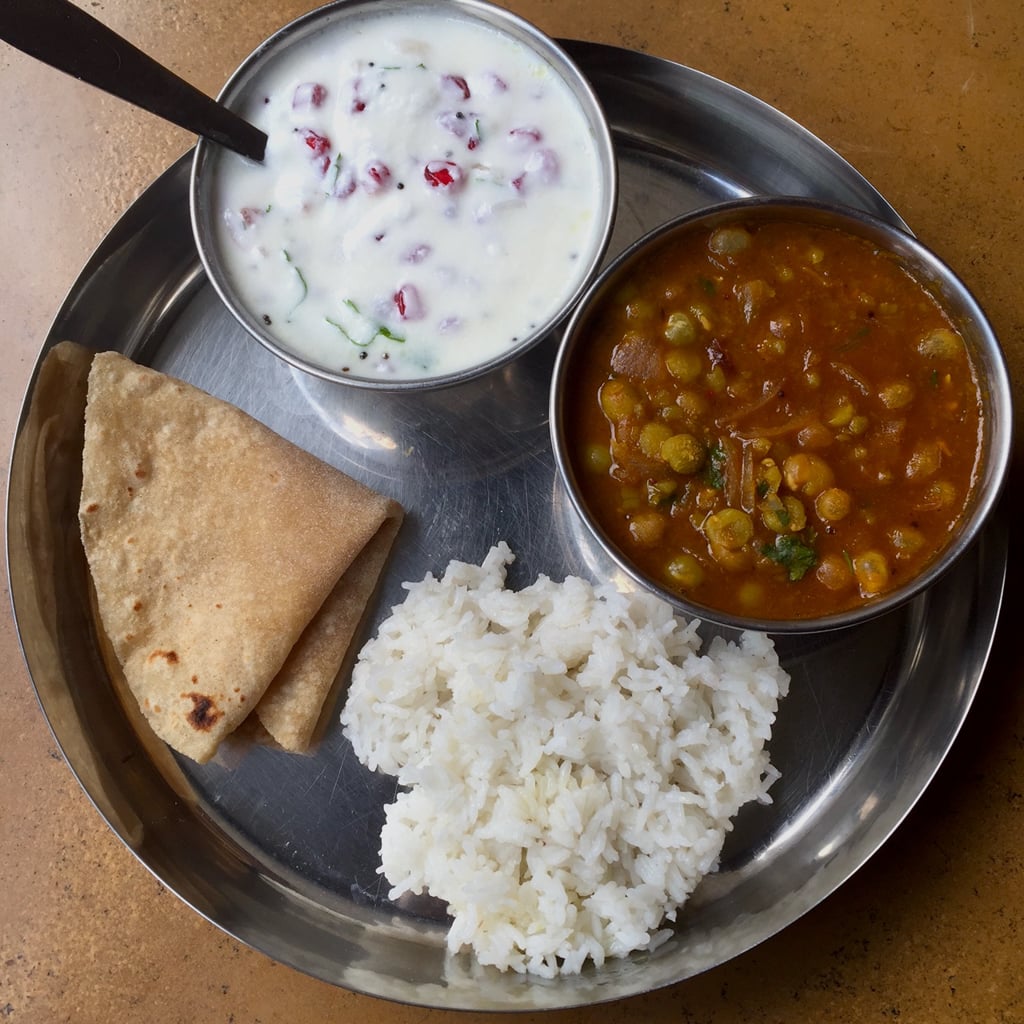 Image of dried green peas: Shutterstock
If you liked this post, you'll also like these other curries made using dried lentils.