Recipe for Ginger Sesame Noodles
Pin
Indo-Chinese food was one of the cuisines I missed the most when I was in the US. The problem could be easily solved by making the trip to the local Indian store and buying bottles of Ching's Secret Dark Soy Sauce and Green Chilli Sauce. Some green chillies, red chillies, fresh ginger, fat garlic cloves and an Indo-Chinese meal was just an arm's length away!
However in Bombay, one doesn't even need to take that much effort. Every Udipi, every college canteen and every road side food vendor is familiar with "Chinese" and will dish out "Chinese" as soon you place your order.
Indo Chinese Fusion dishes
For those of you who aren't in India- I must update you on the Indo-Chinese fusion foods availables at our friendly-neighbourhood Udipi. There is some insane fusion happening here.
Idli Chilly Fry: Stale Idlis cut into wedges, deep fried till crunchy and rolled in Chinese soysauce gravy
Gobi Manchurian: Cauliflower florets dipped in batter, deep fried and tossed in a glossy soy based sauce.
Chinese Bhel: Substitute the puffed rice with fried noodles. The green and sweet chutney with soy and chilli sauce, the potatoes-onions-tomatoes by shredded carrots-cabbage-spring onions and voila you have Chinese Bhel
Spring Dosa: Our very own dosa smothered with Chinese sauces- filled with cabbage, carrots, onions, coriander, coconut (yes, you heard me right), rolled up, and cut into bite sized pieces. This can fit into a bite only if you open your jaws as wide as you've opened for the root canal of your farthest molar tooth ! This Spring dosa is served with sambhar and coconut chutney alright. This is one of my favourites, given the vegetable stuffing.
Back to this Ginger Sesame Noodles recipe, I love the robust flavours of ginger-garlic and sesame seeds. This when mixed with loads of vegetables and delicate noodles, is sure a meal that will make each one, a member of the Clean Plate Club.
Recipe for an Easy Indo-Chinese Menu:
Ginger Sesame Noodles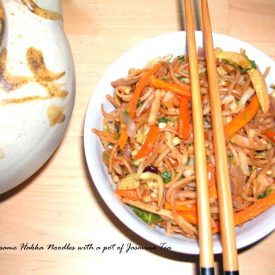 Ginger Sesame Noodles
Noodles tossed with ginger and sesame seeds makes a flavorsome dish to have with stir fried veggies or mushrooms
Ingredients
200

grams

noodles

cooked as per pack instructions

1

cup

mixed veg juliennes

Carrots, Cabbage, Babycorn, Onions

1

tbsp

ginger juliennes

1

tbsp

sesame seeds

1

tbsp

garlic

thinly sliced

2

green chillies

finely chopped

2

red chillies

minced

1 1/2

tbsp

soy sauce

1

tbsp

white vinegar

Salt

to taste

1

tbsp

oil

1

tsp

Chinese 5 spice powder

Optional

1

tbsp

finely chopped coriander
Instructions
To prepare ginger sesame noodles, heat the oil in large wok. Fry sesame seeds, ginger, garlic and chillies for 30 seconds on high flame.

Add the vegetables stir on high flame for 3-4 minutes.

Add the soy sauce, vinegar, 5-spice powder, cooked noodles and toss well. Taste and season with salt if required.

Once thoroughly mixed, remove into a big bowl and garnish with chopped coriander.
Like what you see here? Stay connected with me on Instagram, Facebook, BlogLovin' and Pinterest.