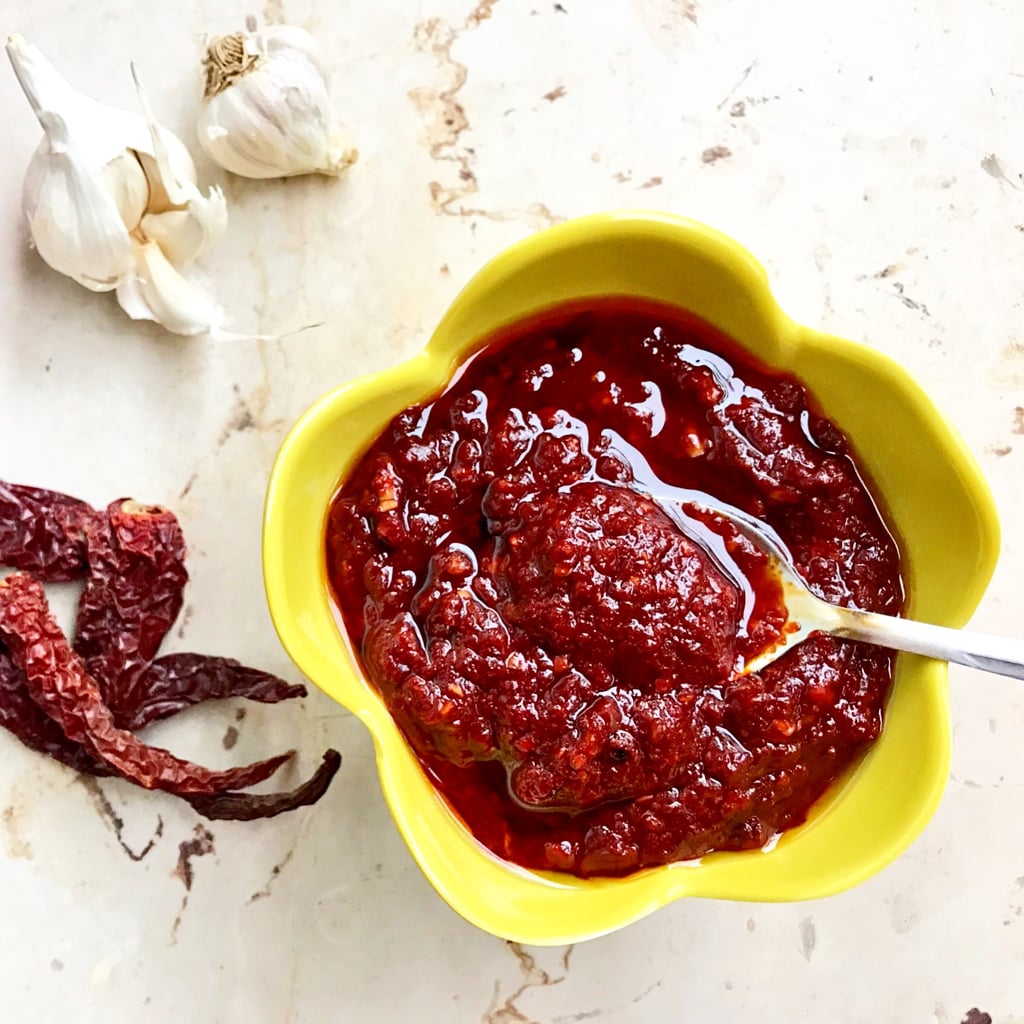 This homemade Schezwan sauce can be used to make Schezwan noodles or Schezwan fried rice or had as a dip with appetisers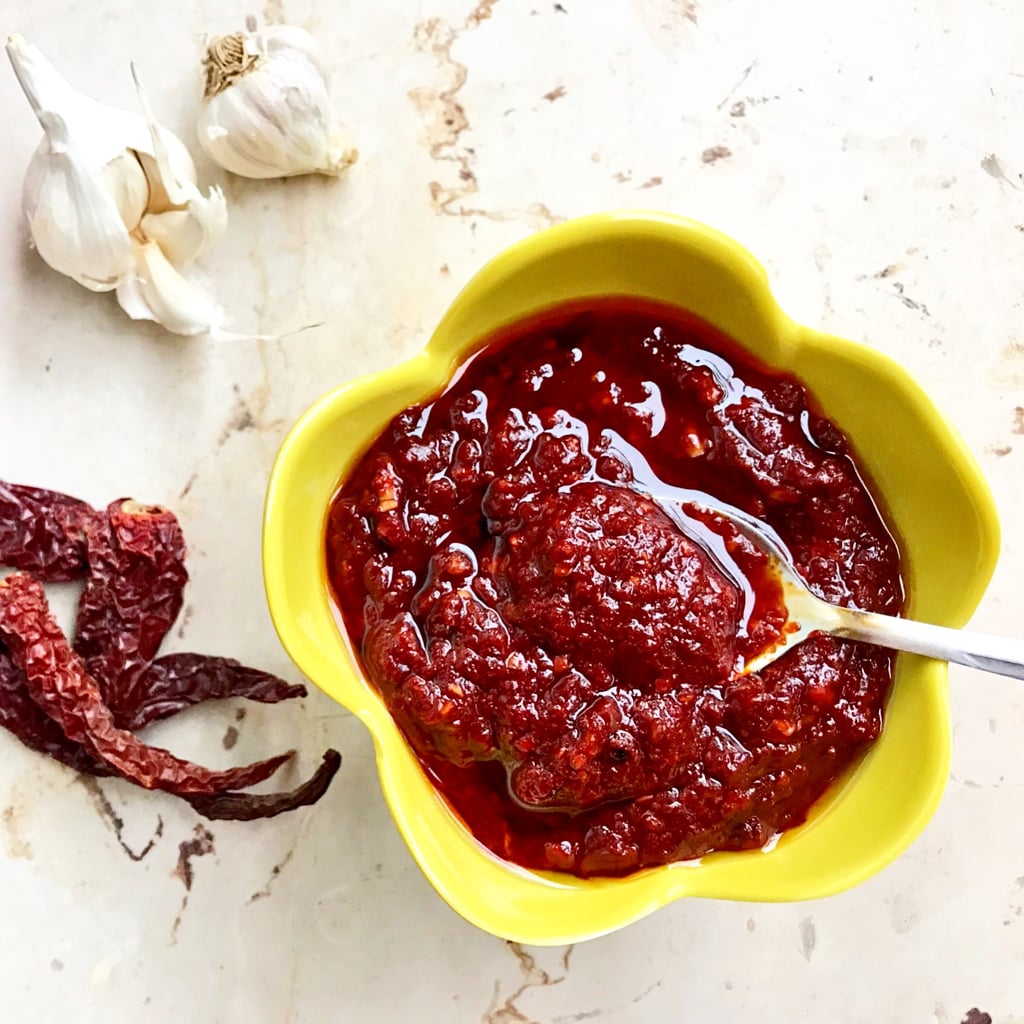 Between 1 and 10, my spice tolerance falls at somewhere around -5. While I love the fragrance and flavour from spices, I hate to carpet bomb my taste buds with heat from chilies. My son and me are in 'team bland', while the husband is on the opposite side. Give him a super spicy dish and he will eat that with Bhoot Jolokia sauce 😛
Sometimes, I'm totally at a loss for what to cook (read that as most times). So when I was in a similar situation this week, I asked my husband and he suggested Chinese – which in our home country means 'Indochinese' by default.
So I decided to get started with a big batch of Schezwan sauce, which is IndoChinese for chili garlic sauce. While most of the Chinese restaurants here could potentially be adding red food colour to make it look more appealing, you can get the same brilliant red colour by using 'Bedgi chilies' from Karnataka. This variety of chili imparts a bright colour without amping up the heat in your dish, or in this case, the sauce. And it's just perfect to toss noodles in, to make the popular 'Schezwan noodles' or toss stir fry vegetables in or use as a dipping sauce for any appetizers. (more ideas in this post)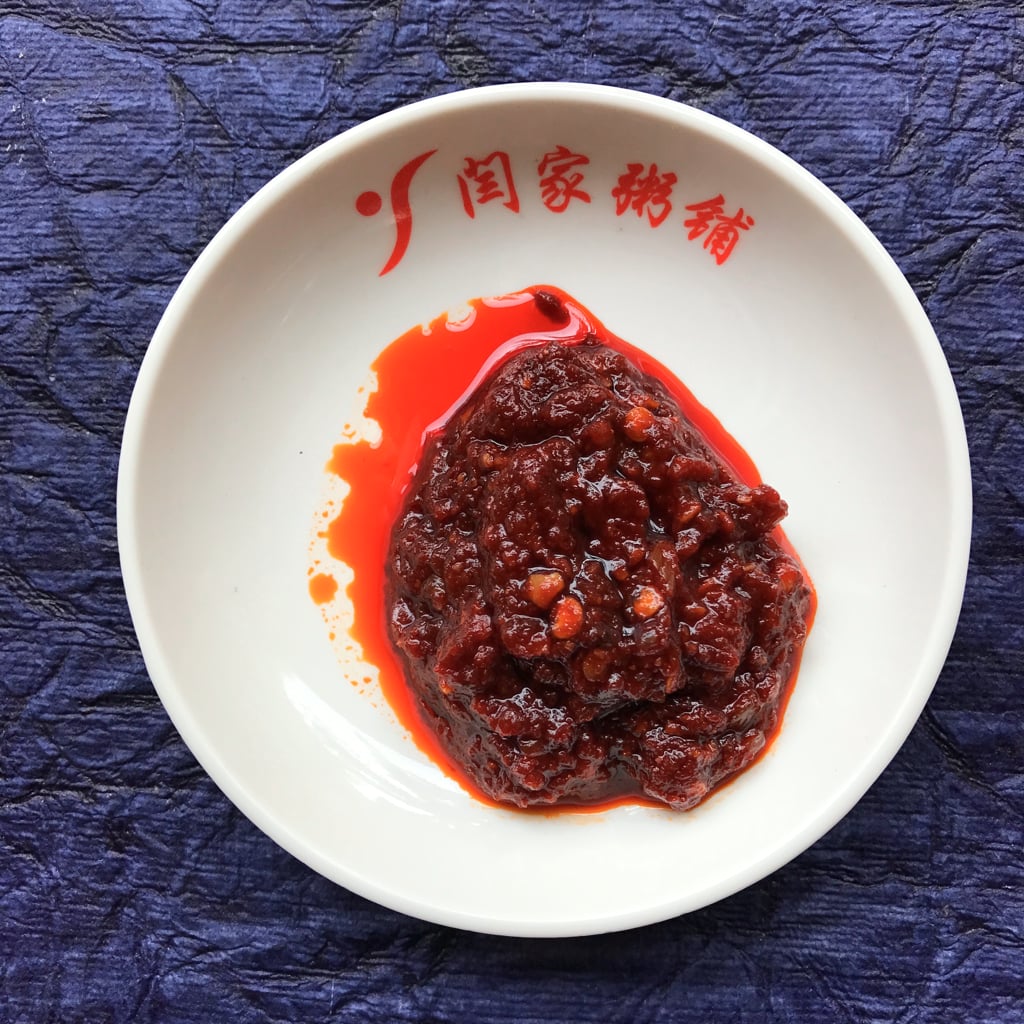 For this sauce, I use dried red chillies (Bedgi) – which you can find in most supermarkets in India or Indian grocery stores abroad. I haven't tried this recipe with fresh red chilies, and if you add as much fresh, you may end up with a really really HOT hot sauce.
Here are some ideas on what you can do with this homemade chili garlic sauce–
*Use this sauce to make Schezwan fried rice. Cook rice the previous day and keep it in the refrigerator overnight. Remove and separate the grains. Heat oil and saute finely chopped ginger, garlic and green chillies. Add veggies, meat, tofu or eggs and stir fry on high flame. Add the rice, prepared schezwan sauce, stir until well combined. Garnish with finely chopped spring onions.
*You can do the same with noodles and make Schezwan (Chili Garlic) noodles. Just use cooked noodles instead of rice.
*Add a tablespoon of this chili garlic sauce to scrambled eggs for deliciously fiery scrambled eggs.
*Grill some paneer or tofu and serve squares of them topped with a dot of this chili garlic sauce.
*Stir fry your favourite vegetables in oil infused with aromatics like ginger, garlic, green chillies. Make a slurry of corn flour in water and soy sauce. Add to the stir fried veggies with a spoonful of this chili garlic sauce for a super quick side dish for an IndoChinese meal.
*This sauce also makes a flavoursome dip for lettuce wraps, spring rolls and so on.
Schezwan Sauce | Indochinese Chili Garlic sauce
This homemade Schezwan sauce can be used to make Schezwan noodles or Schezwan fried rice or had as a dip with appetisers. Make a bottle of this when you have some time and you are just minutes away from a delicious Indochinese meal.
Ingredients
24

chilies

dried red (Bedgi variety)

20

cloves

garlic

1

onion

small

3

tbsps

vegetable oil

2

tbsps

white vinegar

2

tbsps

brown sugar

2

tsps

soya sauce

dark

1.5

tsps

salt

(adjust as per heat of chili)
Instructions
Remove the stems of the chilies. Wash them well and then immerse them in a bowl of hot water for 2 hours.

Peel and finely chop the garlic cloves and onion.

Once the chilies are rehydrated, place them in a mixer jar or food processor, and process to get a smooth puree, adding some of the soaking water if required.

In a deep, heavy bottomed pan, heat the oil. When the oil is slightly hot, add the finely chopped garlic and onion. Keep stirring it for 2-3 minutes. Don't let the garlic and onion get brown.

At this point, add the pureed red chilies and stir on medium heat. The mixture will splutter a bit, which is why preparing this in a pan with high sides will work better.

After stirring this for 2-3 minutes, add the vinegar, sugar, soya sauce and salt. Add upto 1/2 cup water (you can use this water to clean up any chili residue in the mixer / food processor). Stir well and allow to simmer for another 8-10 minutes until oil starts oozing out.

Check for salt, and add a pinch more if required. This may be needed if the chillies you use are spicier.

Remove into an airtight container and refrigerate until ready to use. This will stay for 10 days or so in the refrigerator. Use a clean dry spoon to remove required quantities of sauce for any dish.