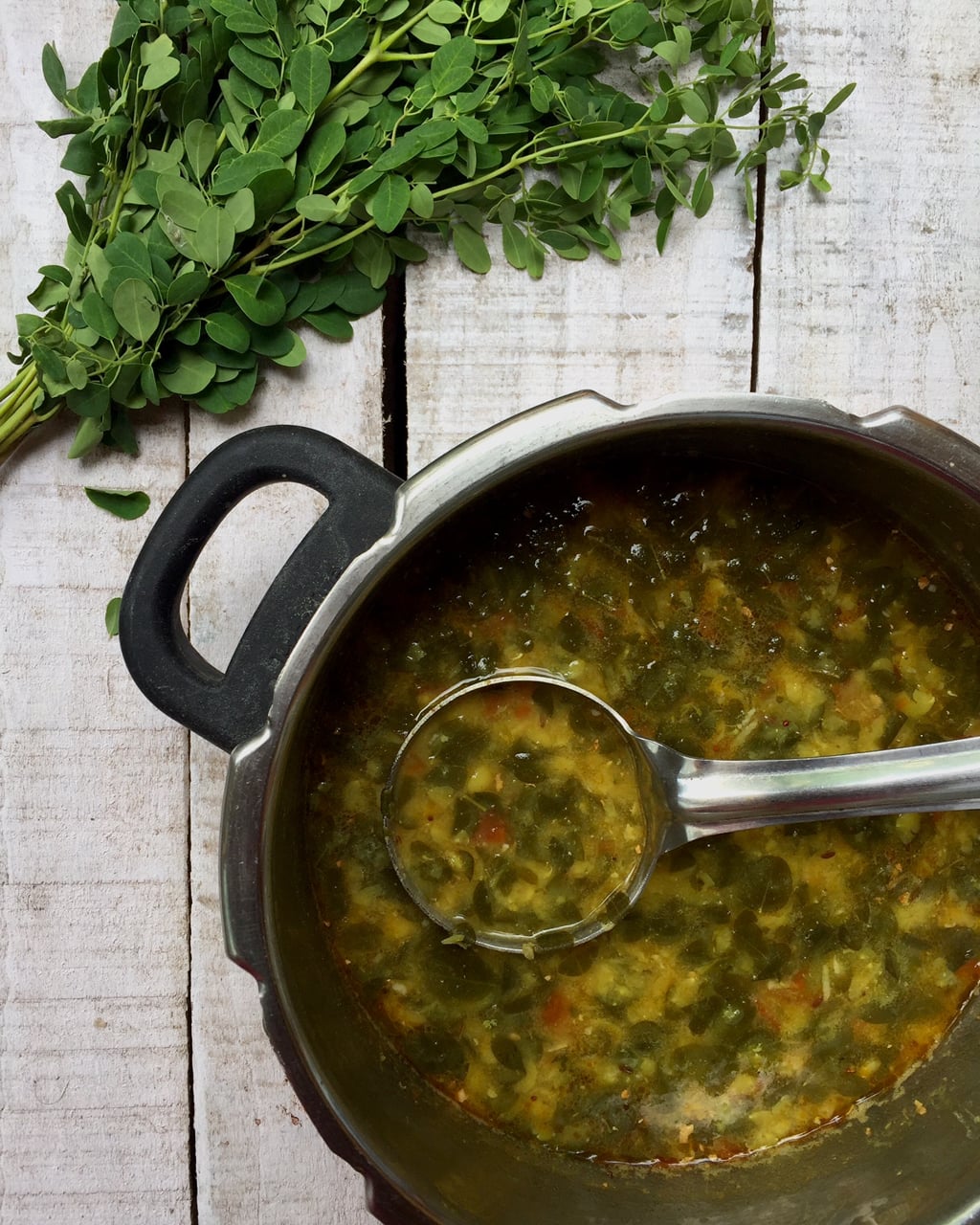 A recipe for drumstick leaves – Dal with Moringa greens / drumstick leaves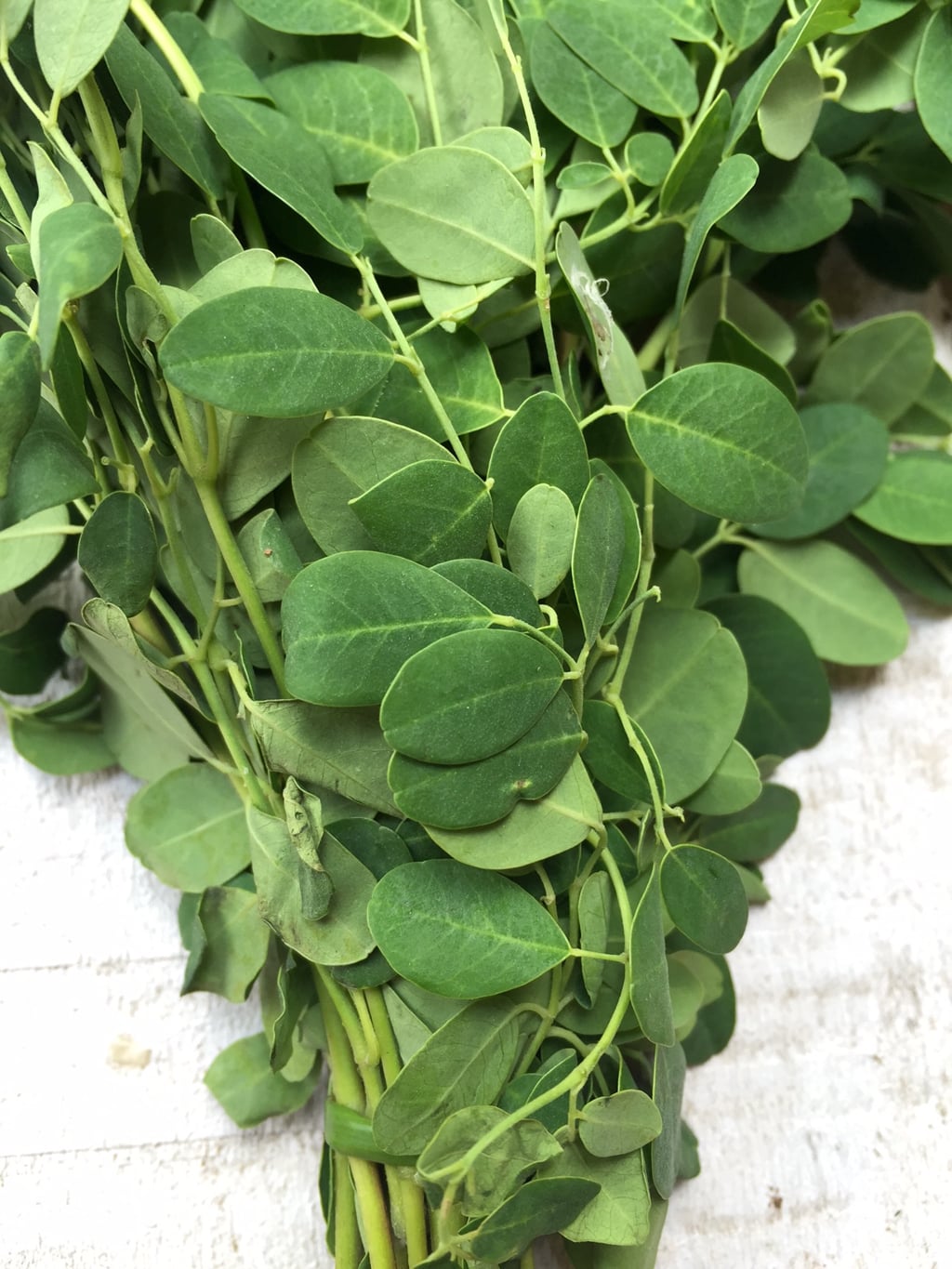 Before I share with you this very simple recipe, I must tell you a story.
In the final year of MBBS, to add to the already crazy cocktail of Medicine, Surgery, Gynaecology & Obstetrics and a host of other subjects, we also had Preventive and Social Medicine. This was the one lecture everyone loved to bunk, because it was considered a 'lighter' subject as compared to the other heavy weights. Even those who would attend this lecture would treat it like relaxing time, either take a nap (with eyes open, of course) or catch up on other subject work when the teacher wasn't looking. I was not the bunking sorts, so I would dutifully attend even these lectures (from the front bench, where else!) even though I would doze off once in a while or doodle faces in my text book in a frantic attempt to stay awake. I recall one of our PSM professors being obsessed with Drumstick Leaves, raving every now on then on how they are the ultimate panacea. She would not miss a single chance to explain how useful the tree was to people living in shacks on footpaths because it was a free source of good quality nutrition. Those days, we would giggle and how, at the professor's single minded love for Drumstick Leaves.
Much later in life (read a few years ago), is when I discovered this green leafy ingredient. And I remembered my professor's words all over again. It is used quite regularly in South Indian cooking where most homes have a drumstick tree in their backyard. While the drumsticks are used for sambar and other recipes, the leaves are a vital source of calcium, protein, vitamin A (from the Beta-carotene), fibre and lots more. It is said that moringa leaves or drumstick leaves have more iron than spinach, more beta carotene than carrots. With organic moringa powder sold in most superfood stores, this humble ingredient loved by our ancestors has truly arrived in style.
While I don't have a drumstick tree in my backyard, we are lucky that our grocery delivery service stocks up all varieties of fresh Indian greens (beyond just spinach and methi) and I make sure I order a couple of different varieties each week.
This recipe for moringa leaves in dal can be prepared with any of the other lentils such as moong dal, masoor dal or chana dal. Adding any green leafy vegetables to your dal allows you to add more greens to your diet and adds the nutrition value of an everyday food like dal. Also, an excellent way to get our kids to eat more greens.
Drumstick leaves are slightly bitter, so feel free to balance the flavour by adding a pinch of jaggery to the preparation, like I have.
Nutrition Info for Moringa Leaves: 1 cup chopped leaves – 14 calories, 0.4 gram fibre, 2 gram protein, providing 32% of daily requirement of vitamin A, 18% vitamin C and 5% Iron.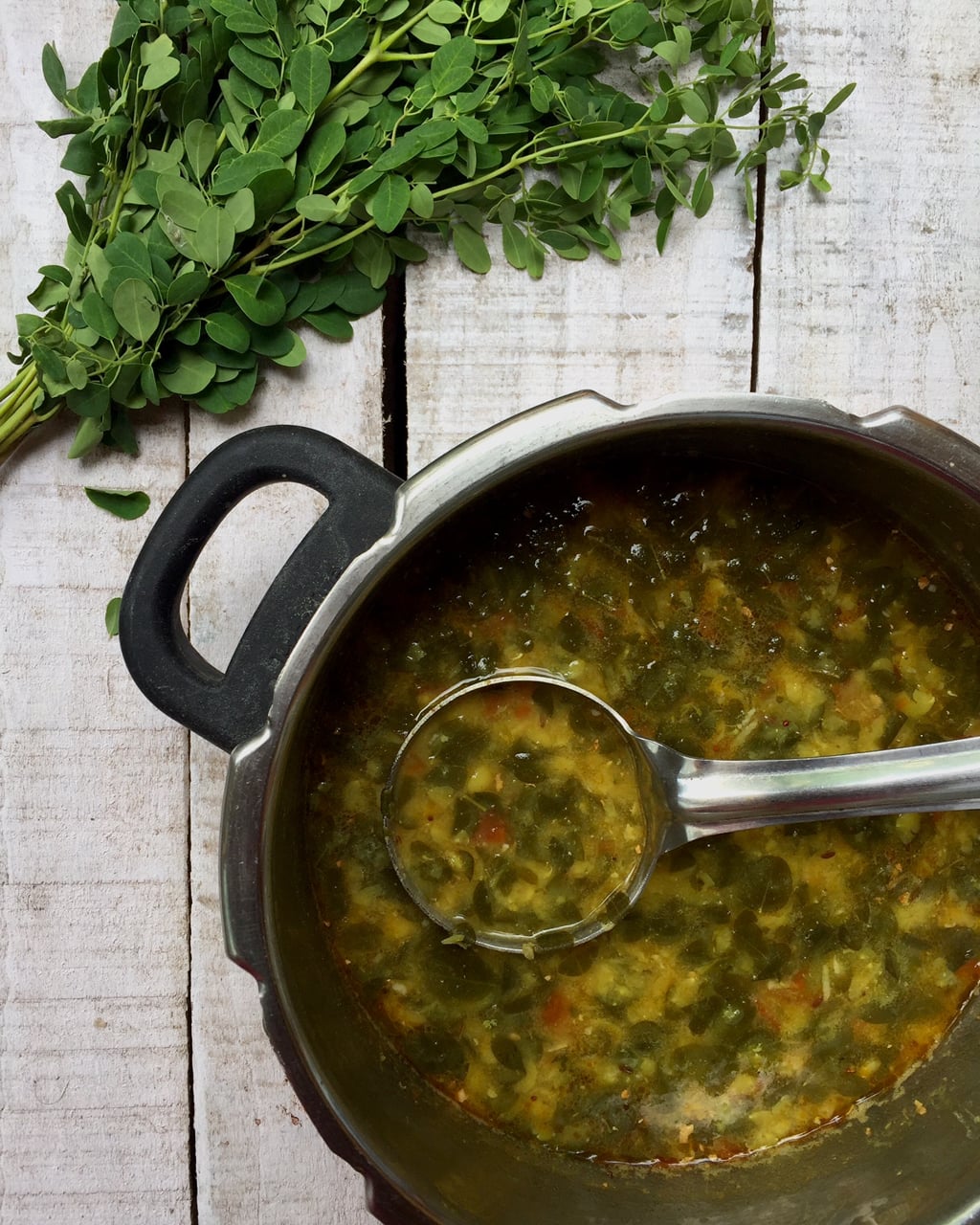 Drumstick Leaves Dal recipe
A recipe for drumstick leaves - Dal with Moringa greens / drumstick leaves, just another way to include this superfood in your daily diet.
Ingredients
1/2

cup

tur dal

(split yellow lentils)

1.5

cups

Drumstick

fresh leaves (moringa leaves / murunga keerai)

1

tomato

large

1/4

tsp

turmeric

powder

1

tbsp

ghee

1

pinch

asafoetida

of

1/2

tsp

cumin seeds

1/2

tsp

mustard seeds

2

cloves

garlic

large , grated

1

tsp

ginger

, grated

1/2

tsp

red chilli

powder

1

tsp

coriander

powder

1

tsp

jaggery

powdered

3/4

tsp

salt

1/2

lemon
Instructions
Wash the tur dal 2-3 times in water. Wash and soak the drumstick leaves / moringa leaves in a large bowl of water. Swish it around and allow any dust / dirt to settle at the bottom. Fish out the leaves and repeat process twice to ensure all leaves are clean. Remove any woody stems.

In a small (3 Litre) pressure pan or pressure cooker, place the washed dal, moringa leaves, halved tomato, turmeric powder and 2 cups water. Bring this to a boil. Cover with lid + weight (whistle). After 2 whistles, reduce flame / heat to minimum and allow to cook for 10-12 minutes.

Meanwhile, prepare the tempering for the Moringa Dal. In a small pan or a tempering ladle, heat ghee. Add asafoetida, mustard and cumin seeds, grated garlic, ginger. Once mustard seeds pop, add the spice powders, salt, jaggery and stir to combine.

Open the pressure cooker, mash the dal-moringa leaves with the back of the ladle, add the tempering to it and bring to a simmer.

Remove into a serving bowl and then add a squeeze of lemon.

Serve hot with plain rice or with rotis.