Recipe for Banana Chips, oil-free and guilt-free!
I am petrified of buying packets of banana chips. Once I lay my eyes on a packet of banana chips, my greedy soul will not rest until the last crumb has been eaten. And then there's this abyss of guilt that I sink into. Familiar story?
My dear neighbour and friend once asked me if I want anything from their trip to Kerala, and I nearly said 'banana chips fried in coconut oil'. Very nearly.
And then sanity took over, dragged the greedy banana chips loving monster in my head back into her stable and I said "no, thanks, nothing".
Phew. 15,000 calories saved right there.
And the effort and cost of buying new jeans.
My readers know that I've had the air fryer for a while, and been experimenting with fries, koftas, crispy karela and what not. I'm surprised that I did not try plantain / banana chips yet. So Friday evening, with a glass of hot toddy, I decided to put the lone plantain sitting all cozy in a cling wrap to the 'chip test'. Nothing fancy, just peeled the plantain, thinly sliced it, tossed in a few drops of oil. Threw them into the pre heated airfryer, and every few minutes, gave the basket a good shake. At the end of 8 mins drumroll perfectly crisp and delicious banana chips, with none of that deep frying and none of those calories.
So if you love banana chips (now who doesn't!), you're going to love me for sharing this recipe! You can also make the chips in an oven, find the tip at the end of the post.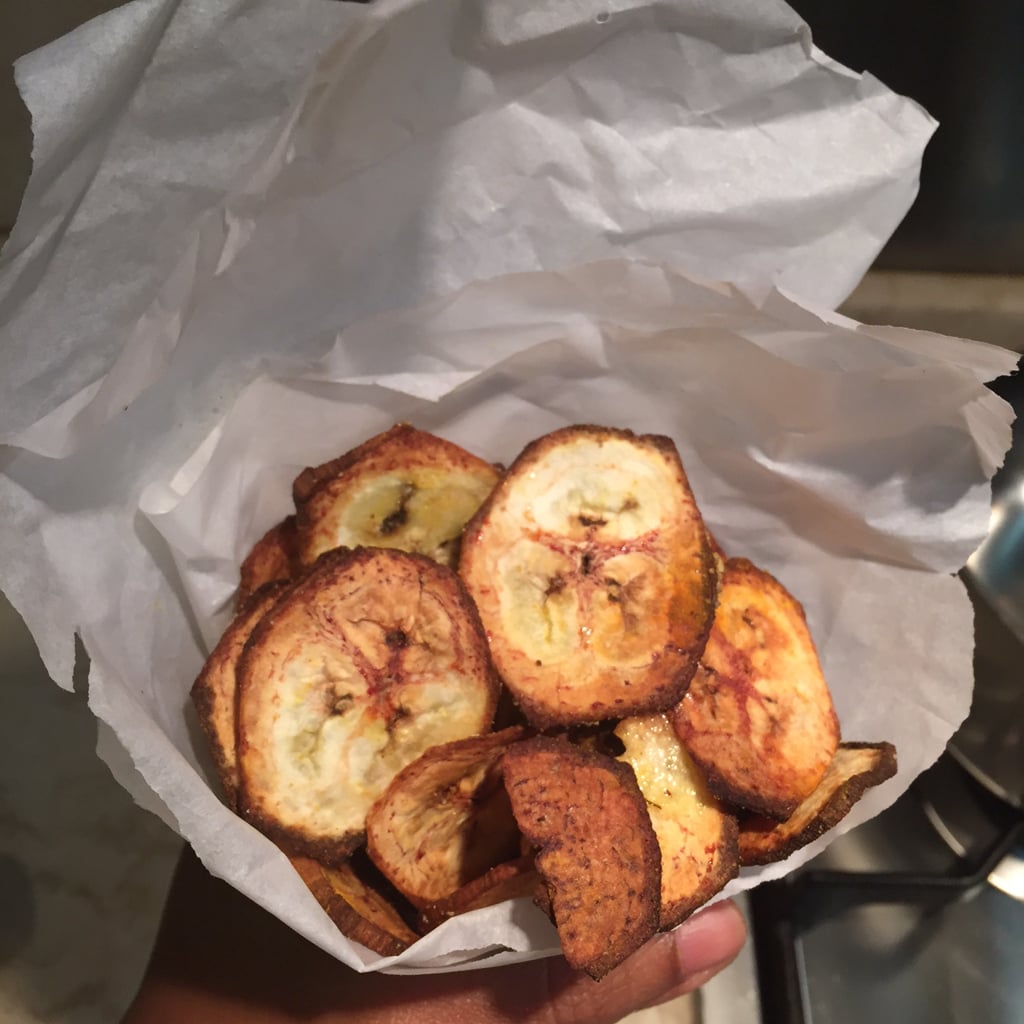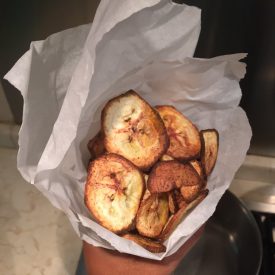 Banana Chips in Airfryer
Enjoy the goodness of Banana chips, the healthy way - oil-free & guilt-free. Use the airfryer or oven for this one.
Ingredients
1

Plantain banana

Large / raw

1

tsp

Coconut oil

1/4

tsp

turmeric

powder

1/2

tsp

salt

pinch

chilli

powder
Instructions
Pre heat the airfryer at 190 celsius.

Peel the plantain and slice into thin slices. Do not make it wafer thin though or the chips will start flying into the coils when they start getting crisper.

In a bowl, toss in coconut oil and turmeric powder.

Place the slices in the basket of pre heated airfryer. Dial the timer to 7-8 minutes.

Remove the basket every 2 mins, give it a good shake and continue airfrying.

They will turn lightly golden brown and crisp when done.

Cool for 2 mins or so to make them crisper. Have immediately.
Notes
Try this same recipe to make chips from any starchy vegetable such as carrot, sweet potatoes, yam or potatoes. No airfryer? Bake them in a single layer on a lined baking tray, in a preheated oven at 190C for 10 minutes, but keep a watch on the chips, so they don't burn.
Review of Airfryer and recipes for fries, colocassia roast, karela chips, calzone and onion pakoda in my post below