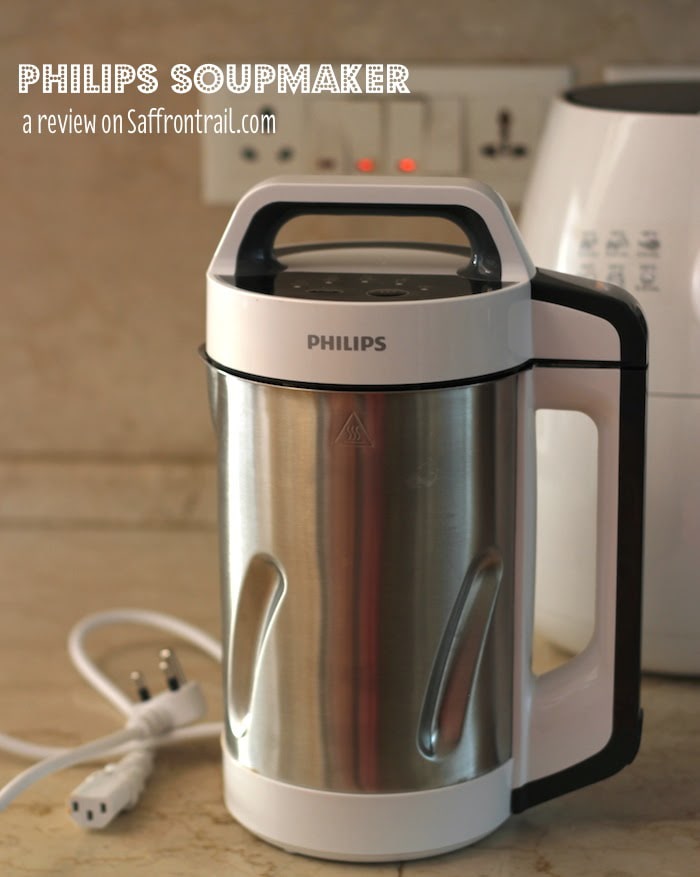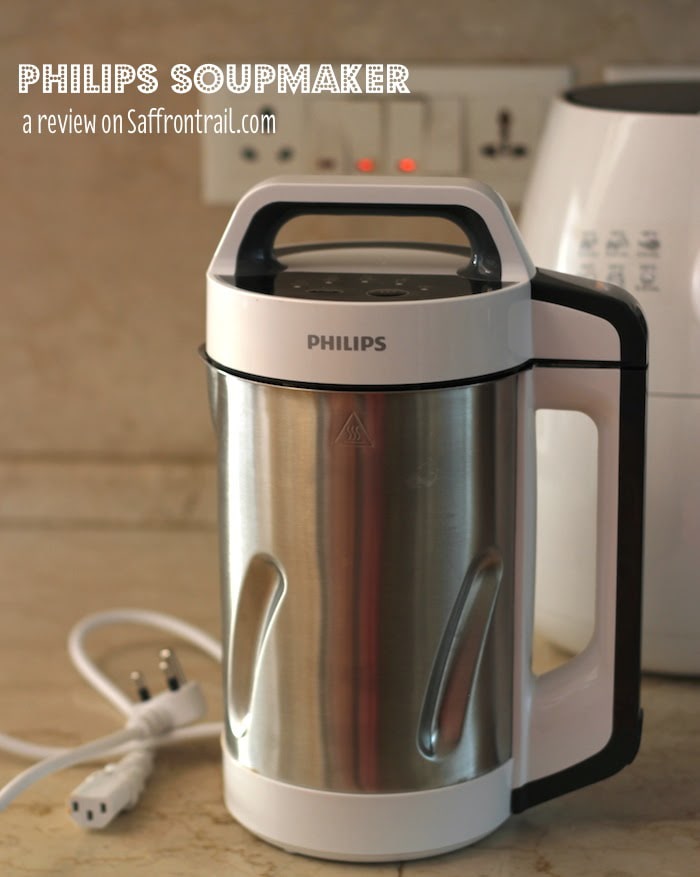 When I first heard of the Soup Maker from the Philips team, it got me all curious. A machine where you can just put in all the ingredients, it's cooked into a soup,wow! You get to choose whether you want the soup to be blended or chunky, and it also keeps the soup warm. The principles seem simple enough and something that simplifies our cooking process to a great extent. Whether it is their water purifier, AirFryer, I have personally experienced simple principles put into play in a sleek looking gadget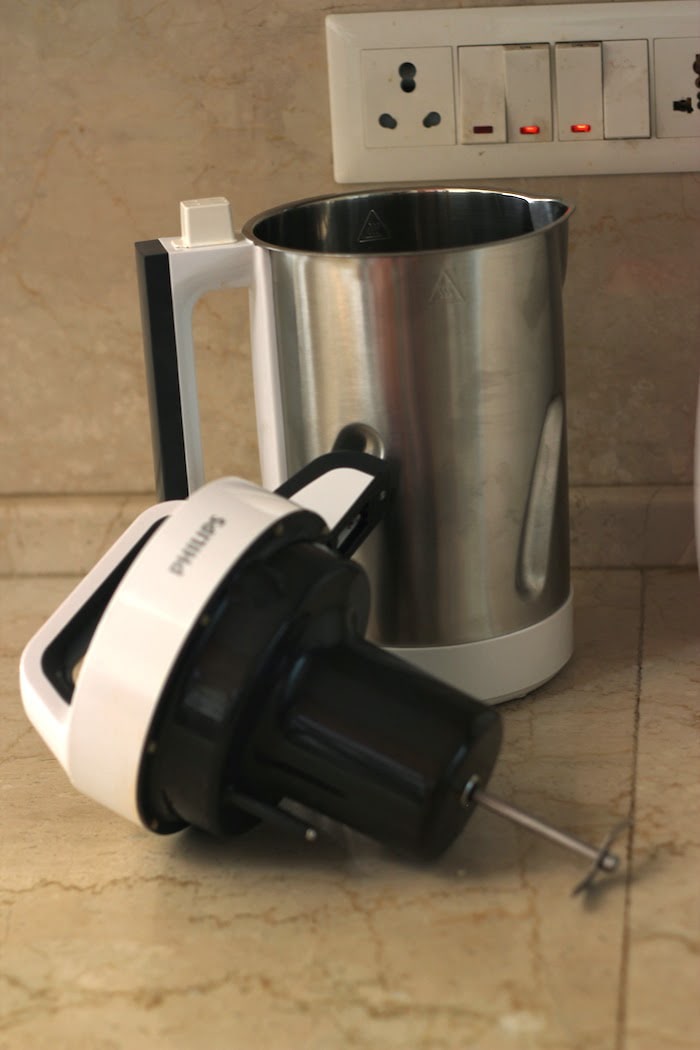 WHAT IS A SOUPMAKER
It is like a kettle which cooks your soup ingredients. The fitted lid comes with a blade that is helpful to blend the soup to a creamy texture (if needed). The body of the soupmaker is like a thermos that will keep the soup warm for 40 minutes. The detachable cord helps take the elegant looking kettle to the table and pour straight out of it, as it has a convenient spout
The interface is so ridiculously simple that one might get stumped how to use it (!!) because you are expecting something more complex
The panel comes with a start/stop button and a function selecting button. Each time you press the button, it moves on to the next function and once your desired function is selected, all you do is press the start button and allow the soupmaker to go about its business
FUNCTIONS
Why 5 functions for soup, you may wonder!
The first and second functions are for creamy and chunky soups respectively. The creamy soup function uses the blender in the end to give the soup a smooth consistency
The third option is for making compote. This is great for converting seasonal fruits into compotes for going on top of toast or desserts
The fourth option is for smoothies. So if your health conscious lifestyle demands a soup for dinner, you can have a smoothie for breakfast. Just throw in all the ingredients and hit this function, pour into your glass and you're set! I have a feeling this will be great for lassis, frozen yogurts and even churning ice creams / kulfis
The last function is the manual blender function. If you feel you want to blend your creamy soup further or blend just about anything, you can select this function and use the start button to blend for as long as you keep it pressed. And blending stops as soon as you release this button
ADVANTAGES
-I make soups very often and my usual way would be to lightly saute all ingredients directly in my smallest pressure cooker- wait for the stuff to cook, the cooker to cool, then blend them to a puree and bring back to a simmer with the rest of the ingredients. While it is quite effortless, there is a bit of monitoring and waiting around involved. With the soupmaker, there's no need to hang around. Select the function and come back to it just when you need to pour yourself a mug or bowl of soup
-The soupmaker is quite a multitasker, if I go by the recipes given in the recipe book -all manner of soups, smoothies, frozen yogurts, compotes etc
-It is reasonably compact, fitting easily in a small space on your kitchen counter. It's better kept in a handy location, so that you'll be inspired to make soups everyday, that's the whole point of this gadget – a healthier lifestyle, right?
-The soupmaker makes 4 servings or 2 large servings if you are having the soup as a meal
A word of caution:** The soupmaker body gets very hot while it is in use, so use only the handles on the side and on the top to open / handle the gadget while it is in use or when the soup is ready. It does have a 'hot' caution sign as you can see in the photo of the panel above
I was wondering if the hot liquid will splash out during the blending process, like it usually does in a blender and I was relieved to note that there were no such accidents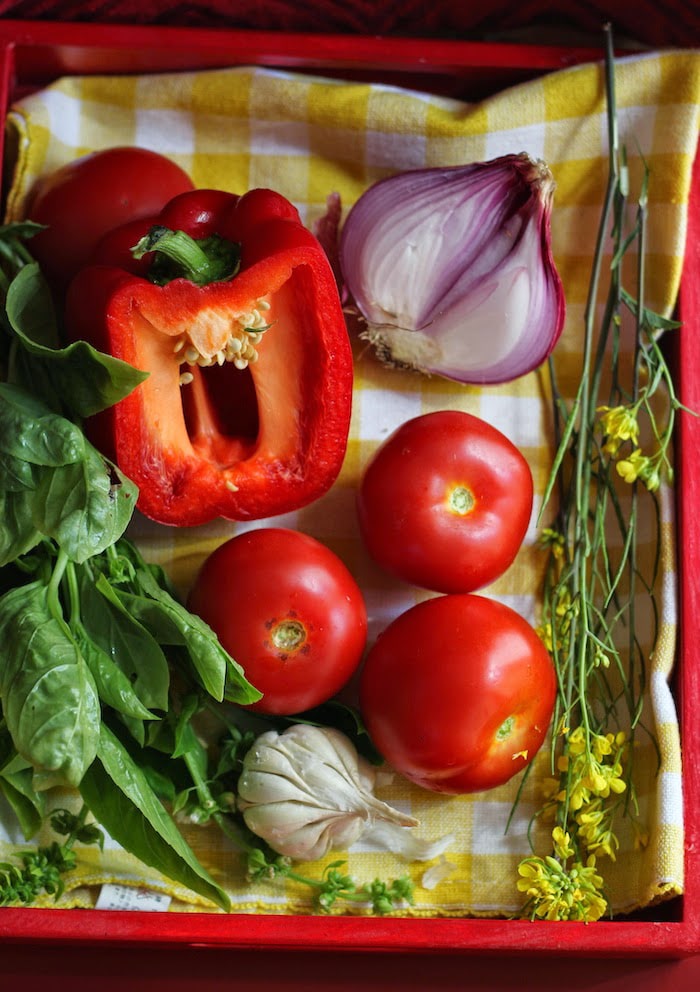 HOMEMADE BABY FOOD
Given how it works, the soupmaker can be a great gadget for baby food and weaning foods. New mums have a dozen demands on their time. Some organic vegetables, herbs, lentils and grains put into the soup maker with stock – can be left on chunky mode for the mum, and the soup/meal topped with some spicy seasonings such as black pepper or a tadka and the remaining 'soup' can be blended and given as babyfood. Surely healthier than what comes out of a bottle and with a bare minimum effort
HEALTH QUOTIENT
Steaming inside a closed container helps retain the nutrients and since you don't discard any of the liquid in which the veggies / meat has been cooked, you get the full nutritional advantage from your soup
A soup is a low calorie, high fiber, high nutrition substitute to a full meal and I'm talking about soups without cream, cheese or any such high fat/calorie ingredients. Replacing dinner with a soup each evening can help cut down considerable calories and thereby aid weight loss, in a healthy way, without compromising on the nutrition
WHAT'S MISSING
The only improvements I could imagine in this gadget are proper labeling of the panel- such as Smooth, Chunky, Smoothie etc., instead of just a graphic representation so it is easier for new users. An electronic timer that shows the time remaining would have been a useful feature
I shall update this review soon with the other functions such as Compote and Smoothie, once I have tried them.
Kitchen gadgets such as these are inspiring. I have been thinking of all the things I can try in this one – a mix of fresh ingredients, seasonal greens and veggies and there are literally tons of combinations you can come up with
Since I had just made a batch of Vegetable Stock that morning, I promptly tried a chunky soup (which I shall share a recipe soon) and today for lunch I made a tomato and red-bell pepper soup and to go with that multigrain bread rolls
It's super convenient and almost magical, how I simply poured the stock into the soupmaker, the roughly chopped veggies, switched it on and came back to beautiful aromas wafting around the kitchen
Tomato-Red Bell Pepper Soup
Recipe for Tomato-Bell Pepper soup in Philips Soupmaker
Serves 3-4
Prep time: 5 minutes, Cooking time: 25 minutes
Review of the Philips Soup maker + Giveaway + Recipe for Tomato-Red Bell Pepper Soup
If you're thinking of whether to buy the Soup Maker, hopefully this review will help you make that decision. Read on to find out more.
Ingredients
5

tomatoes

medium

1/2

red bell pepper

large

3

cloves

garlic

fat , peeled

1

onion

medium , peeled

600

ml

vegetable stock water stock

unsalted or use + cube

1

tsp

salt

2

tsps

oat flour water

+ 3 tbsps

Basil

leaves

Mustard flowers

Cream

Single
Instructions
Quarter the tomatoes. Chop the bell pepper into 2 cm squares (small dice). Slice the onions and finely chop the garlic.

Add all of this along with the stock into the soupmaker. Close the lid properly.

Switch on the power and select the first function (creamy soup). Press the start button.

This will take 25 minutes in all.

Once it's done, add the salt, oat flour + water slurry, and close the soupmaker, select the 'Chunky soup' option. In two minutes, this would have come to a boil, at this point use the Manual Blender option to ensure the oats has mixed into the smooth to give a creamy texture.

Pour into bowls, garnish and serve with your favourite bread rolls.
Notes
Disclosure:
I was sent the Philips Soupmaker for a review on my blog, from Philips. I have shared my unbiased opinion and experience.
The Amazon Link to the Soupmaker is an affiliate link. Your purchase via the link will not cost you more, but will help support the blog in a small way.