Refried beans have nothing 'fried' about them. So those of you who are petrified of eating fried food, it is safe for you to stay on and read the post.
This is the Mexican equivalent of mashed potatoes, and a healthier equivalent at that. Traditionally, pinto beans are used in the making of this Mexican staple, but because pinto beans not so easily available in India, I've used Kashmiri Rajma, which are the small sized kidney / rajma beans. So go on and make refried beans in your Indian kitchen, just like I do, and enjoy a host of tongue tickling Mexican recipes!
How to make refried beans?
Dried beans are rehydrated by soaking in water and then cooked to a mush. The cooked beans are then mashed using an implement that's like a potato masher and then 'fried' in lard traditionally, along with garlic, onions and other spices, but because we are making a vegetarian / vegan version of refried beans, we'll be using olive oil or vegetable oil.  While 'fried' is a misnomer here, refried is even more so. It does not mean double fried, but 'well-fried', which may mean that the cooked beans are sautéed along with onions and garlic to get the final dish.
How to use refried beans?
It is absolutely essential to Mexican and Tex-Mex cuisine. And because you can do SO much with it. So get stirring on a large pot of Refried Beans and I shall tell thee in how many ways you can use them.
*Spread on tortillas, top with chopped and sautéed vegetables and cheese and fold over and grill to make the most delicious Vegetarian Quesadillas.
*Smear some refried beans on Tostadas, top with tomato salsa and cheese and you have a  brilliant appetiser going for your next party.
*Spread on tortillas, add up your favourite stuffings and roll up to make a bean burrito.
*Add some refried beans on top of nacho chips, top with jalapeños, onions, tomatoes and cheese, bake to get this ever-popular bar snack. Check my recipe forLoaded Nachos.
*Leftover refried beans from dinner make a most terrific breakfast – Huevos Rancheros, Mexican ranch style eggs. Top a crisped up tortilla with a fried egg, add lots of salsa, refried beans on the top, sliced avocado on the side and top with cheese. That's one of my all time favourite breakfasts right there.
Need more reasons to make a big batch of refried beans? I guess not! We're going to be talking about many more Mexican Vegetarian recipes in the coming days and most of them will feature this Mexican beans recipe. So stop everything that you are doing and get started on this recipe NOW 😀 We're just getting started on a Vegetarian Mexican Fiesta here!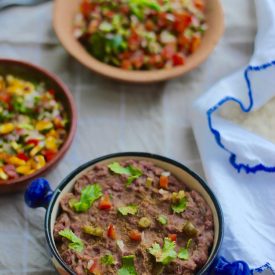 Refried Beans / Frijoles Refritos - Vegetarian Mexican Recipes
This vegetarian / vegan version of Refried Beans made using Kashmiri Rajma (Kidney) Beans is the base recipe for many Mexican favourites- Loaded Nachos, Quesadillas, Tostadas etc.
Ingredients
1

cup

Rajma

Kashmiri (small sized kidney beans)

1

Onion

large

3

cloves

Garlic

1

tbsp

Olive oil

1

tbsp

oregano

Dried

1/2

tbsp

cumin

Ground

1.5

tsps

Salt
Instructions
Soak the beans in plenty of water, for 6-8 hours or overnight.

Drain this water, add the beans to a large pressure pan. Add 4 cups water, half an onion (no need to chop), 3 cloves garlic and pressure cook for 1 whistle and then 12-15 minutes on sim. Switch off the flame and allow to cool.

Heat oil in a pan. Finely chop the remaining half of the onion and add to the oil. Saute on medium flame for 4-6 minutes until soft.

Meanwhile, drain the beans and reserve the cooking liquid. Beans should be cooked to a mush. Either with a potato masher or the back of a round ladle or food processor, mash the cooked beans along with the cooked onion and garlic to a coarse puree.

Add this puree to the cooked onions along with salt, oregano and cumin. Thin it with 2-3 tbsp of cooking liquid if required. Stir well on low flame until the spices are well incorporated into the mashed beans.

Remove into an airtight container to use up in recipes later or in a large bowl, topped with chopped coriander/cilantro and few pieces of jalapexf1os as a garnish.
Notes
The pressure cooker or the pressure pan is the quickest way to cook beans of any kind. If you don't have one, simmer the beans in a pot of water for around 90 minutes or so until they are cooked to a much.