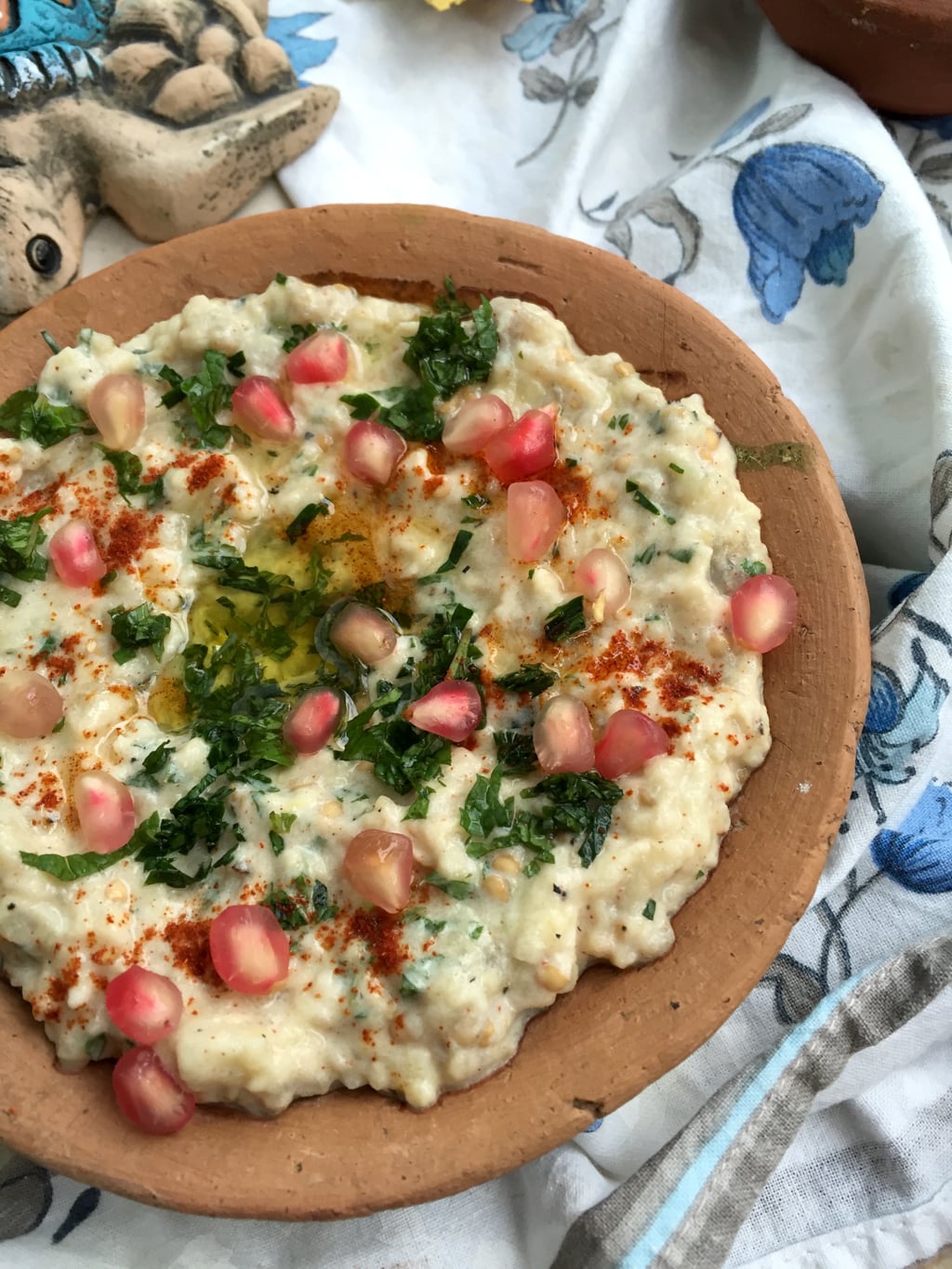 Recipe for Mutabal / Moutabbal / Moutabel – an eggplant dip, part of a Mezze platter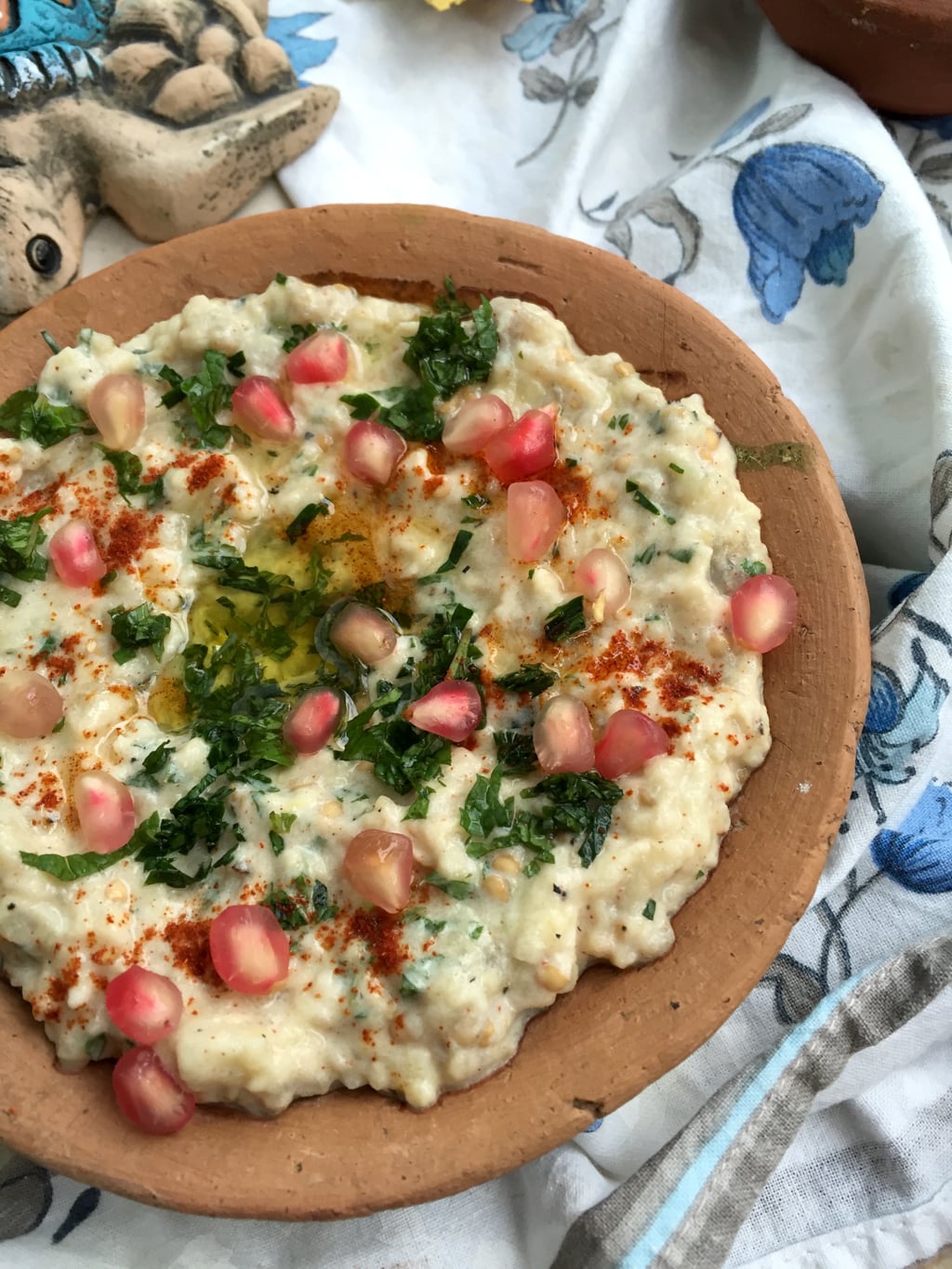 I'll be honest with you. I did not know of this eggplant dip until my trip to Jordan. I have been familiar with Baba Ganoush for over a decade, but Mutabal, nope, never heard of it! Among many other culinary learnings in Jordan, this was another revelation – that our dear Baba Ganoush has a cousin called Mutabal, a richer, creamier dip, with a texture somewhere in between a hummus and a Baba Ganoush. Trust me, if you are not planning a trip to the Middle East anytime soon, you should not deprive yourself of this utterly lip-smacking dip. A bowl of hummus, another bowl of mutabal, a stack of pita breads or crackers, and you'll feel that life has taken a delicious turn
Mutabal Vs Baba Ganoush
Both Mutabal and Baba Ganoush are made using roasted eggplants. The start of both recipes is to roast large globe eggplants on a direct flame, rotating it around until the skin is completely charred and the eggplant flesh is collapsing into a mush. The skin is then peeled off, rescuing the pulpy flesh that is bursting with an intense smoky aroma.
Add tahini, yogurt, mashed garlic, lemon juice and salt and you get Mutabal.
Add chopped tomatoes, onion, mint, lots of extra virgin olive oil, parsley, pomegranate molasses and you get the lighter, salsa-like Baba Ganoush. The Baba Ganoush we prepared in our cooking session at Petra Kitchen even included chopped green capsicums.
This of course is the Jordanian way! I'm sure every Middle Eastern country has its own formula to prepare Baba Ganoush.
Mutabal - Roasted Eggplant Dip for a Mezze Platter
Recipe for Mutabal / Moutabbal / Moutabel - an eggplant dip which is part of a Mezze platter. A bowl of hummus, another bowl of mutabal, a stack of pita breads or crackers, and you'll feel that life is indeed amazing ?
Ingredients
1

eggplant

large (500 grams or more)

2

tbsps

tahini

4

tbsps

yogurt

3

cloves

garlic

1

tsp

salt

2

lemons

1

tbsp

extra virgin olive oil
Instructions
Place the eggplant on open flame. Keep rotating until entire skin is charred and flesh inside is soft and pulpy. Inserting a knife or skewer inside will tell you when flesh is completely soft.

Allow it to cool for a bit and then peel the skin off, removing all the cooked, eggplant flesh in a large bowl. Discard any large chunks of seeds.

On a chopping board, add 2 pinches of salt to the peeled garlic cloves and mash them with the side of the knife blade until you get a coarse paste.

Mash the eggplant flesh with a fork, adding the tahini, yogurt, salt, garlic paste, juice of two lemons.

Remove this into a shallow bowl. Garnish with extra virgin olive oil. A sprinkling of sumac and pomegranate seeds (optional) will add colour to the dish.

Serve as a part of a Mezze platter along with hummus, tabbouleh, labneh and pita breads.
Notes
Nutrition Bytes:
Eggplant being a low-carb, low cal vegetable, paired with tahini and yogurt, makes mutabal a low-carb, high protein snack. It is also rich in healthy fats from the tahini and extra virgin olive oil. 1 serving of this recipe provides 3.7 gram of protein and 5.6 gram of fiber for just 126 calories is pretty impressive!
Try this once and I'm sure you'll be addicted to it like I am! Mezze platters make an amazing party menu and stay tuned to my blog as I'll be including lots more mezze platter recipes 🙂