You might have read my post on the horrific experience we had after losing all our cash in the Thalys while travelling from Paris to Brussels. A lot of readers emailed me to say that they found it useful to know these facts straight from the horse's (that's me) mouth, and few others told me that they followed my tips religiously while travelling in these parts.
When preparing for a travel, two things are pretty much top of mind. One – What to pack? Two – What about the money? While what to pack is a more complicated issue, it is easier to tackle the second question. Especially after travelling to 4 countries in April and May, there are some practical tips which I want to share. Hopefully, this makes your travel planning less confusing to some extent, where money is concerned.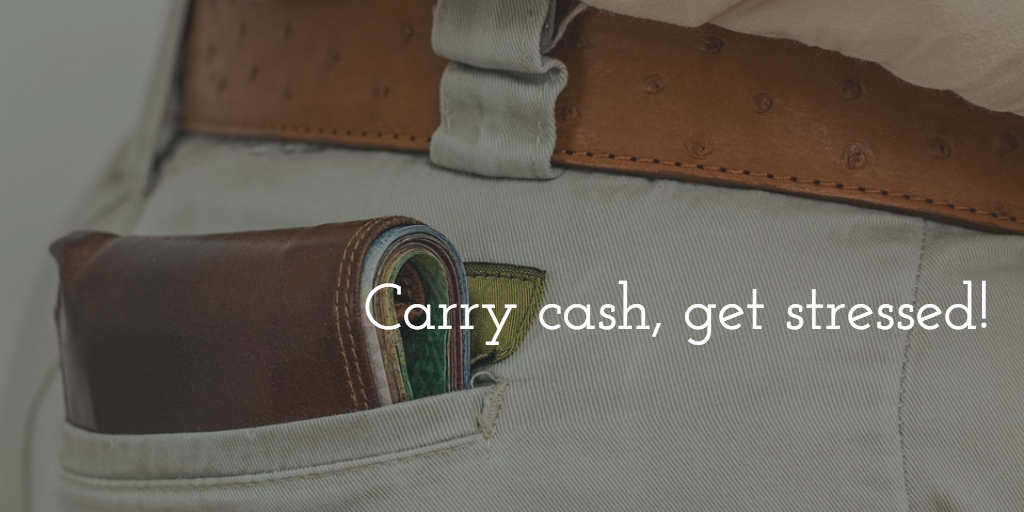 Carry cash, get stressed! – While walking around Paris, I stepped into a small, super-crowded sandwich place for lunch, where their cheapest sandwiches were €1. If you know Paris, a sandwich for a Euro is crazy cheap and no wonder it was crazy crowded. A lot of college kids seemed to be buying the €1 sandwich and paying for it by credit card. I was gobsmacked. Really? People here don't have a Euro to spare in cash? In retrospect, I realised that carrying cash = stress. No surprise, that when the smart pickpocket sees a loaded Indian family, walking around with handbags, they know you are just the sort to carry cash in your pockets or bags. BAM! Like I emphasised in my post, carry only as much cash on your body as you are willing to lose.
Carry it in a fanny pack, or bag. The only thing worse than carrying cash, is carrying it in one of those bulky over the clothes waist-belt or fanny pack. It's like a welcome note for the pickpockets. This is super stressful again, and your one hand will be busy covering up the zip of the pack at all hours. Carrying a little emergency cash plus a Forex card in your jacket's inside pocket or in the front pocket of your jeans is a safe bet here. What's infinitely better than a fanny back is an under the clothes slim money belt.
Divide up the cash. While it is a good strategy to not lose all your money at once, you still run the risk of losing 50% of your cash if there are two of you. It is however a good idea to divide your money between two Forex cards, carried safely in one of the hidden pockets, if you are travelling as a couple so it is easy to each of the two to go out to shop individually.

Using the local ATMs – While most respectable banks give you an ATM card that will allow withdrawals from any ATM abroad, they levy transaction charges on them. It is worthwhile finding out before you choose to use it rather than getting shocked when you get your monthly statement. If you are visiting any offbeat countries, you should find out from your bank if the card will work at all in the ATMs in this country. Using local ATMs on a daily basis will not only attract transaction fees for every withdrawal, but you'll also be subject to varying exchange rates. Using a multi-currency Forex card helps you lock an exchange rate and you don't have to worry about what the present exchange rate is.

Using your credit card – The flip side of using a credit card is that Indian Rupee being where it is, if your monthly credit limit is say Rs. 50,000/-, when exchanged in pounds, AUD, USD or even Jordanian Dinar, you can go over the limit quite quickly, all it takes is a total of around 500$ or pounds worth of purchases. Also, the need to make any interim payments or the going past the payment due date is a risk if you are on the road for a longer period of time. By using a prepaid Forex card, you're spending the money that you've already put away, so no stress of paying bills after your holiday is over.
Travellers' cheques. The once go-to method of carrying money while travelling is no longer the most popular option. Looking for a place that will cash a traveller's cheque, problem with part encashment, not being accepted in some places, and a fluctuating exchange rate are all the problems that come with this mode of carrying money for foreign travels.

Converting foreign currency back into your currency at the end of the trip and you can be in for a shock. When I tried converting my leftover Jordanian dinars into Indian rupees at the airport Forex kiosk, the best rate they could give me was Rs. 50/- to the Dinar when the buying rate was Rs. 100/- to the Dinar. Imagine how much you end up losing. I decided to spend all my leftover Dinars at the Duty Free shopping instead of exchanging it for a pittance.
I ended up learning about these mistakes the hard way but you can be wise and learn from mine. If I'd have known about them earlier I could have saved myself from a whole lot of stress! The only thing that saved us after being robbed, was the kindness of a complete stranger and a couple of other friends who loaned us money and the Axis Bank Forex card that we had carried along. The fact that we had a prepaid card (which thankfully didn't get stolen) helped us navigate through our holiday expenses to some extent. Given how common thefts have become in some cities, it is always useful to have the fall back option of the feature like TripAssist – an emergency assistance service, provided by this card. In case of a theft/loss of wallet/baggage, all you need to make is one call to block your card, get emergency assistance to pay your hotel bills and/or return flights, get you assistance on your lost passport and even emergency cash delivery. Now that can be a real saviour when you get caught in unfortunate circumstances.
I hope you find this post helpful! If you have any tips on being money-smart on travels abroad, do share with us in the comments.
This post was sponsored by Axis Bank Multi-Currency Forex Card. The information and experiences shared here are my own.
Watch this film!