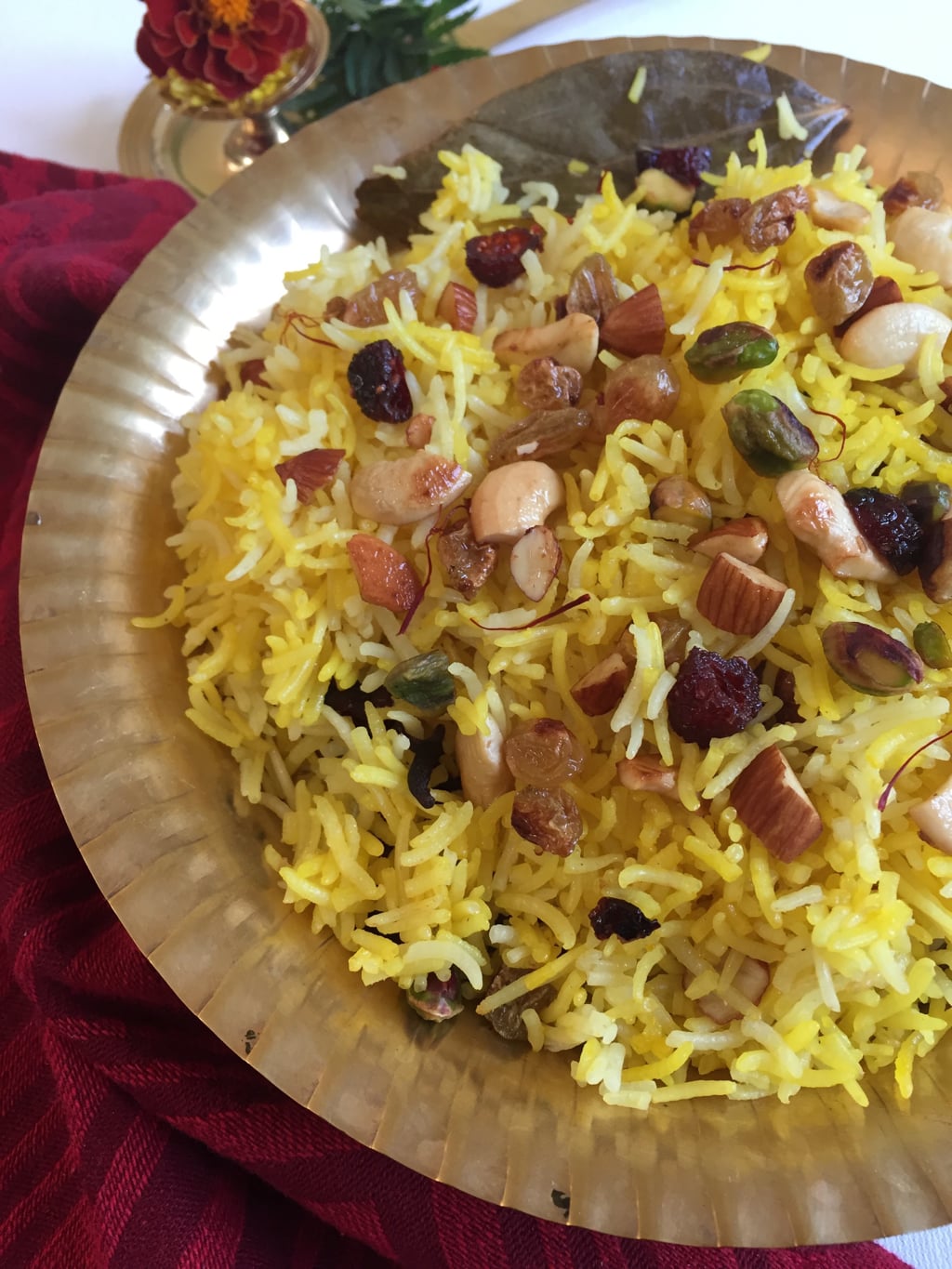 Recipe for Saffron Rice with dried fruits and nuts | Saffron, Fruit and Nut Pilaf | Saffron Recipes
This Persian inspired Saffron Rice studded with lightly sautéed dried fruits and nuts is a showstopper of a dish. Not as fancy or time consuming as a biryani, this special dish is just perfect for any festive occasion and even as an offering / prasad as it has no onions or garlic.
I love how bejewelled this rice dish looks from the green of the pistachios, the reds of the cranberries and the plumped up raisins!
Tips to making a perfect saffron rice:
Use pure saffron powder or gently toasted saffron strands powdered with some granulated sugar in a small mortar-pestle.
Use fragrant long grain basmati rice.
Use good quality ghee to toast the dried fruit and nuts, as well as the rice for the best flavour.
[TIP: Keep nuts like cashews and almonds in sealed bags in the freezer to make them last longer and prevent them from turning rancid.]
What can you serve saffron rice with? Any spicy curry will pair well with this mild saffron rice.
You can also check out these rice dishes on my blog –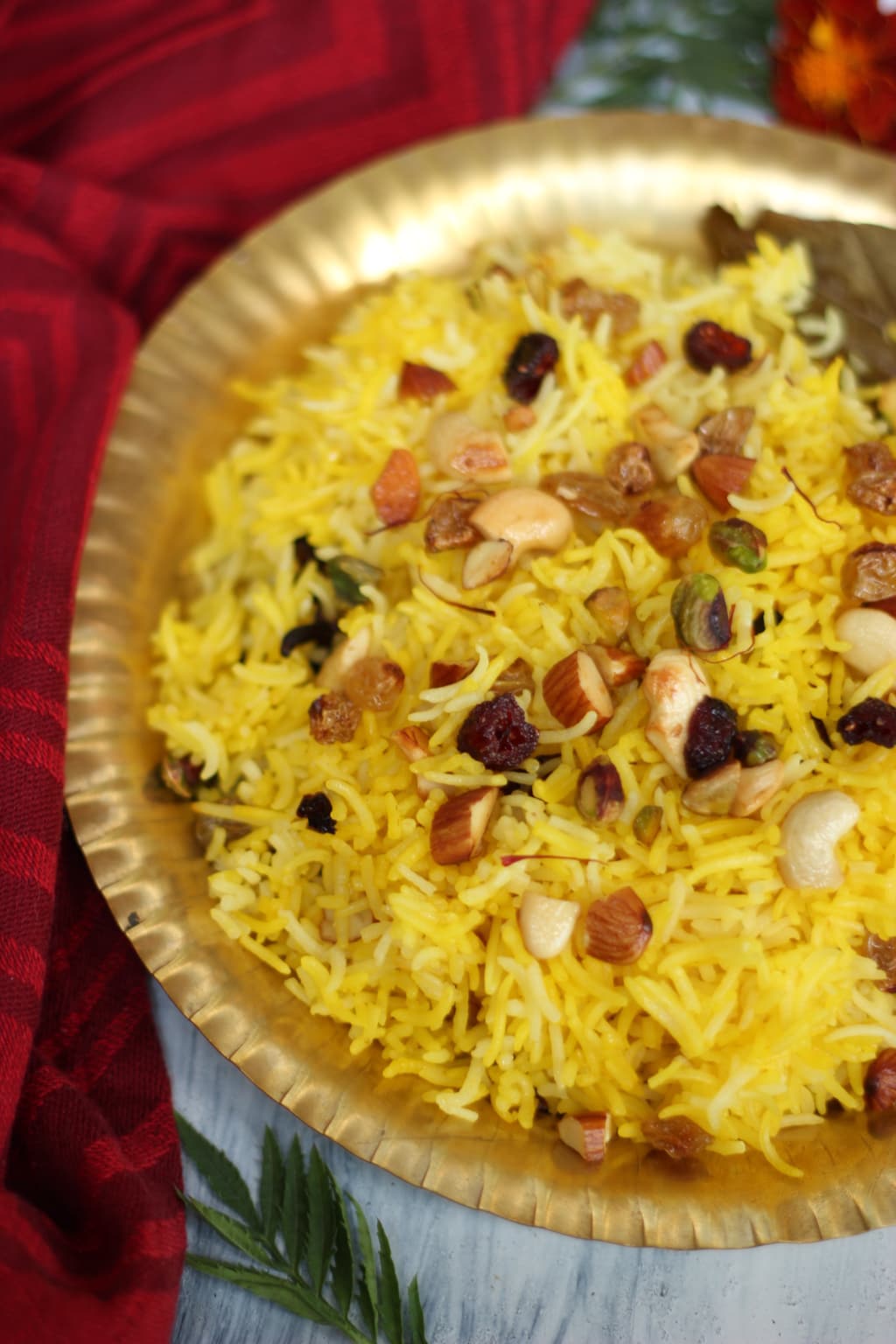 Saffron Rice with Fruits and Nuts
This Persian inspired Saffron Rice studded with lightly sautéed dried fruits and nuts is a showstopper of a dish, perfect for any festive occasion.
Ingredients
1

cup

basmati rice

long grained

1

tbsp

ghee

2

tbsps

almonds

chopped

2

tbsps

pistachios

chopped

2

tbsps

cashewnuts

chopped

2

tbsps

cranberries

chopped chopped

2

tbsps

raisins

2

cardamoms

green

1

bay leaf

2

cinnamon

sticks

6

cloves

xbd

tsp

salt

2

cups

water

xbd

saffron

sachet powder

1

tbsp

milk
Instructions
To prepare the saffron rice, wash the rice and soak it in water for 30 minutes.

Heat ghee in a pan. Add the chopped nuts and dried fruit. Saute on medium flame until cashews are golden brown and raisins are puffed up. Using a slotted spoon, remove from ghee and keep aside.

In the remaining ghee, add the cardamom, bay leaf, cinnamon and cloves. Stir for 1 minute or so until the cinnamon unfurls and cloves are puffed up.

Drain the rice and add to the pan. Toast the rice with the spices on medium flame for 2-3 minutes.

Add 2 cups water and salt. Bring this to a boil.

Once the water is boiling, reduce flame, cover with a lid and allow to cook for 8 minutes or until the rice is nearly cooked.

Whisk the saffron powder in the milk and tip it into the nearly cooked rice.

Gently toss the rice in the saffron milk until it gets a uniformly golden hue. Remove the pan from the flame.

Mix half the fruit-nut mix into the rice.

Remove this onto a platter. Garnish with the leftover fruit-nut mix. Serve with a spicy curry.