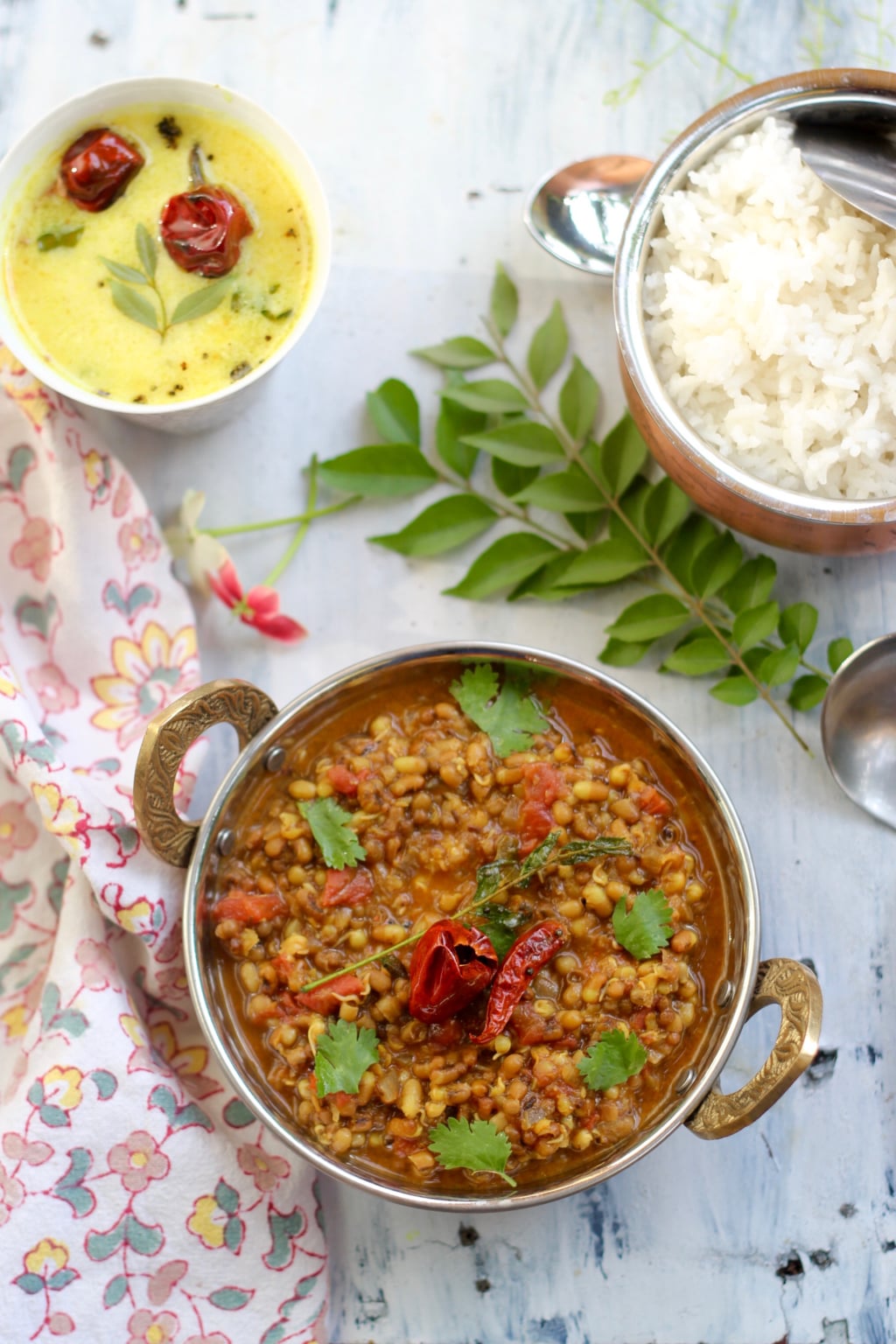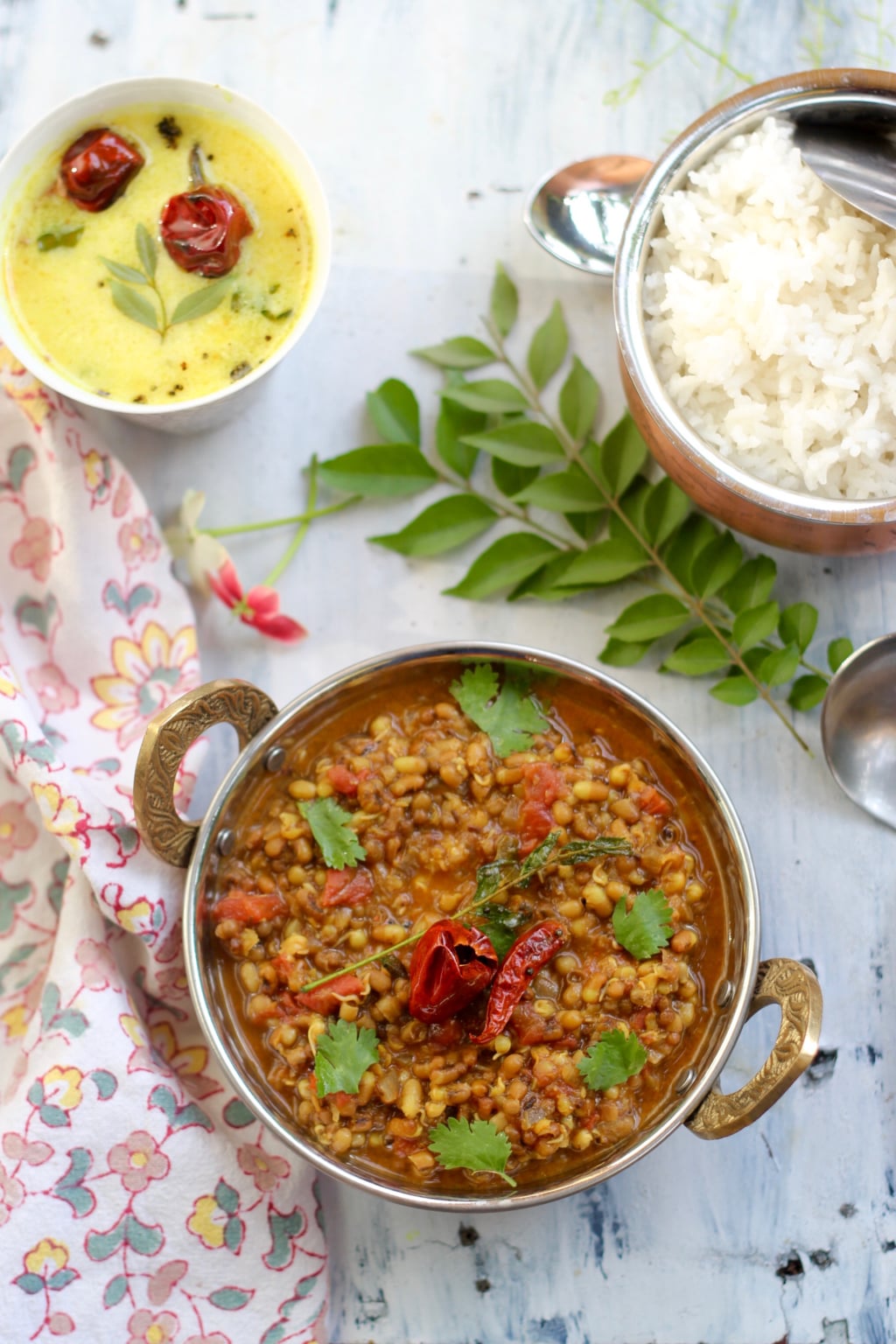 Recipe for Moth Beans Sprouts curry 
Other names:  Matki Bhaji / Matki chi Usal / Indian style sprouts curry 
Commonly known as Matki (मटकी), Mutt (मठ ) in Gujarati, Moth beans in English, with other names such as Dew beans, these are very small, brown coloured lentils used in Indian cuisine, predominantly in the Western regions like Gujarat and Maharashtra.
From what I read up on these beans, I found that they have a high tolerance to drought and high temperatures, with short growing period of around 70 days, making it a good summer crop in many parts of Western India.
A very typically Indian bean, not as well known around the world as the Green Moong bean, these are tiny in size. I love these beans, but they are such inconspicuous looking things, that I mostly even forget to add them to my cart while shopping for groceries. All supermarkets in India (the Indian grocery stores in US) stock the dried beans in the beans/pulses section. You will also find ready sprouted Moth beans in most Indian supermarkets these days.
Soak them, sprout them and there are wonders you can do with this little flavour-packed pulse.
Moth beans are an example of a simple indigenous Indian ingredient that is amazing in its versatile nature and flavour. Cook them until just tender and sprinkle them on a salad or even veggies or a grilled chicken or fish for a punch of texture and bonus fibre. Add them to a pilaf / pulao with a mix of spices and vegetables. Instead of regular yellow lentils, cook these moth beans for slightly longer, mash them up to make a delicious dal that pairs with rice or rotis. I have two favourite ways of cooking matki. One is the Gujarati style sprouted matki sabji that is had with kadhi and rice. A simple, divine, weeknight dinner if you ask me.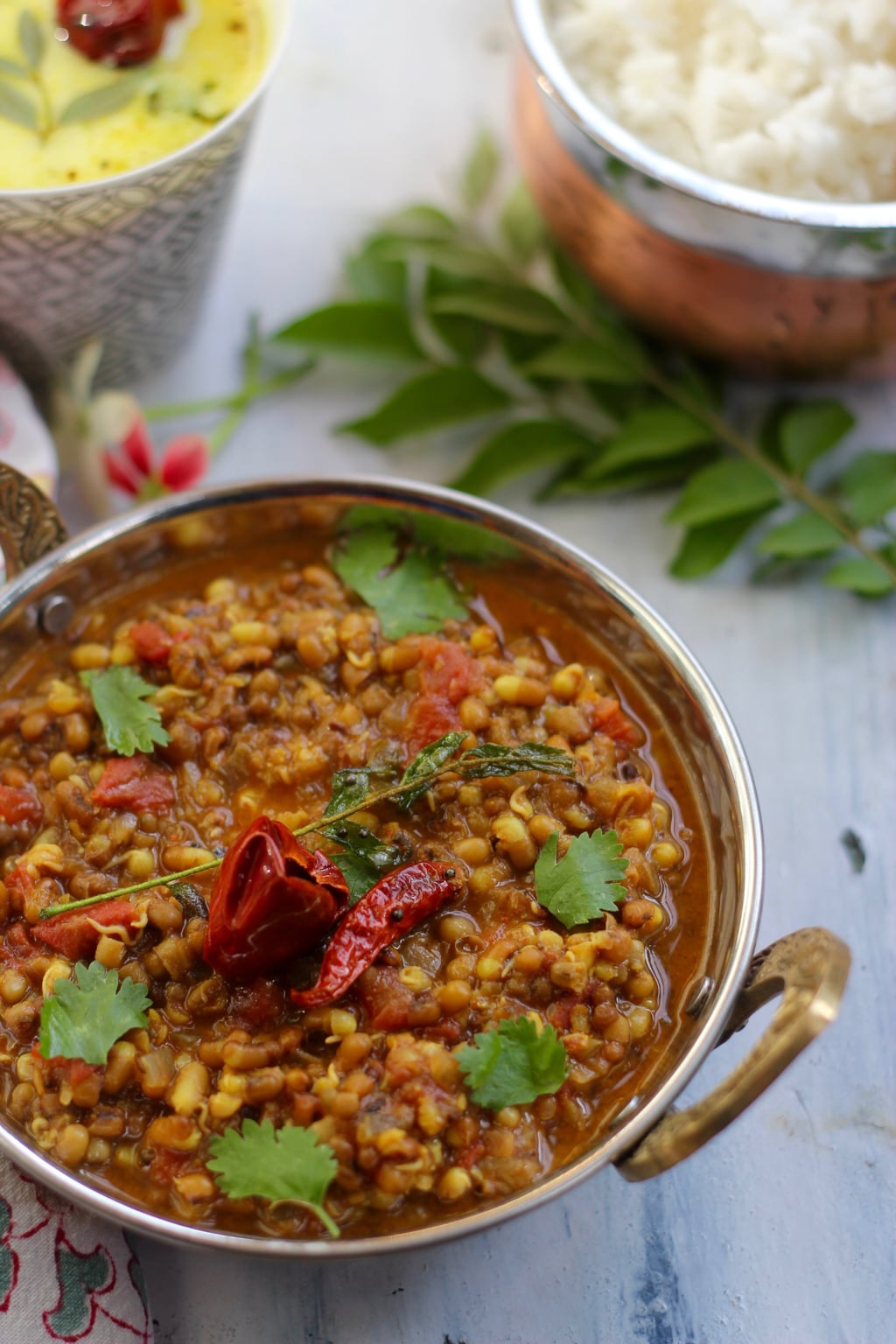 The other is a Maharashtian style usal – made using these sprouted Moth beans, some spice powders from your pantry and a curry base of onions and tomatoes. This is just perfect to dip a buttered toasted piece of pav / bread. Slurp indeed! The curry can also be had with rice or rotis.
Here are a few ideas on what to do with sprouted matki / moth beans:
Blanched and tossed in vinaigrette with herbs served with grilled fish
In a soup
Gujarati style dry subzi with onions
Maharashtrian style matki usal
Rice and sprouted matki pulao
Matki Usal - Indian style Sprouts Curry
Commonly known as Matki मटकी in India, Mutt मठ (in Gujarati), Moth beans in English, these tiny beans are packed with flavour & texture, a delight to cook with. Get the recipe for Matki chi Usal - a simple curry made using these sprouts.
Ingredients
1/2

cup

beans

Matki / Moth (dry )

1/4

tsp

Turmeric

1/4

tsp

Vegetable Oil

1

tbsp

Vegetable Oil

pinch

Asafoetida

a

1/2

tsp

Mustard seeds

1/2

tsp

Cumin seeds

2

sprigs

Curry leaves

2

chillies

Dried red

1/2

tsp

ginger

Grated

1/2

tsp

garlic

Grated

1

onion

Medium sized

2

tomatoes

Medium sized ripe

1

tsp

Salt

2

tsps

Coriander

powder

1/2

tsp

Turmeric

powder

1/2

tsp

Garam masala

powder

1/2 - 1

tsp

Red chilli

powder

2 - 3

tsps

Coriander leaves

for garnish

1 - 2

tsps

coconut

Grated fresh for garnish (optional)
Instructions
Wash the moth beans well and soak it in plenty of water for 6 hours.

Drain all the water and keep covered with a fitting lid or keep in a box on the counter overnight, for sprouting. If required you can sprout for 24 hours to get longer sprouts. If sprouting for more than 12 hours, make sure you rinse the beans once midway so that it doesn't get slimy. After rinsing, drain and keep in the closed box. Once the beans have sprouted, store in airtight container in the fridge for 1-2 days maximum or use it right away.

Cooking the matki / moth beans: Rinse the sprouts with water and drain. In a pressure cooker, place the sprouted matki with 2 cups of water, 1/4 tsp turmeric and 1/2 tsp oil. Pressure cook for 1 whistle and then reduce the flame to sim. Allow to pressure cook on sim for 5 minutes. Switch off the cooker and allow to cool. If you don't have a pressure cooker, these can be cooked in a large pan on the stove top, uncovered, for 15 mins or so until tender.

Finely chop the onion and tomatoes.

In a heavy bottomed pan, heat the oil. Add the asafoetida, cumin seeds, mustard seeds, curry leaves, dried red chillies and stir until the seeds pop.

Add the finely chopped onion, grated ginger and garlic and stir well. On a medium flame, cook this for 5 minutes with constant stirring. Add the chopped tomatoes and salt. Stir this mix until the tomatoes are mashed to a pulp.

Add the coriander powder, garam masala, red chilli powder and keep stirring till you get a glistening curry paste.

To this paste, add the cooked moth beans along with the cooking liquid and bring to a simmer. Check for salt. Allow this curry to simmer for 5 minutes or so. It should not turn completely dry (see pics).

Remove into a serving bowl. Garnish with coriander leaves and a couple of red chillies.
Notes
This Matki Usal pairs well with Kadhi and Rice.