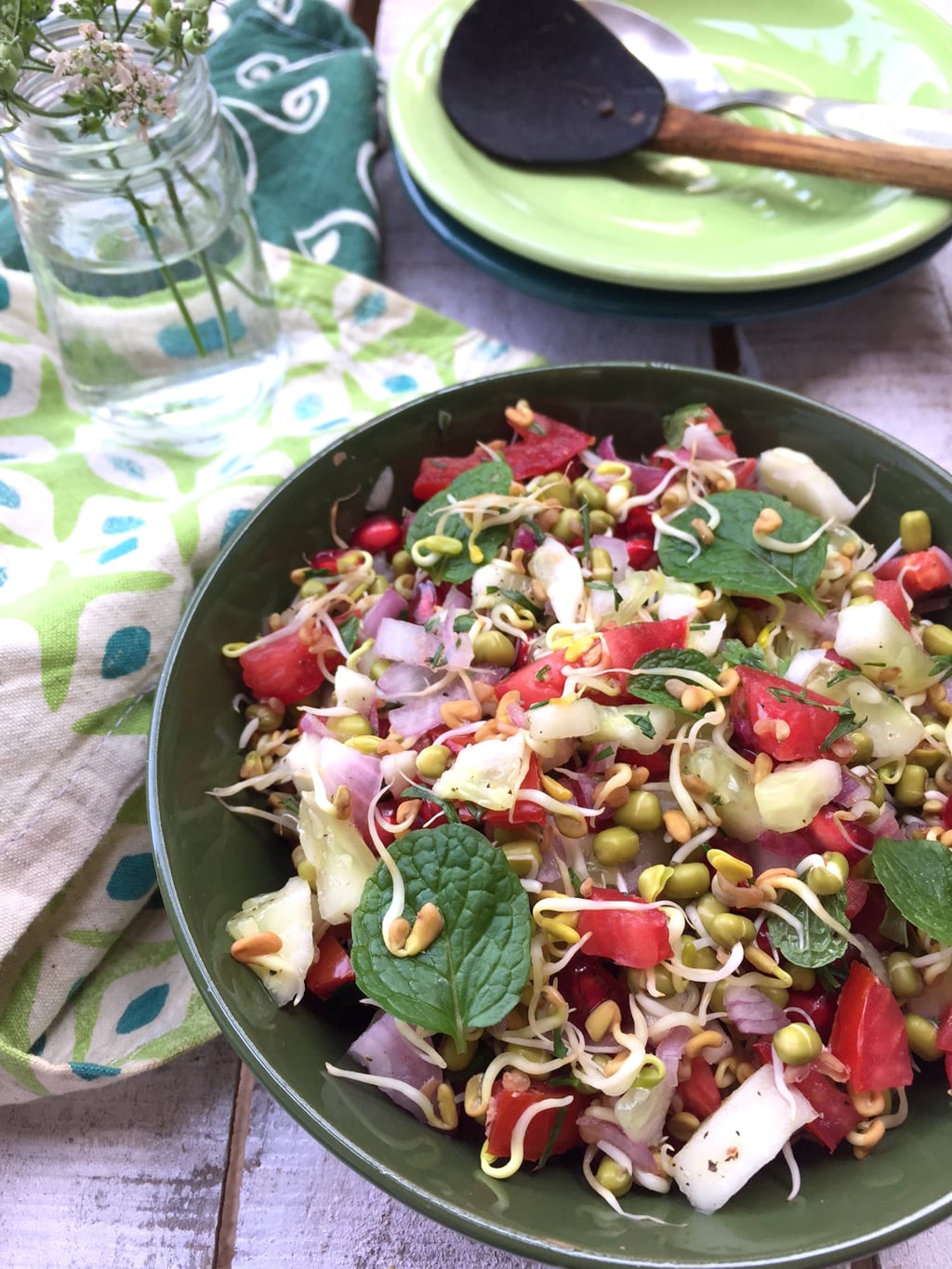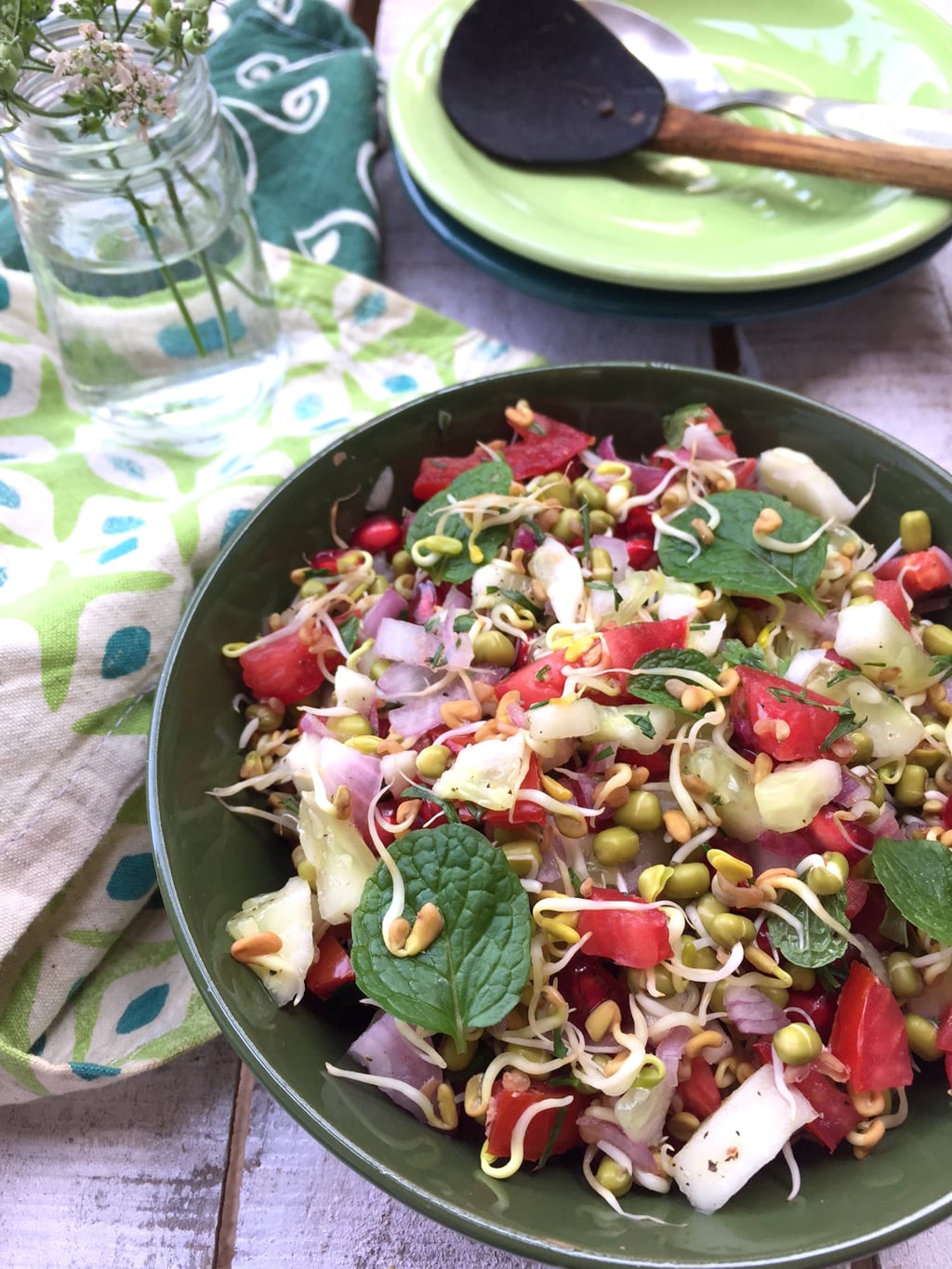 Health benefits of fenugreek and recipe for a sprouted fenugreek / methi seed salad
Methi is called fenugreek in English and it has immense health benefits. Methi seeds are quite different in taste from methi leaves. This recipe uses sprouted methi to its fullest, and in a way that it doesn't taste bitter at all.
Mustard in colour, somewhat cuboid in shape, a little bitter to taste (its bitter sweet taste compared to that of maple syrup), this is a completely unique spice, finding its place in several Indian dishes, such as this Vendhaya Kozhambu in Tamil cuisine, where fenugreek seeds are the star of the dish.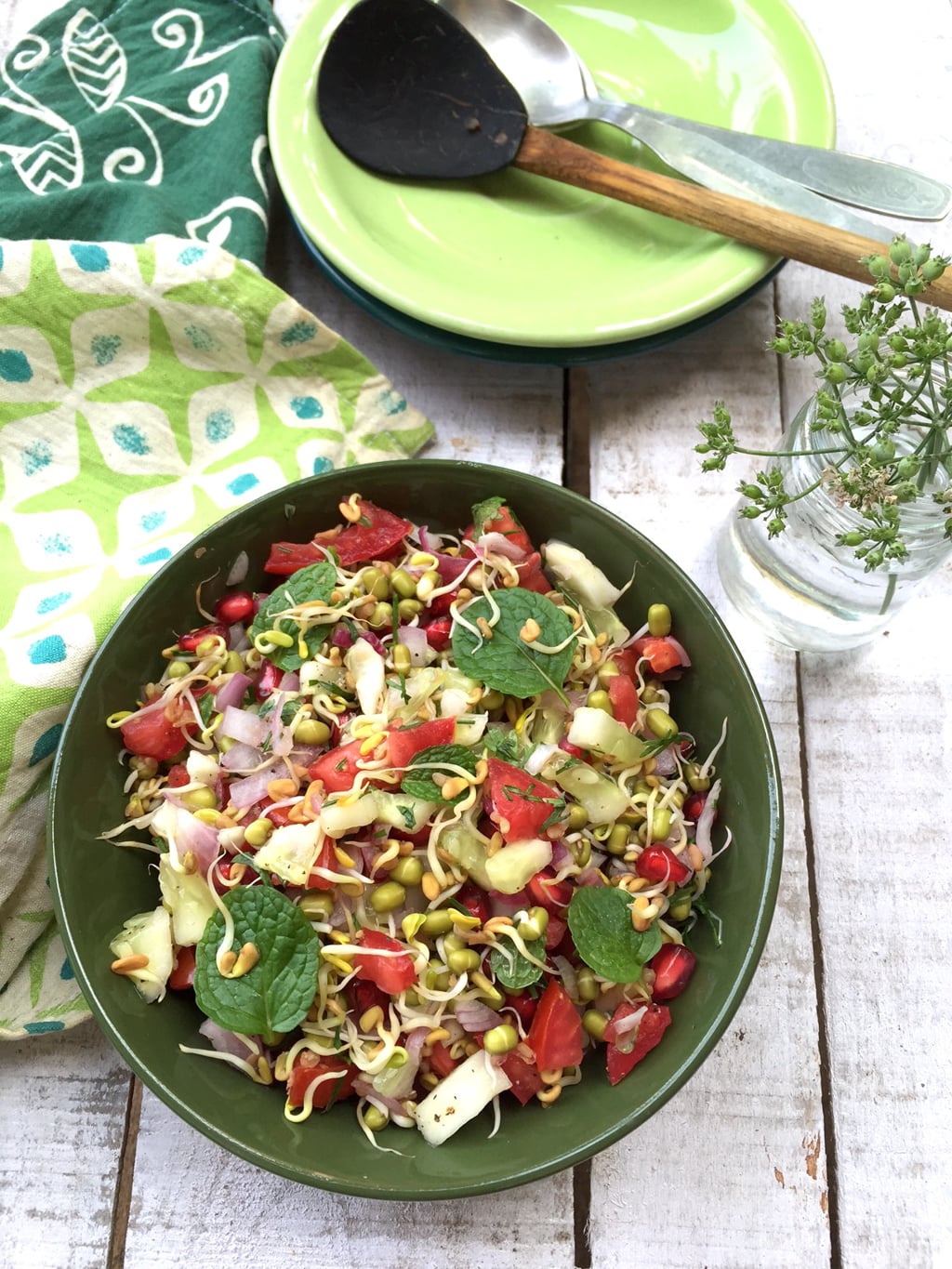 Methi seeds are known since ancient times for their galactagogue effect, which means they improve lactation in nursing mothers. Methi laddoos were a part of the postpartum diet in Indian women for this very reason. Off late, with India turning into Diabetes capital, the health benefits of methi seeds are much sought after. Consumed after soaking in hot water, methi seeds were seen to reduce fasting blood sugar and triglycerides in Type 2 Diabetic patients. *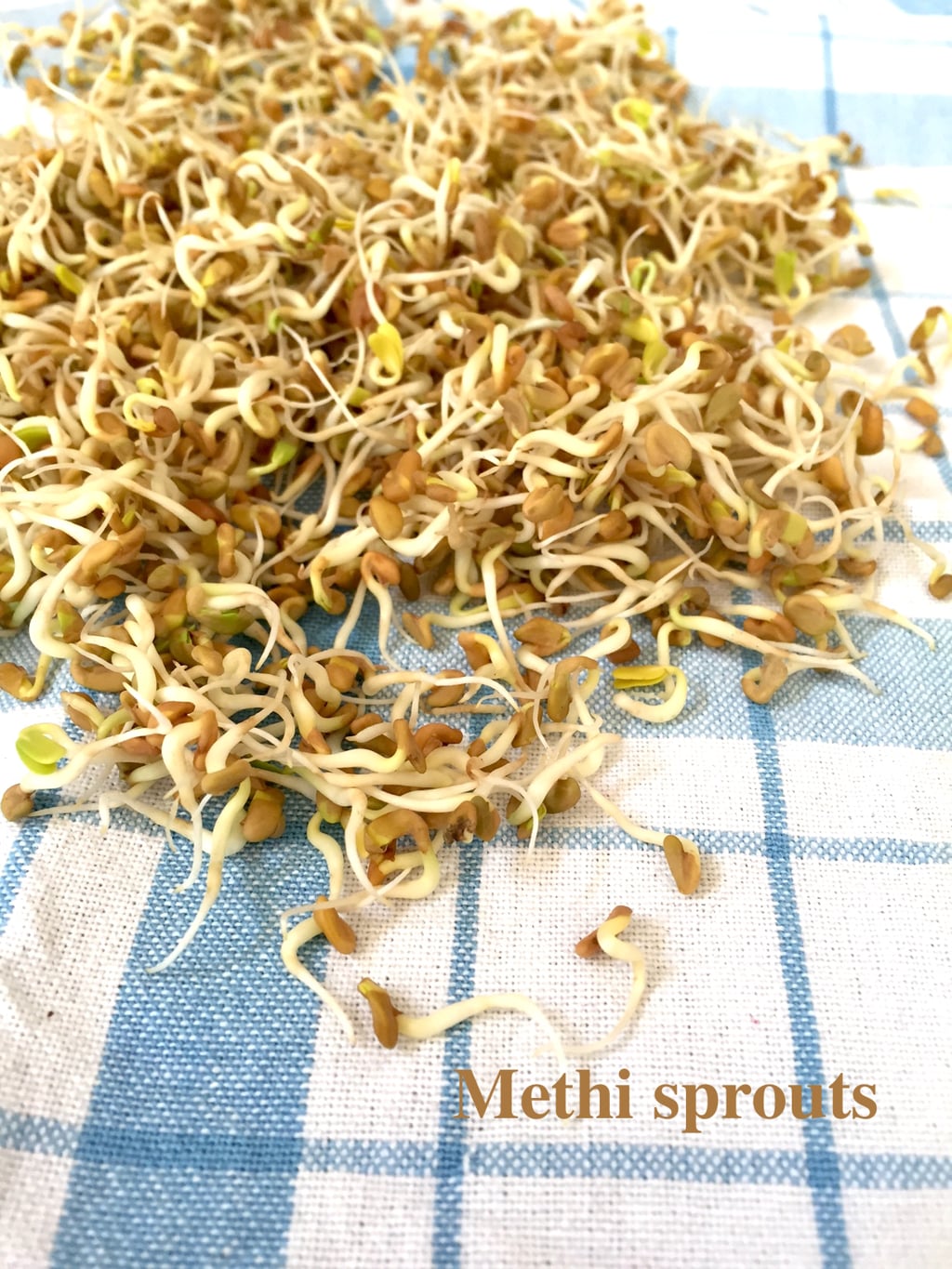 How to get methi sprouts: Soaking methi seeds in hot / warm water for few hours and then tying up the drained seeds in a muslin cloth, which is sprinkled with water every 12 hours or so, you get fresh bean sprouts at the end of 3-4 days and most of the bitterness from the seed is gone. You can also sprout them in a casserole box. If you think they are getting slimy, wash with lots of water, drain well and keep them in the box or tie in a muslin cloth. Use these sprouts immediately or keep them in an airtight container in the fridge and use within 24 hours, so they are fresh.
*Int J Vitam Nutr Res. 2009 Jan;79(1):34-9. doi: 10.1024/0300-9831.79.1.34.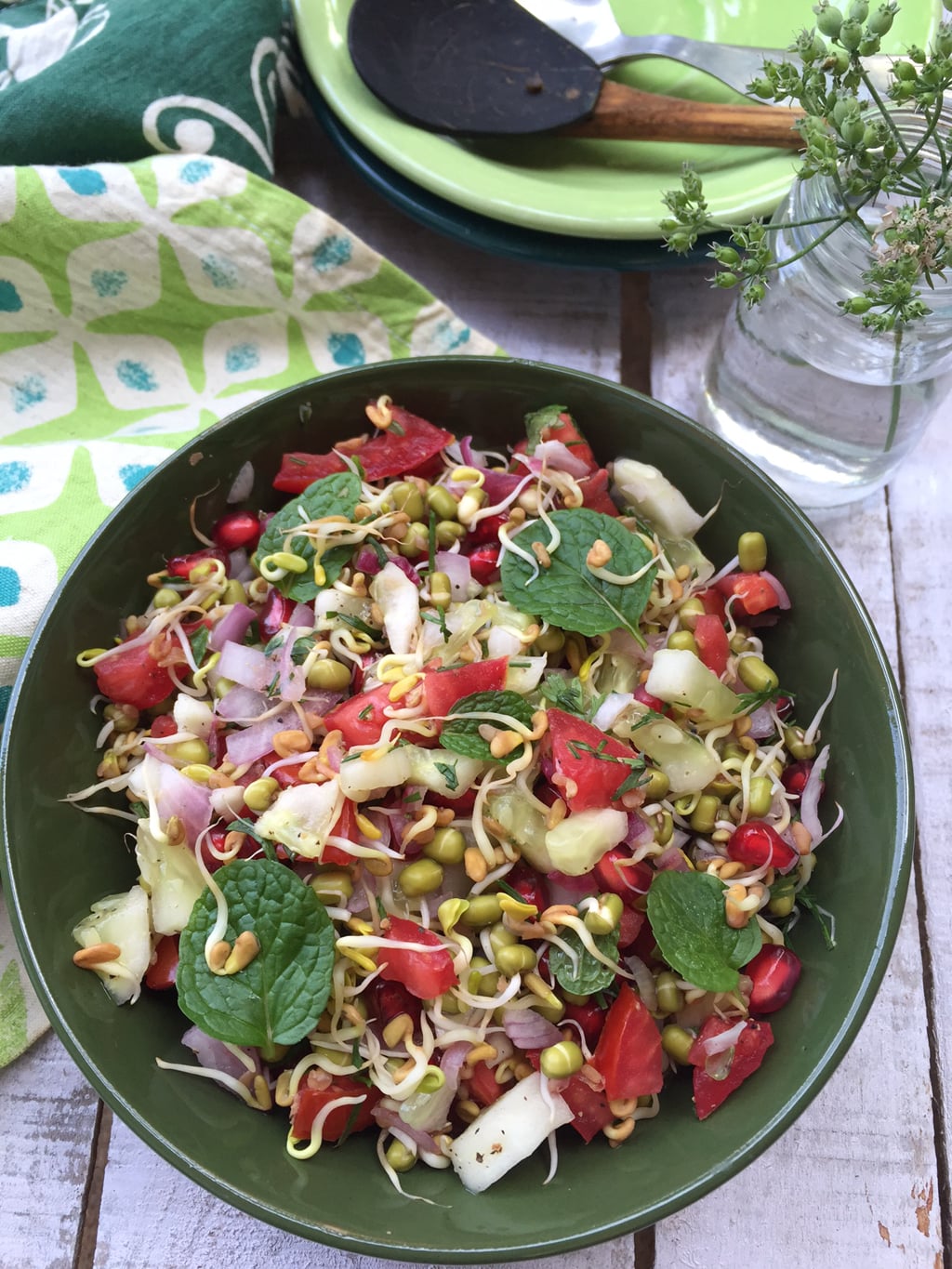 Sprouted Fenugreek / Methi Seed Salad
Reap all the health benefits from whole sprouted methi (fenugreek) seeds in this delicious salad. No bitterness, lots of flavour!
Ingredients
1

cup

Methi Seeds

Sprouted

1/4

cup

Mung Beans

Sprouted Green

1

cucumber

Medium sized peeled and diced

1

tomato

large , deseeded and diced

1

Onion

Small , finely chopped

2 - 3

tbsps

carrot

Finely diced

1

Lemon

1

tsp

Black pepper

ground

1/2

tsp

Salt

Mint leaves

few

coriander leaves

few
Instructions
Add all the ingredients of the salad into a bowl. Squeeze the lemon, add salt, black pepper and toss well until all the ingredients are well seasoned.

Cover the bowl with a lid and allow this to sit on the countertop for 30 minutes to 1 hour, until the sprouts are well marinated in the lemon juice and seasonings. This also ferments the salad mildly, developing the flavours plus a macrobiotic effect.

Garnish with mint and coriander leaves and serve along with roti or rice and dal.

Garnish with crushed peanuts if you like and the salad can be eaten by itself like a chaat.
Notes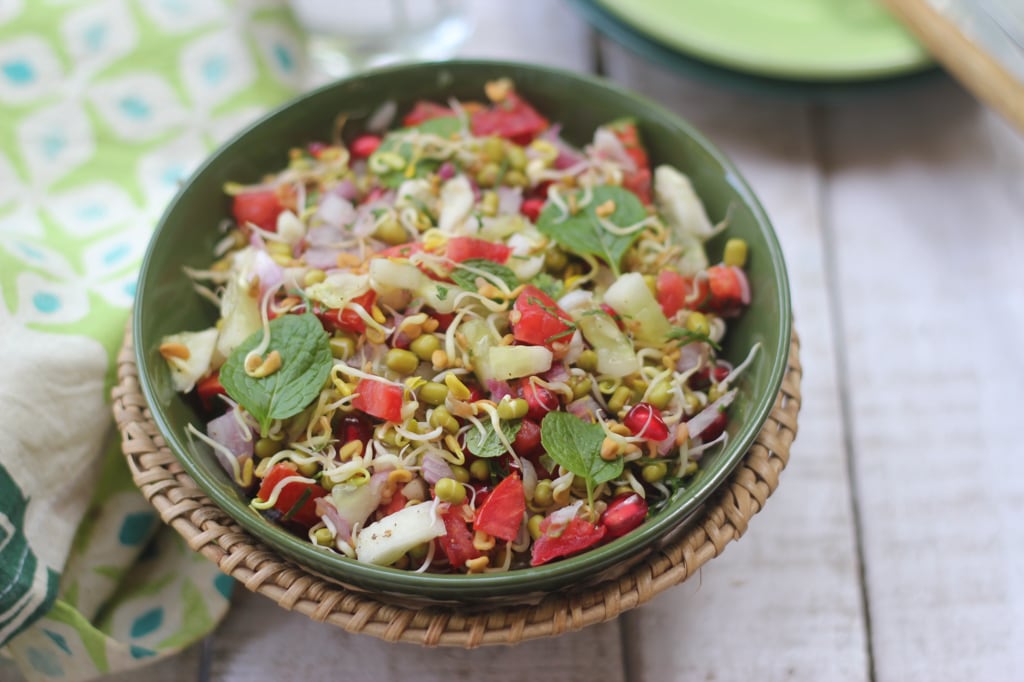 Mung sprouts are optional but they add another healthy ingredient and a fresh green colour to the salad.
Serve this inside lettuce wraps with some extra dressing for a fun version of the salad.
Another recipe that uses Fenugreek Seeds: