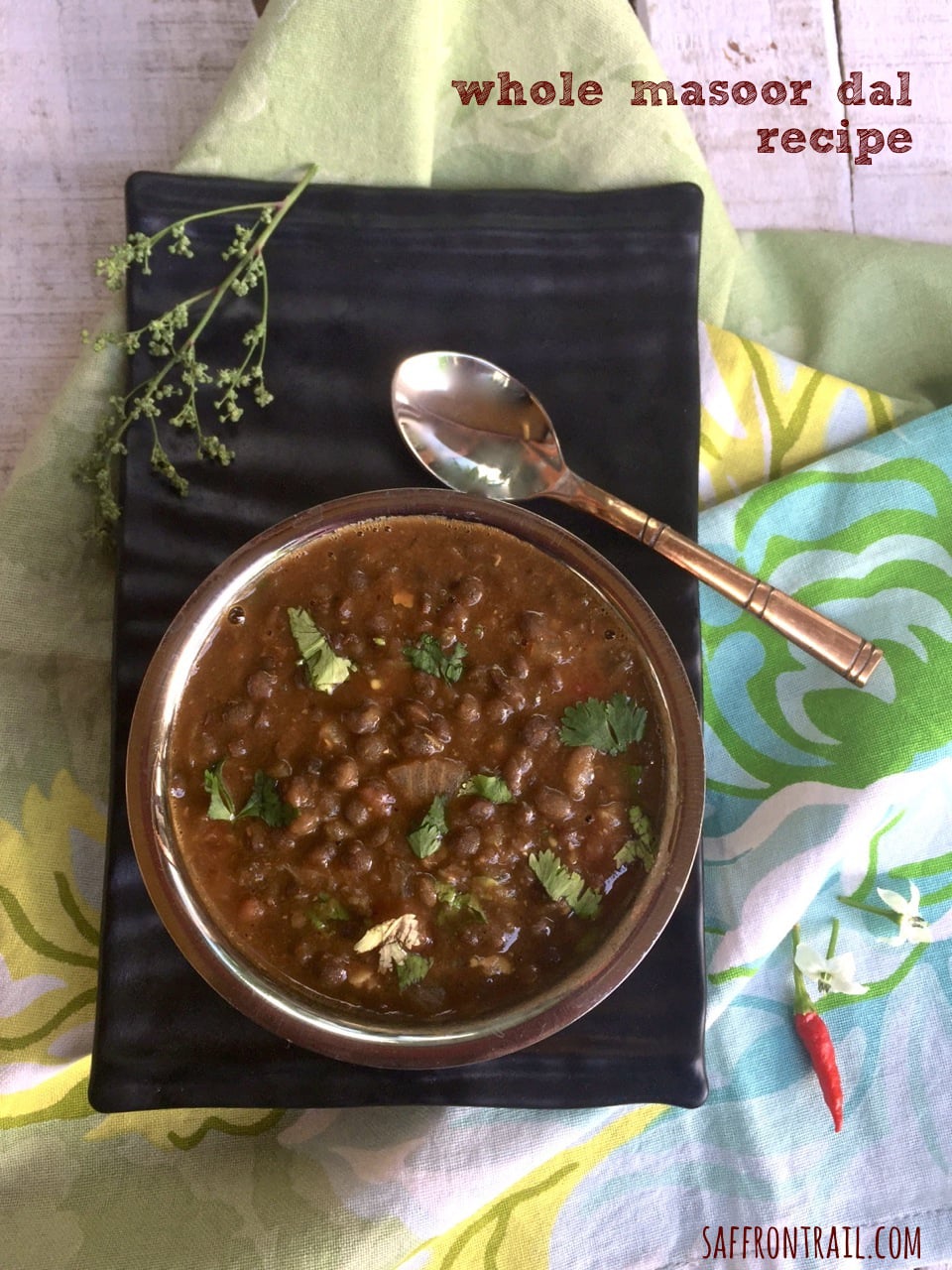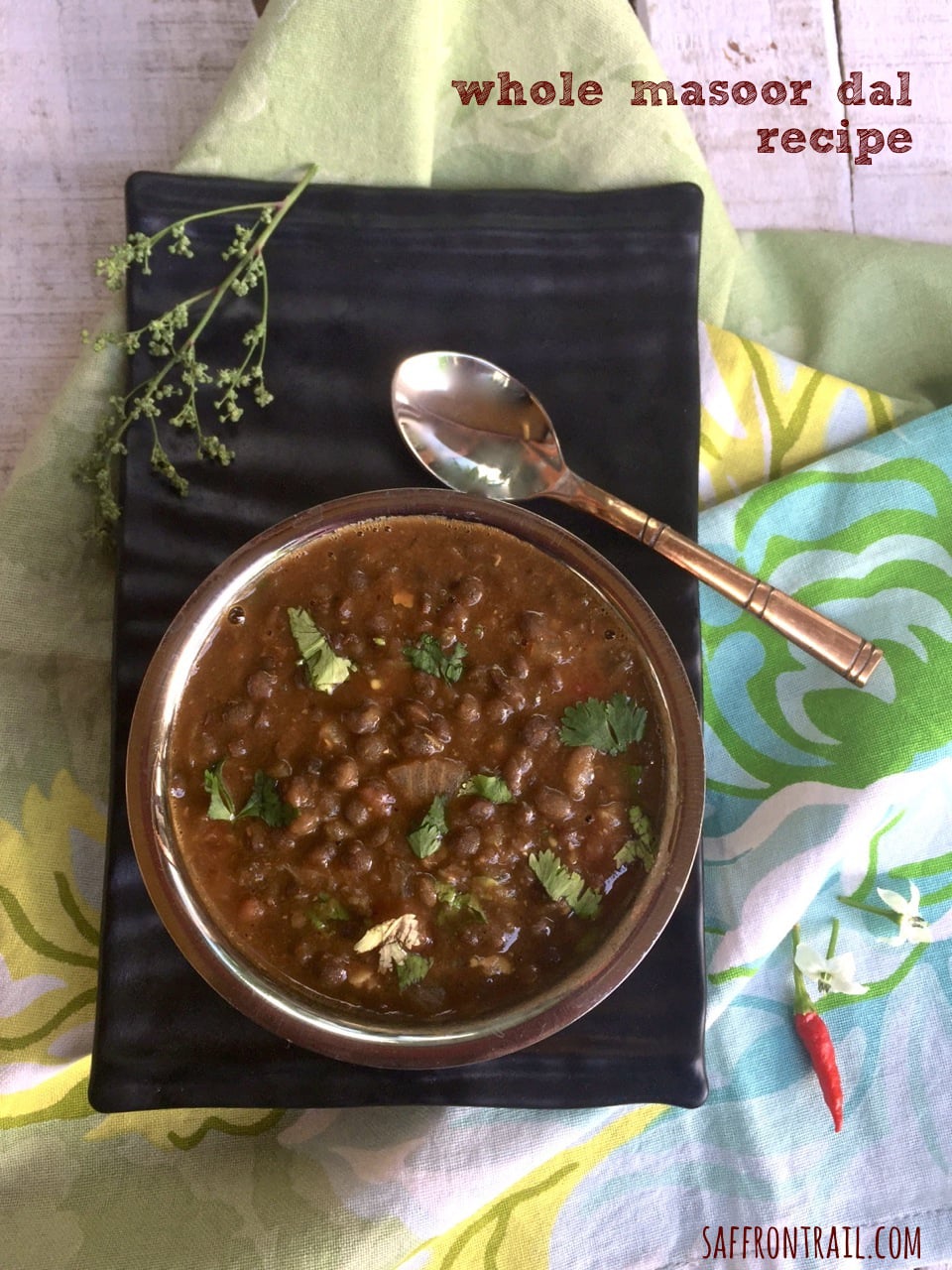 Whole Masoor Dal (sabut masoor or Whole red lentils) is one of the easiest dals to cook, on account of its small size. This recipe makes a sort of thick curry with the whole masoor dal, which can be had with rotis, parathas or even with rice. It is also called pink lentils (when skinned and split). If you are a beginner cook, I'd urge you to start with this simple masoor dal preparation, even if you don't use a pressure cooker!
It is another super quick dish to make if you use a pressure cooker or a pressure pan, which is what I do. The whole masoor needs just 2-3 hours of soaking, as against the other larger beans like rajma or kabuli chana that need to be soaked overnight.
This has been one of my favourite dals since childhood and Amma used to make it quite often too. Requiring almost all pantry ingredients, it is a go to recipe when your fridge has run out of vegetables. If you don't have tomatoes, then using tomato paste or puree is an easy substitute. I love adding a bit of Mangal's Dhansakh Masala in these kind of lentil based curries. You can check them out online, they are available in some supermarkets in Mumbai, so I usually order them online and they deliver.
You can even prepare this dal without soaking, in which case you will need to pressure cook for longer. But soaking ensures that it cooks evenly and really quick.
Nutrition in Whole Masoor Dal / Whole Pink Lentils / Sabut Masoor : One serving is 1/4 cup of raw whole black masoor dal. Because of the skins, it is rich in fiber. As per the handbooks from National Institute of Nutrition, 1 katori (Indian serving cup) of a cooked whole masoor dal gives roughly 5 grams of protein and relatively low in calories too.
Tip: Cook a double batch of this dal. Add whole wheat flour into any leftover dal, make a dough and make parathas using this dough for breakfast. Super delicious and healthy!
What quantity raw lentils to take per person: Usually 1/4 cup raw lentils, when cooked, suffices one person. So 1 cup of raw lentils when cooked serves 4 people.
Whole Masoor Dal Recipe
Whole Masoor Dal (sabut masoor or Whole red lentils) is one of the easiest dals to cook, a healthy side for rice or rotis. Get the recipe! BEGINNER COOK FRIENDLY!
Ingredients
1/2

cup

masoor dal

Whole

3

cloves

garlic

peeled

1/2

inch

ginger

root

1

green chilli

1

onion

medium

2

tomatoes

medium

1

pinch

asafoetida

1/2

tsp

mustard seeds

1/2

tsp

cumin seeds

1

tsp

salt

1

tbsp

coriander

powder

1

tsp

cumin

powder

1/2

tsp

turmeric

powder

1/2

tsp

red chilli

powder

1 - 2

tsps

dal masala

dhansak or (optional)

1/2

tsp

garam masala

powder

2

tbsps

coriander

fresh
Instructions
Wash and soak the whole masoor dal for 2-3 hours.

In a pressure pan or pressure cook, place the soaked drained lentils, add 2 cups water, and pressure cook for two whistles.

Switch off the gas and allow to cool. Meanwhile prepare the curry base.

Crush the garlic, ginger and chilli to a coarse paste.

Finely chop the onion and tomatoes.

In a heavy bottomed pan, add oil. When the oil is hot, add the asafoetida, mustard and cumin seeds.

Once they splutter, add the ginger-garlic-chilli paste and saute on a medium flame for 30 seconds.

Add the finely chopped onions and a sprinkle of salt, stir well. Cover and allow the onions to soften. This will take around 4-5 minutes.

Add the chopped tomatoes to this, remaining salt and all the dry spice powders, except the dal masala and garam masala.

On a medium flame, cook until the tomatoes have turned to a pulp, and the masalas incorporated.

To this add the cooked whole masoor dal along with the cooking liquid and bring to a simmer.

Add the dal masala and garam masala powder, mix well, remove from the stove into a serving bowl.

Garnish with fresh coriander.
Notes
You can use this same method to prepare any lentils such as black eyed peas or kidney beans or lima beans. Ensure that you soak each lentil as per the required soaking time and cook them well before using in this recipe. Cooking times of the lentils may vary.