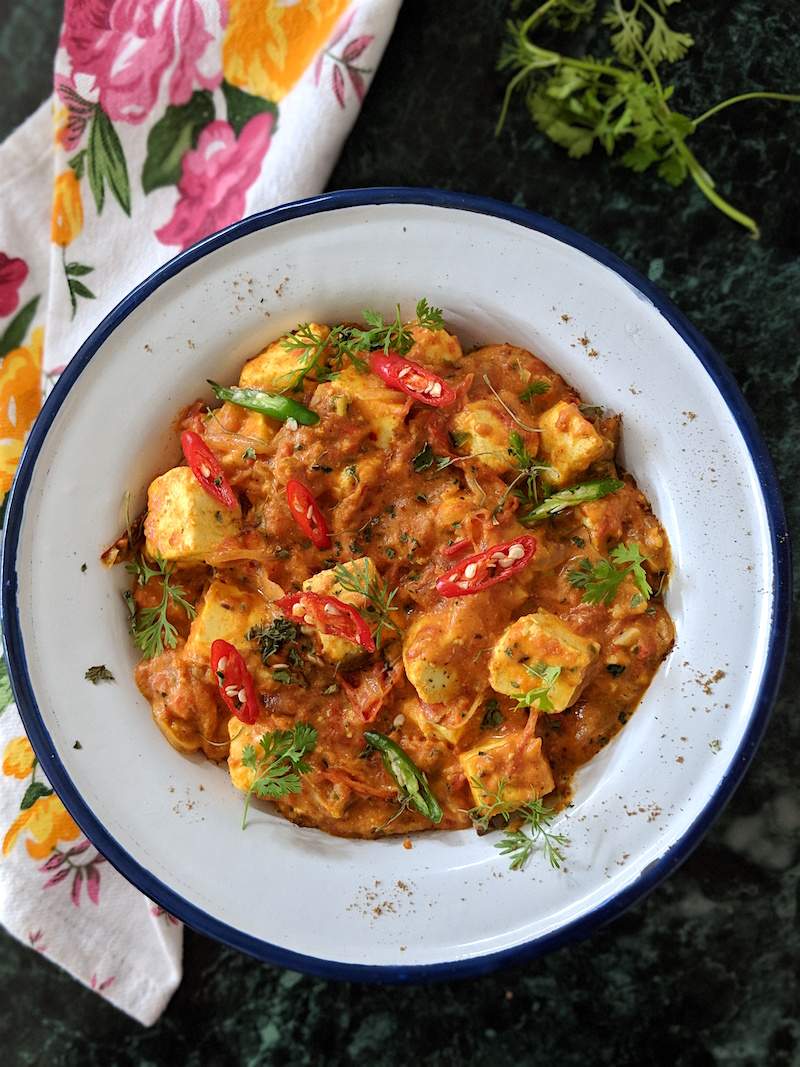 This spicy paneer curry is a good accompaniment to rotis or parathas. Use either fresh homemade paneer or a block of storebought paneer for a quick Indian side dish.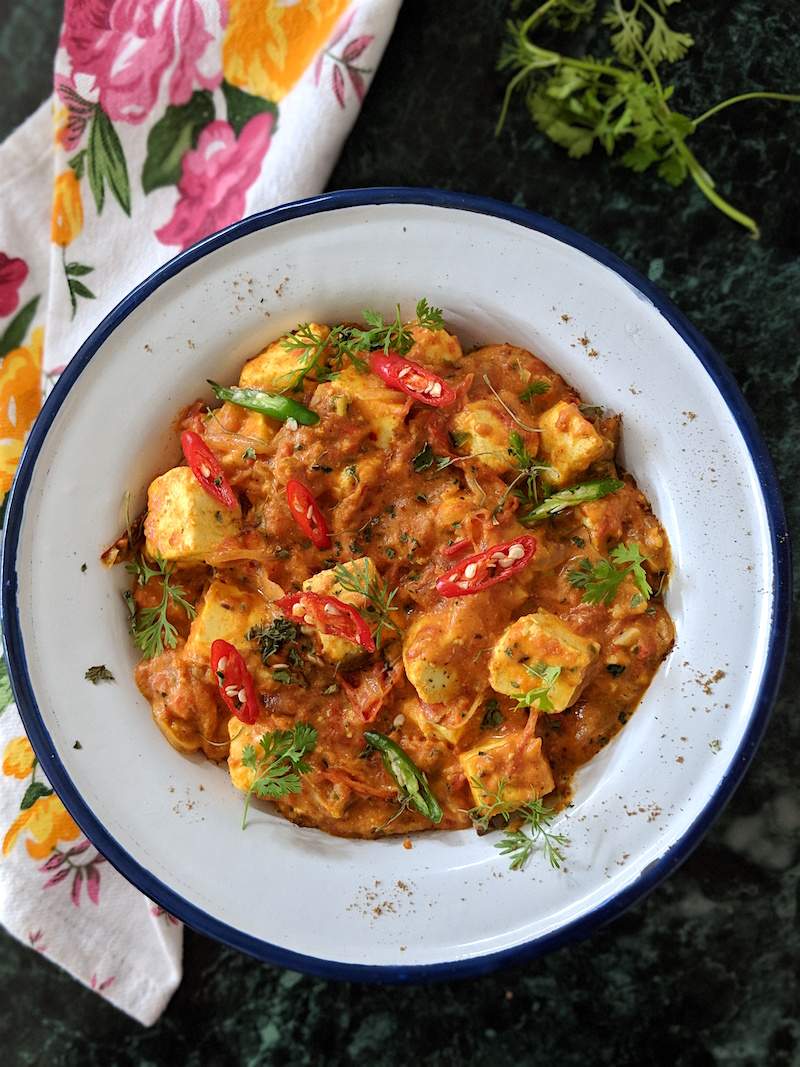 Paneer is one ingredient, which if you stock in the fridge, you are no more than 20 minutes away from a delicious curry. Most paneer curries can be served either with rotis or a simple jeera rice. These make the best weeknight dinners. There's not much chopped involved except for the onion and tomatoes at most.
The best thing about paneer is that its a blank canvas to take on any flavours you meld it with. Be it a tangy tomato based gravy like this one, a white sauce made of melon seeds, cashews and poppy seeds, or a simple stir fry with onions, tomatoes and capcisums – the much loved kadai paneer.
No Indian kitchen is without its stock of fresh green chillies and dried red chilles. In fact most savoury dishes definitely have either one of these chillies in them. While I like my food with a lot of flavour, I can't tolerate too much heat. Besides, a runny nose while eating is not my idea of fun.  Ironically, the chilli bushes in my kitchen garden are thriving and how!
I cook paneer based dishes at least 2-3 times a week, because we always have milk leftover. It is either made into paneer or yogurt, as per the situation in the refrigerator. This easy spicy paneer curry has regular pantry ingredients like onions, tomatoes and chillies, and of course some aromatics by way of whole spices.
The spicy paneer curry has both green and red chillies and yet not over the top spicy. You can always adjust the heat as per your personal preference.
I love to eat this curry along with parathas, but a simple pulao or jeera rice would also make a good accompaniment.
 How to make paneer / cottage cheese
Bring one Litre of milk (atleast 2%) to a good boil. Keep at a simmer. Add 1/2 cup yogurt/ curds to the simmering milk and stir for 3-4 minutes. This will completely separate out the milk into cheese and whey. Filter using a muslin cloth, let it drain for five minutes and then place it with the muslin on a colander for excess water to drain out. Don't squeeze / press out the water. You will get upto 200-250 gms of cottage cheese.
Personally, I like this method best. You can use either lemon juice / vinegar for curdling the milk, but it leaves a sour aftertaste and the cheese isn't as soft. Don't throw away the whey (drained liquid ). You can use some in gravy and use the rest to bind the chapati dough. It is very rich nutritionally.
If you are short on time or patience, by all means use the store bought paneer. (edited to update: Milky Mist, Punjab & Sind  both are good soft paneer)
 You will love these easy Paneer Recipes
Besan Cheela with Paneer Bhurji
Grilled Paneer Salad with Mango and SPinach 
Spicy Paneer Curry
Ingredients
Panner + Marinade
200

grams

paneer

1/2

cup

yogurt

2

red

chillies

crushed

2

green chillies

finely chopped

2 - 3

pods

garlic

1

pinch

turmeric

powder

1

tsp

garam masala powder

1/2

tsp

salt
For the gravy
1

large

onion

very thinly sliced

2

medium

tomatoes

1/4

tsp

turmeric

powder

2

tbsp

oil

1

tbsp

gram flour
whole spices
1/2

tsp

cumin seeds

1

stick

cinnamon

3-4

cloves

1

green cardamom

2

bay leaves
Instructions
To prepare the spicy paneer curry, cut the paneer into small cubes. Mix all the ingredients for the marinade in a bowl and toss the paneer cubes gently in the marinade. Keep covered for 10-15 minutes.

Heat the oil in a pan and fry the whole spices.

Fry the onions for 8-10 minutes till golden brown. Add the sliced tomatoes and cook on a medium flame for another 3-4 minutes, till the tomatoes are mushy.

Add the gram flour. Fry it along with the cooked paste for a minute or so. Add some of the whey (or water) to the gravy, add the marinated paneer and simmer for 2-3 minutes. 

The flavours of the marinade and that of the gravy will blend and release aromas. Check for salt and take off the flame.

Remove into a bowl and garnish with coriander leaves and some sliced chillies if you like.

Serve hot with phulkas, bread or steamed rice with spluttered cumin seeds.
Notes
Note:
~You might have noticed that I haven't added any chillies / chilli powder to the gravy. The chillies in the marinade are enough to carry the hot flavour into the dish- unless you like a really spicy curry
~You can reduce the quantity of oil used. I would usually use just one tsp of oil, but just felt that this recipe needs that little extra oil for the restaurant like taste.
~The yogurt in the marinate totally mellows down the heat from the chillies while allowing the other bold flavours to come through
Like what you see here? Stay connected with me on Instagram, Facebook, BlogLovin' and Pinterest.
Sign up to my newsletter by putting in your email in the box in the right sidebar, to get all latest posts in your email. No spam. Promise.