Try this Raw papaya chutney recipe | Green Papaya chutney, to go with Gujarati snacks like Khaman and Khandvi, or as a condiment to be paired with any Indian meal. Raw papaya has many health benefits that you can get from this quick and easy recipe.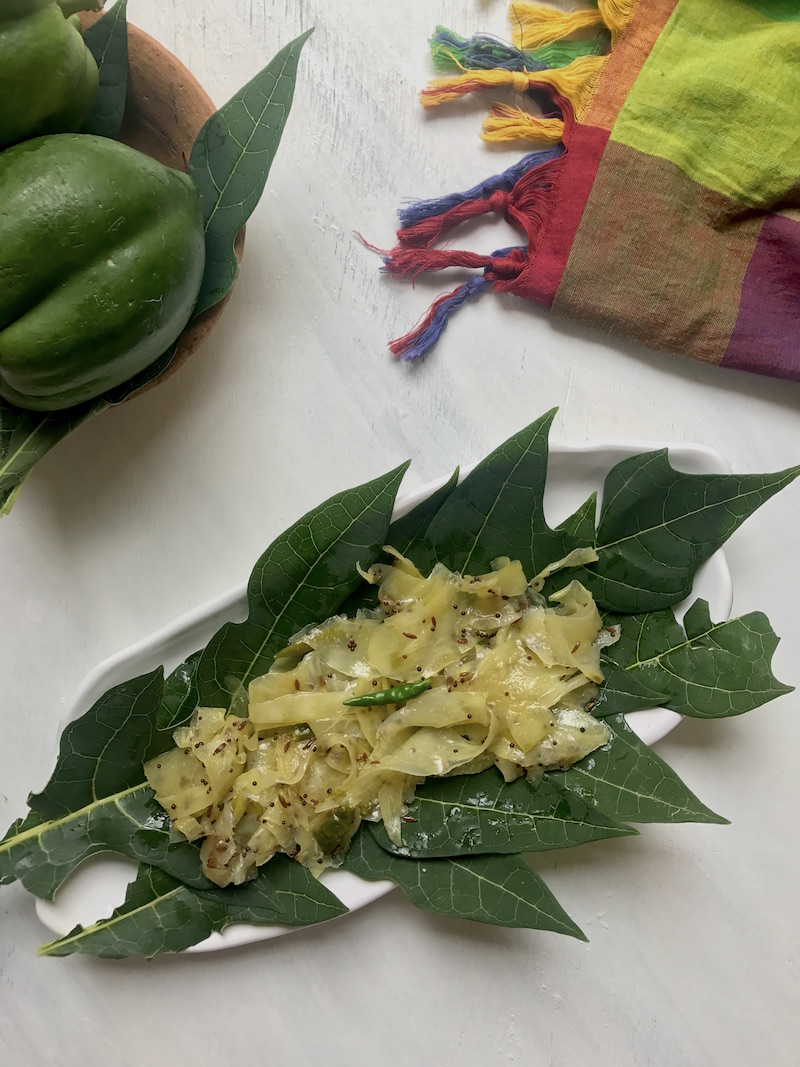 Pin
Living in Vile Parle, we were never far away from a farsan (Gujarati snacks) shop. There used to be this particular shop in Vile Parle East called Saurashtra Farsan which always had a queue of eager farsan lovers lined up outside, especially around 4pm. It was not just their khaman (steamed chickpea flour cakes) dhokla and khandvi (steamed chickpea flour rolls) that were addictively good, but we also ate the accompanying raw papaya chutney and scalded green chillies (of a milder variety) with great gusto. The khaman doused in sugar syrup made us reflexly reach for the salty-spicy raw papaya chutney and a bite of the green chilli at appropriate intervals would provide the much needed respite from the sweetness.
When I had a profusion of green / raw papayas at home from a tree that had to be taken down, I asked on Twitter for people to share their favourite raw papaya recipes. There were tons of responses on dishes that can be cooked using green papaya or raw papaya – from curries, to parathas to koftas and kababs. While I bookmarked some ideas and recipes to try out with my bounty of raw papayas, this raw papaya chutney recipe was something I absolutely wanted to try out.
It is a very simple recipe, with basic ingredients, almost like a mildly cooked salad. You don't have to pair this raw papaya chutney only with farsan like khaman and khandvi. It also makes a very appetising condiment as a part of any North Indian / Gujarati or Rajasthani meal – something you can toss up in less than 10 minutes. If you would like to avoid sugar, then crumble some jaggery instead. Use fiery green chillies for this because raw papaya by itself is quite tasteless and it needs all the help it can get from the chillies, lemon juice, salt and sugar. What it does have is a good, slightly chewy texture, even when it is lightly steam cooked. As the papaya strips turn translucent on cooking, this is also fondly called 'plastic chutney' as was pointed out to me by @MartianParasite on Twitter. It does totally look the part 🙂
Raw papaya by virtue to having the enzyme papain, is also a very good meat tenderiser, and is used profusely for this purpose.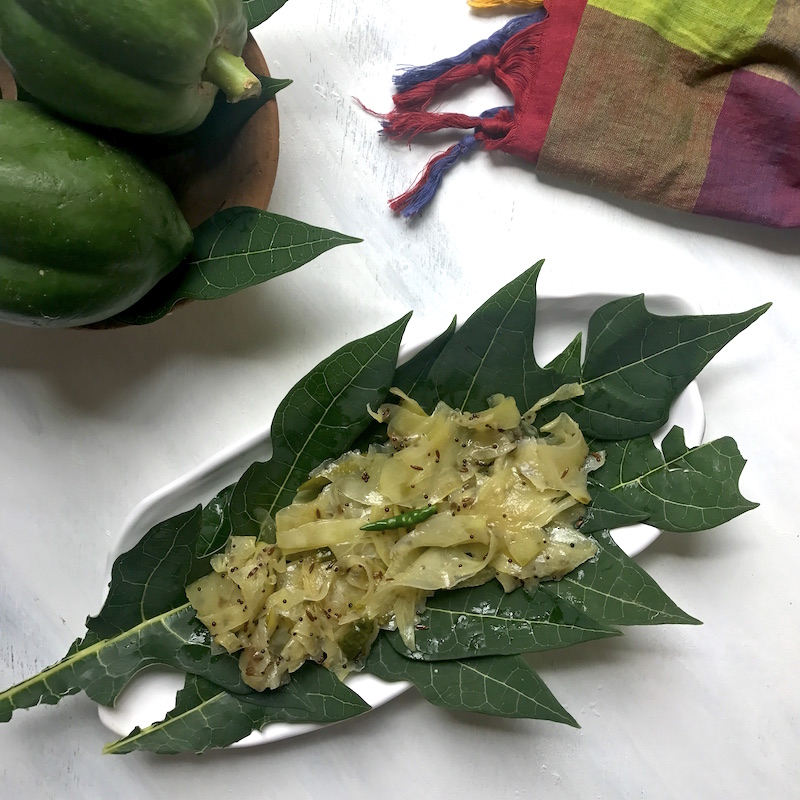 Pin
Do try some of the other raw papaya recipes I have shared:
Thai Green Papaya Salad without fish sauce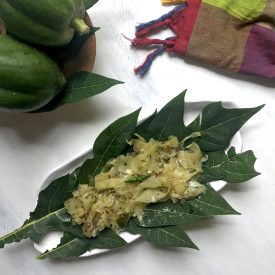 Raw Papaya Chutney
Try this Raw papaya chutney recipe to go with Gujarati snacks like Khaman and Khandvi, or as a condiment to be paired with any Indian meal. Raw papaya has many health benefits that you can get from this quick and easy recipe.
Ingredients
1/2

small raw papaya

2

tsp

peanut oil

1/2

tsp

mustard seeds

1/2

tsp

cumin seeds

pinch

of asafoetida

4

green chillies

slit

1/4

tsp

salt

1/2

tsp

sugar

2

tsp

lemon juice
Instructions
To prepare raw papaya chutney, start by peeling the papaya. Scrape out the seeds and membranes of half a raw / green papaya using a spoon. Some papayas are seedless so just scrape out the inner bitter pith.

Using a vegetable peeler, peel the entire half of the papaya into thin strips. If you don't have a peeler, then coarsely grate the papaya.

Heat oil in a kadai / pan. When the oil is hot, add the mustard and cumin seeds. As soon as they splutter, stir in the asafoetida and green chillies.

At this point, add the strips of raw papaya and salt. Stir on a high flame for 1-2 minutes. Lower the flame, sprinkle some water, cover and cook for 5-6 minutes.The strips of raw papaya will soften and turn translucent. Sprinkle sugar and pour in the lemon juice. Give it a good mix on a high flame for 30 seconds or so, and remove into a serving bowl.

This can be refrigerated in an airtight container for 2-3 days.
Like what you see here? Stay connected with me on Instagram, Facebook, BlogLovin' and Pinterest. And don't forget to subscribe to my newsletter via the box in the sidebar.