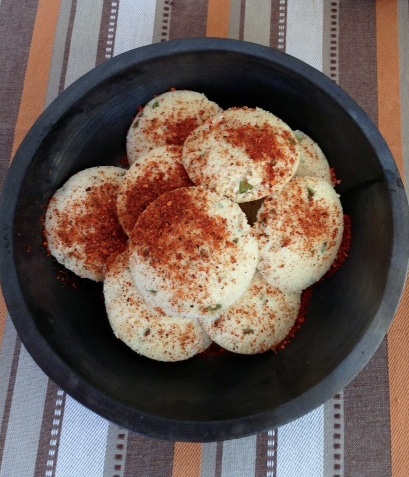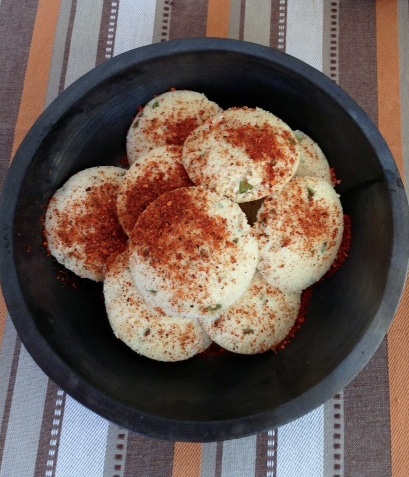 Recipe for Thinai Idli – Foxtail Millet Idli
Idli and dosai are two dishes which can be easily experimented with, with a variety of whole grains. If you are a regular reader of my blog, then you'll know that my whole-grain find of this year is Foxtail Millet- you'll find a couple of recipes featuring them already. It's thanks to our online grocery store that stocks a lot of these ancient grains and greens that you won't find in supermarkets that they end up finding their way in many new dishes I experiment with. While I've been using the millet grain in salads, patties, upma etc, this time I bought the foxtail millet idli rava to try making idlis. It turned out reasonably soft, definitely denser than white rice idlis- but that's the whole grain effect- the end products always turn out denser. The advantage of this being you can't eat as many idlis as you can of the regular ones. Initially you could try substituting 50% of the rice / idli rava with this millet rava and then go to a 100%.
In India: Tinai, chamai, kavalai, kambankorai are some of the names for millet in Tamil. Nuvanam is millet flour. The gruel made from millet, the staple of Ancient Tamils, is called kali, moddak kali, kuul, and sangati. Korralu (Telugu), Navane (Kannada) [Source: Wikipedia]
An idli is a healthy dish as it is, being a combination of a rice and lentil (udad dal), makes a complete set of amino acids, resulting in a good quality protein. So you can alternate between regular idlis and those made using millets, to get more fiber and a variety of nutrients.
Foxtail Millet Idli
Makes roughly 32 or more idlis, depending on the size, you could use this batter over 3-4 days for a variety of dishes such as dosai, uthapam, kuzhi paniyaram etc.
Foxtail Millet Idli - Thinai Idli
Foxtail Millet Idlis are made using the rava of foxtail millet. A delicious whole grain idli with a lot of nutrition, perfect for a filling healthy breal
Ingredients
1

cup

dal

whole or split udad (without skin)

1

tsp

fenugreek seeds

(optional)

2

cups

millet rava

foxtail (or use 1 cup and 1 cup rice)

2

tsps

salt

veggies

finely chopped to add to idlis

1/2

tsp

ginger mustard seeds chana dal chillies

Grated , , , red tempered in oil to add to batter before steaming
Instructions
To prepare Foxtail Millet Idli Batter
Soak the urad dal + fenugreek seeds in plenty of water.

In another bowl, soak the rava in water that covers it completely. After 3 hours, drain water from urad dal and grind to a fine paste in the mixer or wet grinder. Remove in a big bowl.

Squeeze all the water from the foxtail millet rava and grind this to a fine paste too.

Add to the udad dal paste and mix well, adding salt. Add upto 1/2 cup water if batter is very thick.

Place in a large container with a fitting lid. This will expand to nearly double volume over 8-10 hours, so keep accordingly in a sizable container.

Once fermented, you can either use this immediately to make idlis / dosa or place in refrigerator immediately and use when required (within next 3-4days).
To prepare Foxtail Millet / Thinai Idlis
Remove the required quantity of batter in a bowl.

To make idlis, lightly grease the idli moulds with oil, pour batter into each mould (not more than half capacity), top with any chopped veggies if required, close the pressure cooker lid but remove the weight so that it acts as a steamer and doesn't pressure cook.

If you have a special idli maker, then use that. Keep the flame on high and then reduce to medium once the steam is in full flow. Steam for around 12 minutes on medium flame. Open the cooker after 10 minutes or so, removing the idli stand. Sprinkle some cold water on top of each mould and with a sharp edged steel spatula or a knife, unmould each idli cleanly.

Serve with any chutney or your choice, or molagapodi or ketchup for the kids.