Your go-to list for Healthy Cabbage Recipes to try this winter
In one of the storybooks I had read as a kid, I remember a scene involving terrible smells from a pot of boiling cabbage. I don't remember the name of the book, but I will forever remember that scene and how it made me shudder. Boiling cabbage can indeed be one of the smelliest vegetarian things that you can cook in the kitchen. Ugh!
PinFortunately, there's a whole bunch of tasty dishes that can be made using cabbage, that do not involve boiling it. Coleslaw, kimchi and sauerkraut are some of the iconic cabbage recipes. Indian regional cooking makes use of cabbage in a variety of dishes. Dry curries in which cabbage is combined with potatoes or peas is a popular accompaniment to rotis. Stir frying cabbage on high heat ensures that you have none of those funky odours wafting in your kitchen.
In India, cabbage is mostly grown as a rabi crop. It is sown during September – October and the cabbage heads are ready to be harvested in a little over 2 months. The best cabbages are available from November to January with tender leaves and best flavour.
Here's a list 12 healthy cabbage recipes you can try this winter – 
Spicy Cabbage Subzi (Saffron Trail)
A simple cabbage stir fry, spiced adequately will be a regular in your menu. Goes best with rotis or a simple meal of dal and rice.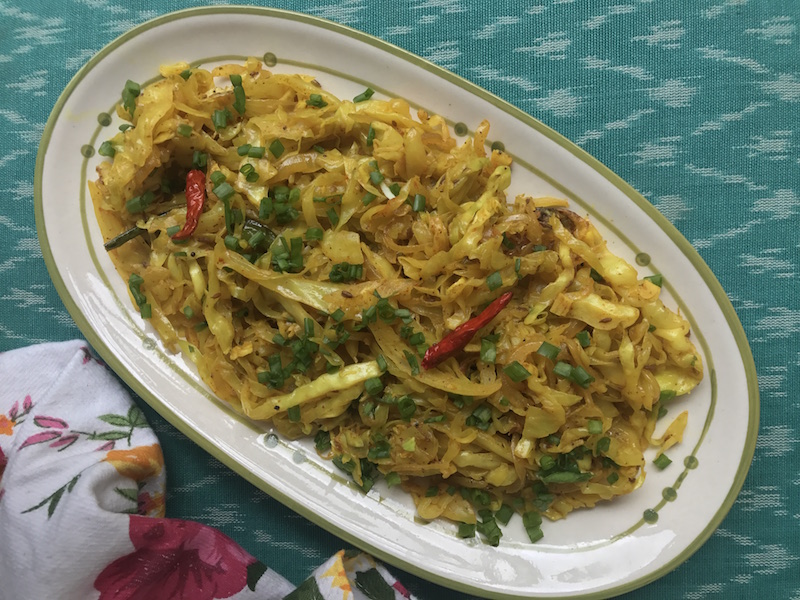 Pin
2. Thai Style Cabbage, Sprout and Peanut Salad (My Diverse Kitchen)
Neatly shredded cabbage can be used to make this Thai style crunchy salad made with addition of red bell peppers, sprouts and roasted peanuts and a sweet and sour peanut dressing.
Pin
3. Cabbage Kadalai Kootu (The Magic Saucepan)
Poricha kootu is a standard way of putting to use bits and bobs of all vegetables in the fridge in a Tamil kitchen. It can also be made with a single vegetable like cabbage. Kootu is a sort of stew combining vegetables+lentils and fresh spice paste, usually mixed into steamed rice. This Kootu from topped with peanuts for extra crunch will be your go-to comfort meal
Pin
4. Stuffed Capsicum (Sinamon Tales)
Cabbage because of it's bland taste goes well as a filler in any dish. This stuffed bell peppers recipe uses a mix of potatoes and chopped cabbage as the filling. Scrumptious.
Pin
5. Cabbage Chutney  (Saffron Trail)
South Indian cuisine puts vegetables to use in the most creative of ways, such as thogayals (chutneys). This chutney made using cabbage is a must try with rice or with idlis and dosas.
Pin
6. Bandhakopir Paturi (Experiences of a Gastronomad)
Straight from the kitchen of Bengal, this is an enticing dish of cabbage spiced with mustard and poppy seeds wrapped in banana leaf parcels. I'm eager to try this one out myself!
Pin
7. Maharashtrian Spiced Cabbage Rice (Saffron Trail)
The addition of crunchy lentils, peanuts and coconut to this rice dish will make it your top favourite recipe to make with a head of cabbage.
Pin
8. Cabbage and Peas Paratha (Curry Trail)
I can see myself making these cabbage and peas parathas for breakfast. Fibre rich, veggie-forward way to start the day, and I think they will tuck nicely into your kids' lunch boxes too.
Pin
9. Cabbage and Chana Salad (Saffron Trail)
Tender seasonal cabbage makes for a good salad ingredient. Thinly shredded cabbage leaves when combined with a cooked grain such as millet or quinoa, or cooked beans make for a hearty salad that you can carry for lunch. This cabbage and chana salad with a yogurt dressing is one of my favourite healthy cabbage recipes.
Pin
10. Cabbage Pathrode Dose (Cook with Smile)
These pathrode dosas from coastal Karnataka need no fermentation of batter, which works perfectly well for winters. Addition of finely chopped cabbage to the batter makes it a good option for a light meal.
Pin
11. Cabbage Thoran (Saffron Trail)
Cabbage Thoran is a delicacy from the state of Kerala, in which a simple spice paste of coconut, cumin seeds and green chillies infuses a heady aroma into the dish.
Pin
12. Cabbage Payasam (My Diverse Kitchen)
Cabbage in a dessert? Whowouldhavethunk? But Aparna's cabbage payasam is a healthy dose of vegetable in a dessert, which is just my kind of dessert.  A completely unusual recipe that I had to include in the round up despite the sugar 🙂
Pin
I hope you enjoyed this go-to-list of healthy cabbage recipes that you must try when cabbages are in season! Do share the post with family and friends 🙂
Like what you see here? Stay connected with me on Instagram, Facebook, BlogLovin' and Pinterest.