Dutch Apple Cake Recipe inspired from the heartwarming apple cake we had in Amsterdam, adapted from a Rachel Allen Recipe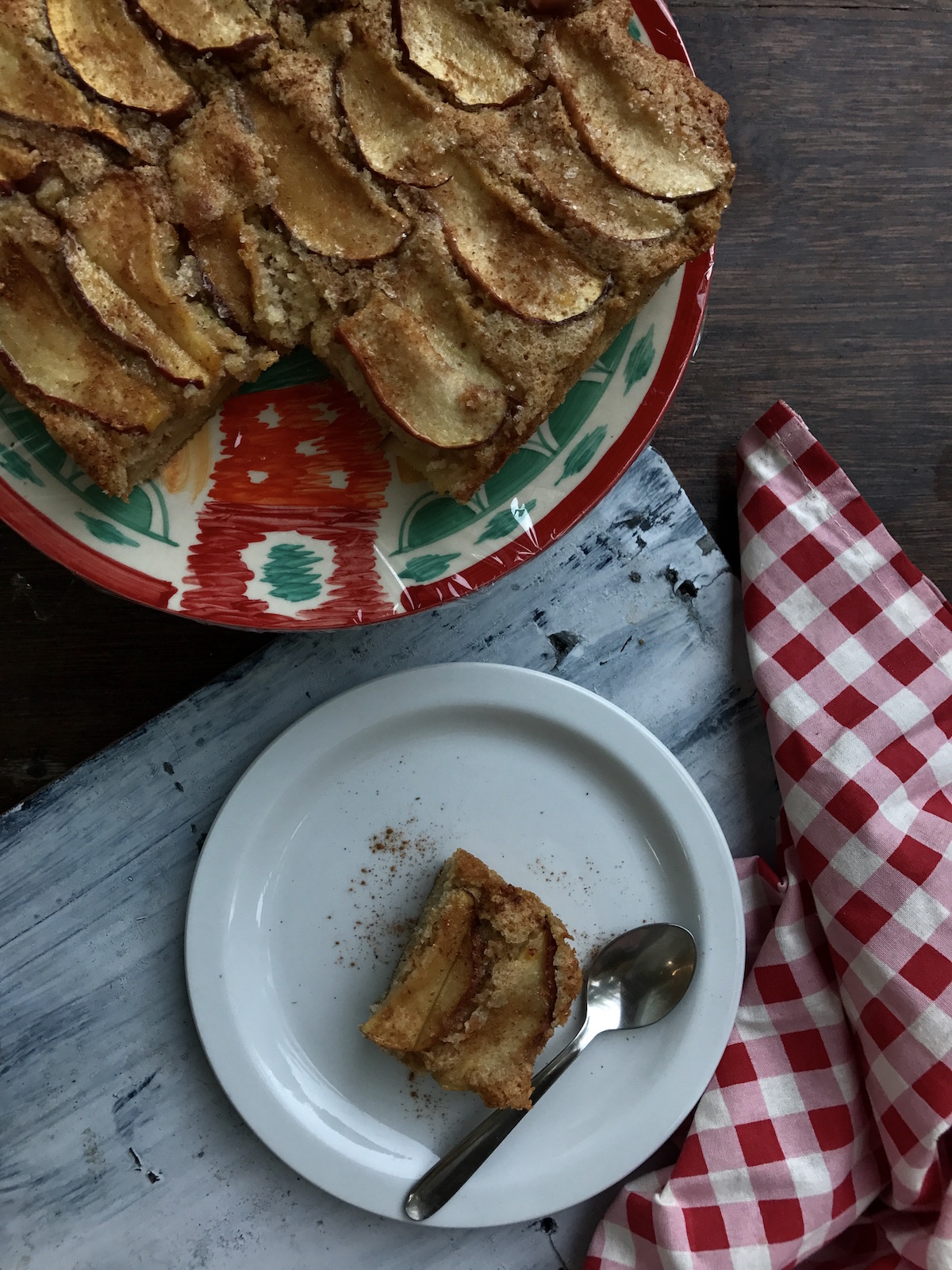 Pin
Memories from our trip to Europe
After losing ALL our money in the train ride from Paris to Brussels, our days in Brussels were quite gloomy. I found the city overrated as a tourist destination and it could very well be due to the state of my mind. I couldn't wait to move on to Amsterdam.
On our journey to Amsterdam, we could feel our spirits lightening up once again. As the train reached Centraal station, I even joked that I want to break a coconut on the train (Indian style). Just thank the Almighty for our journey without any further untoward incidents????.
Eating in Amsterdam
We reached our Airbnb and our hosts were waiting for us with tea and maps. It was a lovely sunny apartment and the hosts were fluent in English, which made very feel so much at home. It was a Saturday and our host Willemijn pointed out to the Noordermarkt on the map, saying it is a must visit as there are open air markets organised here on Saturdays only.
Our friend in Amsterdam, Abhi, came over and whisked us away in his fancy red car, to guess where….the Saravana Bhava! They had opened in the city centre only a week ago. I would have scoffed at this idea myself in the past. But trust me, after being beaten down by the loss of all our money, and the homesickness that had set in after 10 days of being away from India, this felt like just the pick-me-up we needed. We had the dosas, the idli, the coffee, and Abhi himself enjoyed this to the hilt as he rarely ate Indian food.
Winkels at Noordermarkt, Amsterdam
We then proceeded to Noordermarkt (North Market) and we were walking around in circles looking for the open air market. Finally we asked a young lady walking past us if she knew of this. She promptly said, it's past pack up time, so the market is done for the week. Looking at my disappointed face, she said, "But I can tell you where you can eat the best possible Dutch Apple Cake in Amsterdam, and it is right here at Winkel's." She pointed to a small cafe spilling over to the pavement.
Pin
As a family, we have some rules to live by. Like never saying no to good cake. So off we went to Winkel to try their 'Apple pie' which is actually a cake. And it was indeed the best apple cake ever. Something you eat a spoon of, and immediately feel all is well with the world. Almost 4 inches high, stuffed to its gills with apples, redolent of cinnamon and butter, it surely cheered us up. I wont recommend that you eat it by yourself. The three of us shared this hunk of a cake, along with coffee for the husband and me, and hot chocolate for our boy. It was one of the happy evenings of our Europe trip.
My version of the Dutch Apple Cake
So this week, when I was ordering groceries from an app early morning, still not completely out of my slumber, I ended up ordering 2 kilos of apples. A couple them had soft spots, and I needed to use them asap, in a recipe. This apple cake I had at Winkel's was the first to pop up in my head.
A quick google search for a Dutch Apple Cake recipe led me to a Rachel Allen's Dutch Apple Cake and I do like her recipes a lot, for their simplicity and preciseness.
So here's my adaptation of Rachel Allen's Dutch Apple Cake, that is stuffed with juicy apples and the lingering aroma of cinnamon and of course butter.
And if you are visiting Amsterdam, don't forget to order the 'apple pie' at Winkel.
Winkel 43, Noordermarkt 43, 1015 NA Amsterdam, Netherlands
Try my other recipe for a Moist Eggless Apple Cake too.
Pin
Dutch Apple Cake
My adaptation of Rachel Allen's Dutch Apple Cake, that is stuffed with juicy apples and the lingering aroma of cinnamon and of course butter.
Ingredients
2

Eggs

3/4

cup

caster sugar

or 175 grams

1

tsp

vanilla extract

85

gram

butter

75

ml

milk

1

cup

all purpose flour

or 125 grams

1.5

tsp

cinnamon powder

2

tsp

baking powder

2

apples

cored and thinly sliced

1

tbsp

granulated sugar

for topping

1/4

tsp

cinnamon powder

for sprinkling
Instructions
Preheat the oven at 200°C. Prepare a 20 cm square baking tin by lining with parchment paper or foil. Lightly butter this and keep aside.

In a bowl, using an electric whisk, beat the eggs, sugar and vanilla for around 5 minutes until thick and mousse like.

In a small saucepan, melt the butter on a low heat. Add the milk. Whisk well and then pour into the egg mixture beating on low speed as you pour.

Sift the flour, cinnamon and baking powder into a large bowl.

Fold the dry ingredients into the egg mixture until there are no lumps. Pour half of this batter into the prepared pan.

Layer with half of the sliced apples. Pour over the remaining batter and layer with remaining apples. Sprinkle 1 tbsp granulated sugar evenly over the top and a touch of cinnamon powder.

Bake this in preheated oven at 200°C for 10 minutes. Reduce temperature to 180 and bake for another 20 minutes until a tester comes out clean. Cool for 10 minutes, peel off lining paper and cut into 16 or 20 pieces.

Serve warm, with some whipped cream on the side if you like.