2014 has taken off and how! Other than the workshops at Saffron Trail Kitchen, I was called in for some corporate workshops on healthy cooking in Feb, in which I had a lot of fun, interacting with a variety of audiences.
Pic courtesy: Harsha Priolkar
March started off with me having a stall selling salads and dressings at our local farmers market – The Whitefield Farmers Market.
This was last Sunday and it was a novel experience making lists, buying stuff, chopping up mountains of fresh produce, running the blender overtime to mix dressings, runs to the printers, hardware shops and what not!
Friends asked me the experience was and my reply to everyone was, 'a great learning'. And that's what venturing into new projects does for you. Makes you do and learn things you would have never done otherwise.
While I've been up to my gills until now, now, I'm making lists for something amazing.
I'm off to Melbourne, thanks to the winning the cook off organised by Nature's Basket – it's a 4 day holiday trip for which I leave this week. This planning is pure pleasure 🙂 Especially after being a huge Masterchef Australia fan, this is definitely a dream come true.
You can see the photos from the Whitefield Farmers Market on my Facebook page (do LIKE the page for more such updates). If there's enough demand I may even make a batch of salad dressing each month and sell it online for those in and around Whitefield (Bangalore).
To make your own dressings, SUBSCRIBE to my Youtube channel where you'll see lots of new things by end of the month 🙂
Coming to this recipe, I posted the pic above, a day ago on my Facebook and Twitter and I had people virtually nudging me for the recipe. What better way to break the silence on the blog! It's healthy, it's delicious, it looks beautiful.
Some might say, it doesn't have the Brownie texture – well, freezing it might give you the texture, somewhat. Otherwise, just be content to call it a cake :P, it still tastes good!
Sometimes you buy the ingredients for a particular dish. At other times, the ingredients you buy inspire the recipes.
A few weeks ago, I was shopping at our local organic store, Nisarga at Lakeview Farms – where I picked up organic raw cane sugar (khandsari), organic foxtail millet flour, organic himalayan rock salt and I have been using the flour to make rotis, and the salt and sugar to flavour the dishes.
A couple of days ago, I realised I haven't baked anything for my son in ages and decided to make use of this millet flour in a healthy bake.
Also, the mountain of carrots in the fridge, leftover from the salad stall at the market had to be put to some use.
These super healthy brownies are vegan – no eggs, no dairy, no butter. Using mimimal canola oil, grated carrots to keep them moist and the millet flour being gluten free keeps it from becoming dense.
If you haven't tasted millet flour, it has a different kind of taste and texture compared to all purpose flour. You can try and substitute this with Oat flour (oats powdered in the mixer jar till you get flour).
By chilling the brownies or freezing them before eating, the pronounced flavour of millets in this can be reduced to quite some extent.
You cannot see the slightest speck of orange from the carrots or taste the carrots in the brownie – in case you are worried that your kids will reject this veggie-filled brownie 🙂
Super healthy vegan brownies with millet flour and carrots
Makes 12 pieces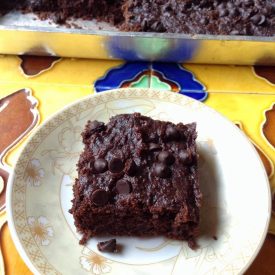 Super Healthy Vegan Brownie
2014 has taken off and how! Other than the workshops at Saffron Trail Kitchen, I was called in for some corporate workshops on healthy cooking in Feb, in which I had a lot of fun, interacting with a variety of audiences. Pic courtesy: Harsha Priolkar March started off with me having a stall selling
Ingredients
65

grams

millet flour

foxtail

60

grams

atta

multigrain

20

grams

cocoa

powder

3/4

tsp

baking soda

1/2

tsp

salt

150

grams

cane sugar

powdered raw (khandsari)

65

ml

canola oil

(4 tbsp+1tsp)

1

tsp

vanilla extract

1/2

cup

water

lukewarm

1

tsp

cider vinegar

1

cup

carrots

* tightly packed finely grated

1/3

cup

chocolate walnuts

chips or .
Instructions
Oil / butter and dust cocoa powder in a rectangular 8x5 inch pan or line with baking paper. Keep aside.

Preheat oven to 180xb0C.

In a large bowl, mix all dry ingredients with a whisk (flours, soda, cocoa powder, salt).

In another bowl, mix together sugar and oil, to this whisk in the water, grated carrots.

Add the dry ingredients to the wet and combine gently. If the batter is too dry, add 2 tbsp of water extra. To this add the vinegar in the final stage, it will bubble, combine well to the rest of the batter.

If adding walnuts or chocolate chips, fold in at this stage.

Scrape the batter into the prepared tray and bake for 25-30 mins until a tester comes out clean.

Wait to cool completely before cutting into pieces.

Cut into 12 pieces. Freeze or refrigerate and serve chilled.
Notes
If you have a coarse grater, put the grated carrot in a mixer, and make it finer using a few pulses
You can use this website or any such similar site for converting from weight to volume measurements.
SHOPPING GUIDE
In Bangalore, Whitefield - all organic flours and sugars are available at Nisarga Shop- Lakeview farm. You can also check organicbounty.com / Dubdengreen Organics at Whitefield and Delhi.
Use any millet flour you find and the least processed sugar you can find, if you cannot get these exact ingredients.
Canola oil is available at Hypercity.
Multigrain atta- Pilsbury.
Rectangular pan, chocochips from bakersmart.co.in.
Cider Vinegar - American Garden brand available at most supermarkets, Waitrose brand in Hypercity.