Strawberry Balsamic Preserve Recipe adapted from Epicurious
Video recipe for Homemade Strawberry Jam
If it's strawberry season, you cannot NOT make this super easy strawberry jam / preserve. You kids will love it. YOU will love it!
If you always wondered what the difference was between jelly, jam and preserve, read this.
I'd say my recipe is somewhere in between a jam and preserve, because while they do have a chunky texture, it is not 'that' chunky because the fruit was fairly finely chopped to begin with.
Contrary to popular belief that jam making is the job of old matronly housewives who wish to slave in the kitchen all day and night. There are many homemade jam recipes that don't take more than 30-45 minutes, including fruit chopping time, especially because we're making only a small quantity at a time.
Also, in both these jams, we don't need any added pectin because strawberries are full of seeds (the specks on the skin are seeds!) and they do the job of pectin for us. A tiny bit of slaving over the stove (under 20 mins, I promise) and you can fill in a beautiful glass jar with homemade jammy goodness. The balsamic adds a lovely depth of flavour and a sort-of adult taste to the jam, so if you have it at home, don't miss adding that.
TIP: A tiny bit of butter added to the pan when preparing jams and preserves prevents the hot bubbling mix from spluttering too much.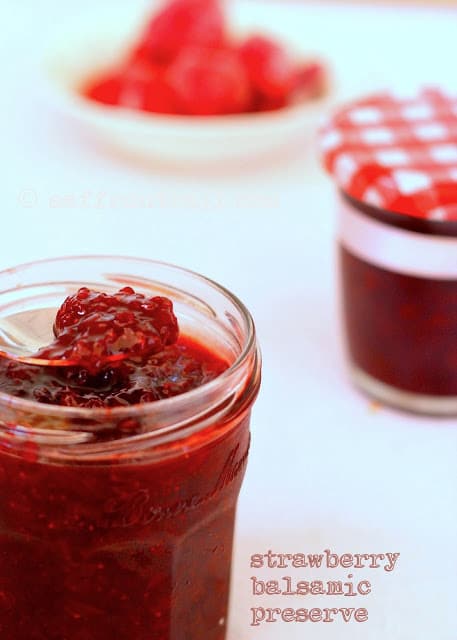 Homemade Strawberry & Balsamic Jam
Strawberry Balsamic Preserve Recipe adapted from Epicurious If it's strawberry season, you cannot NOT make this super easy strawberry jam / preserve. You kids will love it. YOU will love it! Just 4 ingredients & two bottles of delicious preserve.
Ingredients
1

kg

Strawberries

3

tbsps

Balsamic vinegar

3

tbsps

Water

1

cup

Sugar

1/2

tsp

Butter
Instructions
Prepping the strawberries: Wash the berries, patted dry and slice off the tops with a paring knife. After tasting a few (this goes without saying), you'll be left with roughly 750 grams of prepped fruit.

Finely chop the strawberries-you'll get roughly 2 1/2 cups of chopped fruit.

In a heavy bottomed steel or anodised pan, put all the ingredients together, on a medium flame, bring this to a simmer.

The butter prevents the mixture from foaming and splattering too much or spluttering at all.

Simmer for 20-25 minutes, until the mixture is thick and translucent. Keep stirring off and on. Don't worry if it's still a bit flowy and it will thicken further on cooling. So, switch off before the jam turns too thick.

Remove pan from heat and cool thoroughly.

Meanwhile place two empty clean and dry glass jam jars bottles without their lids in the microwave for one minute. This is to quick sterilise the bottles.

Once cooled to room temperature, spoon the jams into the two jars. I'd say I got roughly two jars of 300-350 grams each. Close them tight and keep in fridge. Use within a month.
Notes
Try these jam-filled muffins for your kids at home. And enjoy the extra hugs 😀