Masiyal is ready! Our lunch today with Mor Kozhambu, Beans Paruppusuli and Rice
Since my mom is here to stay with us for a few days, it is my pleasure to present / record some really simple traditional recipes like Keerai Masiyal.
According to my knowledge, there are three common dishes made with Spinach in Tambram cuisine. The first one being the simple mashed spinach or Masiyal ( Masikka means 'to mash' in Tamil) , the second one being Keerai Kootan / Keerai Milagootal which is a delicately spiced spinach – lentil preparation had with rice and the third (and my not-so-favourite) Pulikkeerai or spinach soured with tamarind. There is also a fourth variety in which cooked udad dal is added to mashed spinach. The recipe I'm sharing today is Keerai Masiyal or very simple mashed spinach that can be served as a side when you are just in the mood for some steamed rice and dal. This one also goes fantastic when mixed with some sambar and had along with yogurt rice (tairsaadam).
This is a fine example of typical Tamil Brahmin cuisine, where less is always more and the flavours of the main ingredient are relied upon to the maximum without adding strong flavours like onion or garlic.
Keerai Masiyal
Category – Greens, Tambram recipes, Side, low-carb
Time taken – Under 30 minutes
Makes – 2 cups of mash, serves 4 as a side along with rice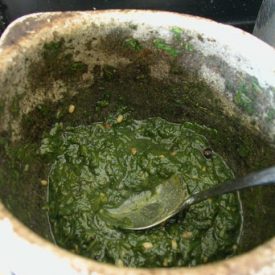 Keerai Masiyal - Simple Spinach Mash
A simple spinach mash prepared in Tamil Brahmin Cuisine, totally healthy and vegan too - Keerai Masiyal.
Ingredients
2

bunches

spinach

fat (7-8 cups finely chopped with thin stems - exclude the thick stems)

1/2

cup

water

to taste

Salt

1

tbsp

dal

udad

2

chillies

dried red , broken into pieces

1

tsp

rice flour

heaped (dissolved in 2 tbsp water) (You can use wheat flour alternatively)
Instructions
In a very heavy bottom pan (traditionally a kal-chatti /heavy stone pot) place the chopped spinach leaves with half cup water. Keep the flame on medium high. It will take 6-7 minutes for spinach to completely wilt and release the water content.

Keep mashing the spinach in the pot with the heavy iron /wooden spoon. Once thoroughly cooked, remove the pot from flame. Keep it on the counter top and mash well for 3-4 minutes, until the spinach is creamy. Add salt to taste.

In a small skillet, place 1 tsp of oil and put in the udad dal. Fry until light golden, and then add the red chillies. Saute for a few seconds until crisp and slide the tempering onto the mashed spinach. Add the rice flour-water mix into the pot as well, place it back on the flame, let the whole mix come to a simmer. The rice flour will get cooked and flavours of the tempering will merge into the mash.

Serve hot with rice.
Notes
Notes:
Since there are very few ingredients, it is best to use the freshest possible spinach for this dish. Frozen spinach could work well too. We always use regular spinach, but I guess baby spinach would work as well.
Finally I get to send something for
Nupur's A-Z of Indian Vegetables
- M for Masiyal.
I would also like to submit this in addition to this for
RCI - Tamil Cuisine
.
Recipe source- Traditional tamil brahmin recipe