Earlier this month, I got a teaser in the email, words that tantalized my taste buds…and then I finally received the book itself from Random House. Here's my review of Modern Spice by Monica Bhide.
Close your eyes. Imagine tamarind margarita, Kumquat and mango chutney with onion seeds, curried carrot and ginger soup, garlic smashed potatoes…Didn't your mouth just water imagining the different spices and their flavours? That is what Modern Spice is all about!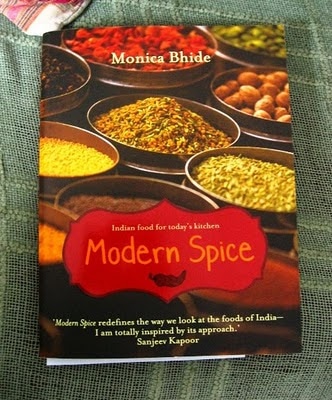 Modern Spice is written by Monica Bhide, who is also the author of two other books – The Spice is Right and The Everything Indian Cookbook. The Indian edition published by Random House India, with a foreword by Chef Sanjeev Kapoor releases in India today and I must say the timing is just right. Indians trotting the globe want to bring global influences to local cuisine and vice versa. I'll buy the asparagus and the broccoli but I don't necessarily want to make a salad with it! Monica understands this need and presents this book – which is Indian at heart with a modern touch.
In Monica's words "Just because we have always done something in one way, it does not make it the only way to do it" – that is clearly the essence of Moden Spice.
The book is divided into colour-coded sections:
• Chutneys and Marinades
• Modern Drinks
• Appetizers, snacks and salads
• Vegetables
• Fish and Shellfish
• Poultry, meat and eggs
• Rice and breads
• Desserts
My favourite section among these turned out to be 'Drinks' as this is one department I tend to neglect the most when I'm entertaining friends. Monica sure knows how to jazz up a good-ol' Aam Panha (traditional raw mango drink) by turning it into an Emerald-ade or a nearly-boring Rooh Afza (Indian sweetened rose concentrate) into an exciting Rum andRoses. The Emerald-ade was the first recipe I tried from this book and I must say it's going to be my favourite drink in the summer of 2010 while raw mangoes are in season!
The chutney section has some exotic combinations like mango-almond chutney. The fennel-chilli dry rub which she recommends for meats, I used liberally on paneer cubes to make a delicious Saufiya-Paneer! The section on appetizers and snacks is the largest in the book and if you are someone who loves to host friends for dinner, you are going to love this section. Something like Cooling Cups which are cucumber cups filled with spiced yogurt takes no effort and will make a great impression on your guests. It has some other recipes like Paneer quiche which could well be a main course item for brunch / lunch served with a salad. Being a vegetarian, it would have been simpler had the recipes in this large section be divided into Vegetarian and others (eggs, seafood, poultry).
The vegetables part has been dealt with most creatively – making unusual combinations of spices and vegetables. The pumpkin with 5 spices was quite a delicacy and when I lay my hands on a bunch of asparagus, I am surely going to try out the **Kalonji wala Asparagus.
From a vegetarian's perspective – the vegetables are almost the main course, and featuring just twelve recipes was a disappointment . Besides, pumpkin turned out to the main ingredient in three out of twelve recipes, which I feel will be a sore point with vegetarians. Why repeat the same vegetable thrice when there is such a plethora of veggies to choose from?
However, being a book for people who eat their meat as well as vegetables, there are two sections covering seafood, poultry, meat and eggs – so that's a lot of ideas and recipes for the meat eater.
There's a reasonable variety of rice dishes – such as Indian Mexican rice and Rice and black eyed peas with crushed garlic. A couple of snacky items like Onion-Bread stir fry, Sooji-paneer pancakes also feature here. I tried a modified version of the onion-bread stir fry for breakfast with the stale bread I had on hand and it hit the spot. It is what our mums would churn out with old bread or rotis, calling it 'bread upma' – but made with the more exotic breads available in the market today, you can make it a fun dish
The Indian-Mexican rice is what we had for dinner today – a simple recipe with rice, beans, corn and spices – something that can be made with pantry staples, ie. if you like me consider frozen corn, onions and tomatoes as staples. [Recipe given below}
In the Desserts section, most of them are quick, no-slave recipes such as the Soulful Granita (made with Rooh Afza) and the chilled mango papaya soup which seems like a saviour in the hot Hyderabadi summer. Given that almost all of the desserts featured are fruit based, it could have done with a bit more variety.
I did find that in some of the recipes that feature hard-to-source ingredients like pomegranate molasses and kumquats – adequate replacements or details have been provided in the notes section. That said, there is no real replacement for Phyllo pastry , and I am yet to find a supermarket that stocks it for a reasonable price!
I liked the idea of colour coding the sections for ease of use. The little stories related to the recipe in the introduction to some of them, made an interesting read.
Overall, this book makes cooking seem fun. You can make an impression on the dinner table without essentially stocking up on a 100 ingredients and slaving in the kitchen. If you don't have any dietary restrictions and you love Indian cuisine with a twist, then this book is surely for you!
Recipe for Indian-Mexican Rice
(slightly modified to suit our tastes)
Indian Mexican Rice from Monica Bhide
Mexican flavoured rice with corn and beans, a recipe that will fit into your Mexican Vegetarian menu PURFECTLY!
Ingredients
1/2

yellow onion

, peeled and finely chopped

1

clove

garlic

minced ,

1

tsp

cumin seeds

1

tsp

turmeric

(I used 1/2 tsp)

1

tsp

cayenne pepper

(red chilli powder)

1

tsp

cumin

powder

1

tsp

oregano

dried

1/3

cup

tomato

puree

1

cup

rajma

cooked

3/4

cup

sweet corn

fresh kernels

1

cup

tomatoes

diced red

4

green chillies

, chopped (I used just 1)

1

cup

basmati rice

to taste

salt

water

as needed

coriander

for garnishing
Instructions
Heat oil in a large pan. Stir in garlic and onions, stirring around for 4-5 minutes till soft.

Add all spices - stir to cook for 30 seconds.

Add all remaining ingredients along with the rice, salt and water (around 2 cups).

Bring to a boil. Cover and cook for 8 -10 minutes or so until rice is done.

Serve garnished with fresh coriander.
Notes
My notes
This was a hearty filling one-pot rice dish perfect by itself for a weekday dinner, if you pressure cook the rajma in the morning or over the weekend. Along with other accompaniments it can make an excellent main course dish for a Mexican dinner.
I added the oregano and cumin as we love the strong Mexican taste they impart to a dish. Also as the tomatoes I used were on the sweeter side, I used some tomato puree for added zing! Overall a simple recipe for a great tasting dish that I'll surely make again!
[Extracts taken from Monica Bhide's book Modern Spice published by Random House
More about Monica Bhide on her website.