Recipe for Sweet Potato Cake – Eggless & Healthy version
I'm a weird one.
Carrots, beets, zucchini, pumpkin, sweet potato – I love adding these veggies into my cakes and muffins. They give a lovely texture to whatever you bake, a touch of colour at times and the water content in the vegetable lends a moistness to the bake, that is always so desirable.
So when I got a decent sized sweet potato harvest from my kitchen garden this week, I knew for sure I wanted to bake a spiced sweet potato loaf cake. If you know me well, you know how much I love tea and tea cakes. This one is beautifully aromatic from the cinnamon, nutmeg and ginger, and moist to a fault, so much that it almost melts in your mouth. This recipe uses no eggs and if you want to make this recipe vegan, then replace the yogurt with soy yogurt.
Here's how I have made this recipe healthy-ish for you!
There are a ton of sweet potato pound cake recipes that call for that mandatory one cup butter. I find that quite pointless, because mashed sweet potato itself makes a cake so soft, so why add all that butter? Using a combination of 1/4 cup oil and 1/2 cup yogurt, gives you a melt-in-mouth cake, without the use of butter or eggs.
I've swapped 50% of the flour with whole wheat flour, you can also replace some of the all purpose flour with oat flour, like I have in my Best Banana Bread recipe.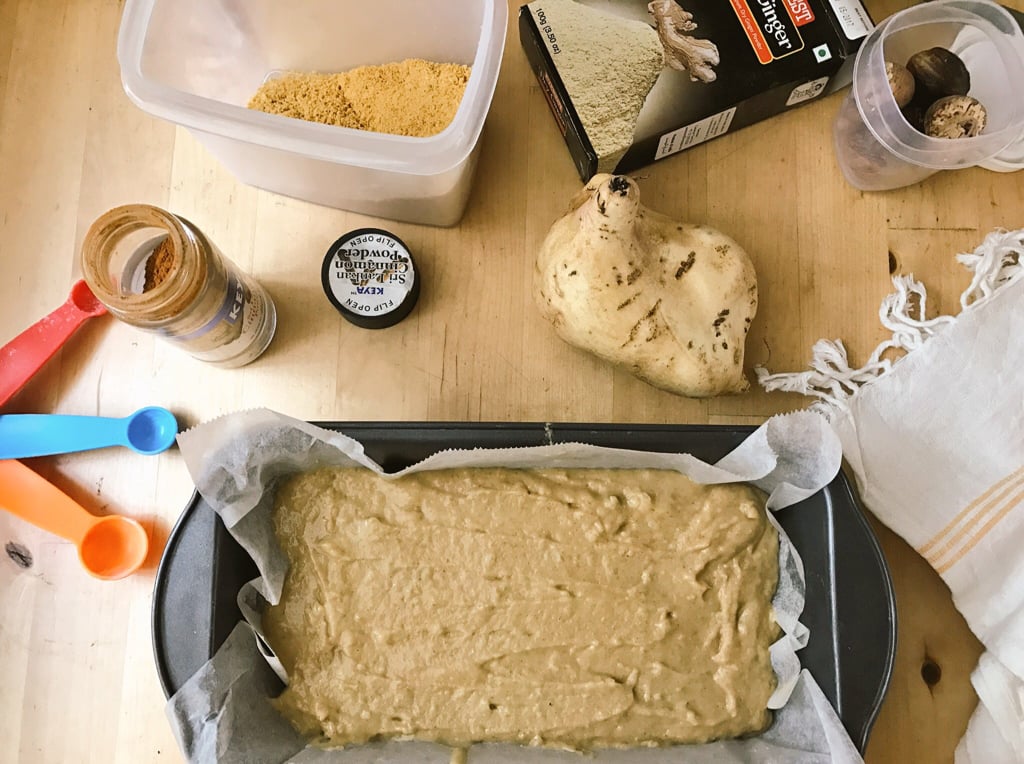 50% of the sugar in this eggless sweet potato cake has been replaced with organic powdered jaggery, which comes with a few health benefits from the micronutrients and minerals, and relatively natural unlike sugar which has zero health benefits and highly processed.
Now the fun part! The spices – cinnamon, nutmeg and ginger, make your kitchen smell heavenly, telling you that the joyful time of the year is just round the corner.
Sweet potato cake - eggless recipe
Recipe for Sweet Potato Cake - Eggless & Healthy version, spiced with cinnamon, nutmeg and ginger.
Ingredients
1

cup

sweet potatoes

mashed

1/4

cup

vegetable oil

1/2

cup

yogurt

1/2

cup

water

lukewarm

1

tsp

vinegar

1/2

cup

brown sugar

(or powdered jaggery)

1/2

cup

sugar

1

cup

all purpose flour

1/2

cup

whole wheat flour

1

tsp

ginger

ground

1

tsp

cinnamon

ground

1/2

tsp

nutmeg

grated

1

tsp

baking powder

1/2

tsp

baking soda
for spiced glaze
1/2

cup

icing sugar

1/8

tsp

cinnamon

powder

1

tbsp

milk
Instructions
To get mashed sweet potatoes, boil / steam or pressure cook 3 medium sized sweet potatoes until they are cooked. Once cool, discard peel and place flesh in a bowl and mash with a fork or run in a food processor to get a dry mash.

Preheat the oven at 180xb0C. Line a loaf tin with baking paper.

In a large bowl, place the oil and yogurt. Whisk well to combine. Add the mashed sweet potato, lukewarm water, powdered jaggery (or brown sugar), regular sugar and whisk well until combined.

Sieve the flours, spice powders, baking powder and baking soda into a large bowl.

Add the dry ingredients in 2-3 batches into the wet ingredients in the bowl, and fold to combine well, and get a smooth batter.

Scrape out the batter into the prepared loaf tin. Smoothen out the top.

Bake in a preheated oven at 180xb0C for 40 minutes or until a tester comes out clean.

Allow the cake to rest in the pan for 5 minutes after which you can turn it over a wire rack to cool for 15 minutes before slicing.

To prepare glaze, combine icing sugar, cinnamon powder and milk to get a smooth pourable glaze. Using a spoon drizzle this glaze over the loaf.