Saffron Cake – a festive tea cake with Indian flavours of saffron and screwpine (kewra). Bake this for a special occasion tea party and wow your guests. 
When it comes to baking, tea cakes are my first love. A slice of a tea cake with a cup of tea (duh!) and a well-thumbed PG Wodehouse book to read, is such a simple everyday joy. No fancy icing or the dreaded fondant with garish artificial colouring for me, thank you! Woo me with the pink of beets or the yellow of saffron instead:)
I just told you that tea cakes are a very everyday thing, so I wanted to instil some festive spirit in them. And what better way to make a dish festive than adding saffron to it. Presenting the saffron cake….ta da… Not only does it give the cake a golden hue but also an unmistakably Indian festive flavour to it.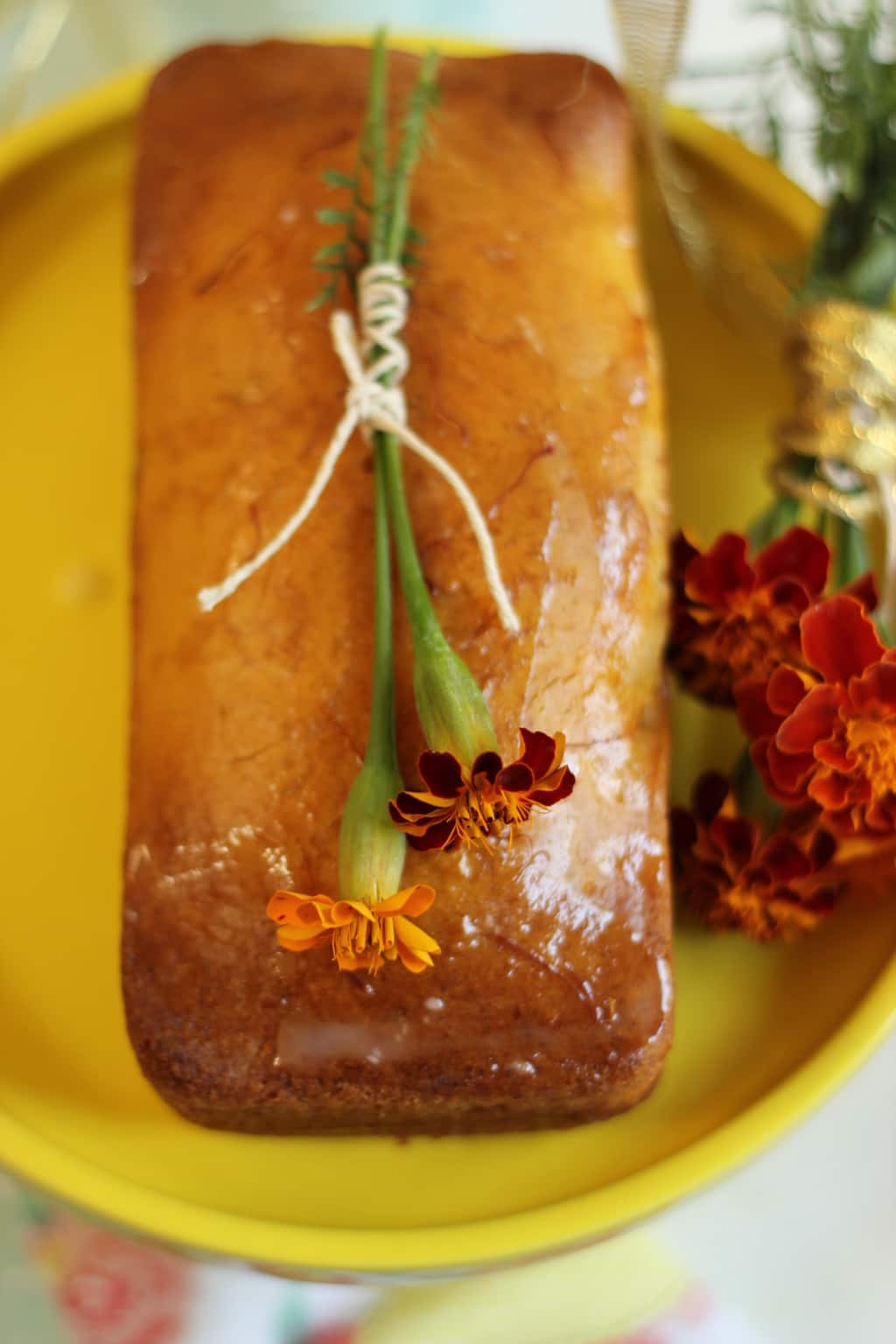 Kewra water or screw pine extract is used in a select few dishes like Biryani to give the dish an aroma like no other. So I decided to marry the Kesar and Kewra in this tea cake, giving the saffron cake a marbled effect by dividing the batter in two halves – saffron in one and kewra in the other. Adding mashed paneer to the tea cake keeps it moist and adds an interesting texture to it. Take care that you don't add more than 3-4 drops of Kewra water as the flavour can quickly turn quite cloying. If you cannot find kewra water  / screw pine extract in an Indian store, then use 1/4 tsp of powdered cardamom instead.
So if you are looking at making a simple cake for Diwali to serve to your guests when they drop in for tea, look no further.
More Easy Saffron Recipes:
Saffron Paneer Teacake - Kesar Kewra Paneer Teacake
A festive tea cake with flavours of saffron and kewra (screwpine) - goes wonderfully with a cup of coffee and tea. No eggs used.
Ingredients
3/4

cup

maida

1/2

tsp

baking powder

1/2

tsp

baking soda

1/8

tsp

salt

a pinch

3

tbsps

condensed milk

1

tbsp

lemon juice

3

tbsps

melted ghee

or butter

4

tbsps

sugar

powdered

1/4

cup

milk

50

grams

paneer

freshly made

4 - 5

drops

water

kewra

1/2

sachet

saffron powder

Kesari brand sachets
For icing:
1

tbsp

icing sugar

1

tbsp

milk
Instructions
To prepare the saffron cake, in a bowl, mix together the dry ingredients.

In another bowl, cream the condensed milk, lemon juice, melted ghee, sugar and milk.

Mash the paneer well into a coarse paste in a small bowl and whisk it into the wet ingredients.

Add the dry ingredients to the wet ingredients and mix gently until well combined.

Divide this into two halves. Add kewra water to one half and Kesari Saffron Powder in the other and combine each of them well.

Grease a small sized loaf tin (7" x 3") with melted ghee and line the bottom with a piece of parchment paper. Now we have two batters - one white and one yellow.

Using two separate spoons, spoon the batter alternately into the loaf tin, so that we have a alternating squares of white and yellow, until all the batter is used up. Using a skewer or toothpick, swirl the batter in the tin into a few circles.

Bake in a preheated oven at 180°C for 25 minutes or until a skewer comes out clean. Remove from oven, allow to cool in pan for 10 minutes. Remove cake from pan and cool on a wire rack for 30 minutes.

Whisk together icing sugar and milk and spoon it over the loaf. Cut into slices and serve with a cup of tea or coffee.
Notes
If you cannot find kewra water  / screw pine extract in an Indian store, then use 1/4 tsp of powdered cardamom instead.
For healthy vegetarian recipes, check out my book The Everyday Healthy Vegetarian.  Get all the info about my book and order it here. 
Like what you see here? Stay connected with me on Instagram, Facebook, BlogLovin' and Pinterest.
Sign up to my newsletter by putting in your email in the box in the home page, to get all latest posts in your email. No spam. Promise.