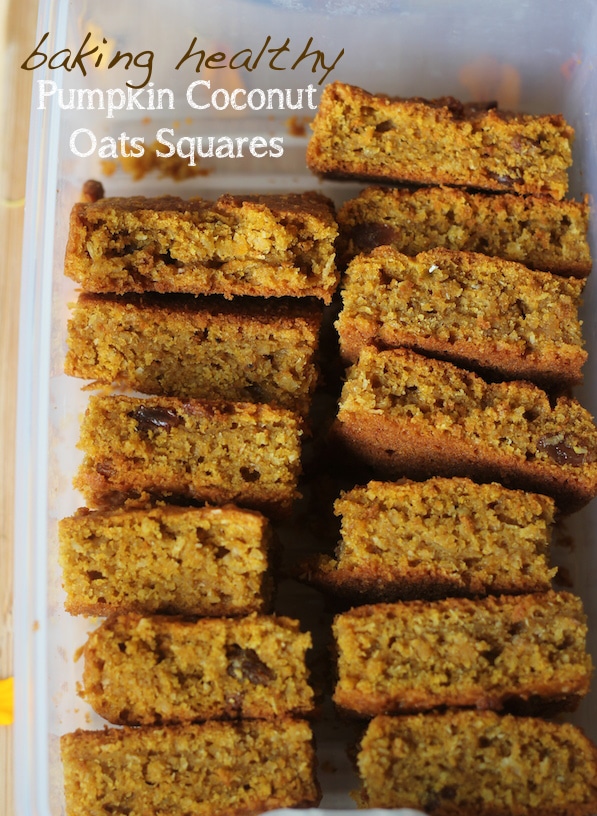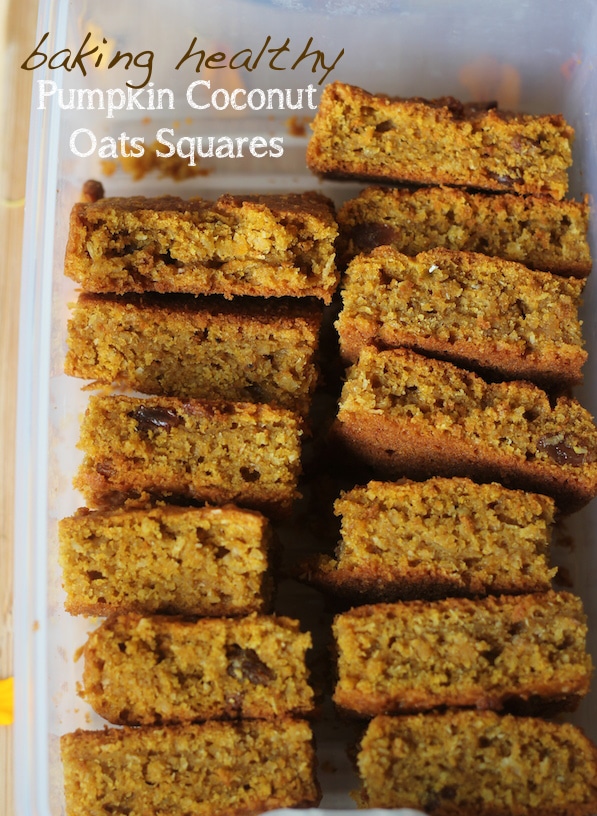 This post has a recipe for Healthy Pumpkin Coconut Oats Bake 
From being the no.1 item on a doctor's/dietician's avoid list to a patient, to becoming a superfood, coconut has come a long way. While many have jumped on the coconut for health bandwagon, there are still as many people unconvinced about how a much maligned food item of the past could be hailed for its health benefits today!
Considered harmful to health in the past as due to its high saturated fat content, research now shows that these saturated fats are medium chain fatty acids, which are handled differently by the body as compared to the long chain fatty acids. A study showed the comparative effect of medium chain fats oil and olive oil on fat and weight loss and the medium chain fats oil led to a greater fat and weight loss. The fats in coconut are also said increase the daily energy expenditure as explained here. Lauric acid which constitutes around 50% of the fatty acids from coconut, is known to improve the good cholesterol (HDL).
Coconut is naturally cholesterol free as it is a plant derived product and cholesterol is not present in any plant based products. It is often wrongly believed that coconut products including coconut oil are high-cholesterol.
Lauric acid also said to possess antibacterial, antiviral and antifungal properties. Breast milk is another good source of this beneficial lauric acid.
Coconut is no alien ingredient in South Indian homes. In the traditional cuisine of my family, most vegetable stir fries are finished with a sprinkling of fresh coconut. Coconut is used to grind fresh spice pastes to flavour curries (recipe for Avial) and it also used in making sweets. Coconut oil is a preferred medium of cooking for some of our dishes. When I use coconut oil to make simple stir fries like poriyal (recipe for cabbage poriyal), the flavour in the resultant dish is way much more than using regular vegetable oil, even if you use just one teaspoonful.
In my kitchen, I use a mix of oils in moderation, coconut oil for South Indian cooking, mustard oil in Bengali and North Indian dishes, gingelly oil for other Tambrahm recipes, ghee for tadka / tempering purposes and of course olive oils in other dishes.
If you are the calorie counting types, it is worthwhile knowing that 100 grams of coconut is around 354 calories, the upside is that it is high in fiber content – 9 grams, which is why defatted coconut in coconut flour is nearly 58% fiber, just 2 tablespoons of this flour are enough to supply your daily fiber requirement.
With coconut being in the superfood limelight, there are a whole variety of coconut products available these days – coconut flour, coconut powder, desiccated coconut, frozen coconut and it does get quite confusing. Here's an infographic on the various forms in which coconut is available, differentiating between desiccated coconut, coconut flour, coconut powder etc.
Desiccated coconut is useful to make podis, such as Thenga Molagapodi. It is also a useful addition to in adding to cookies and other bakes. Here I have used it in a reasonably healthy bake, using pumpkin, oats, whole wheat flour. It is healthy enough to pass off as a quick pick me up breakfast on the go, after all it has oats and pumpkin too 🙂 I'm calling it Pumpkin Coconut Oats squares because it is not rich enough to be called a cake not dry/crisp enough to be called a bar 😛
This post has been written in association with Pure and Sure range of organic products. You can check out their coconut range – organic coconut oil, organic coconut sugar and organic desiccated coconut, on their website and order online too
STAY CONNECTED WITH ME:
YouTube – Facebook – Instagram – Pinterest – Twitter – Bloglovin'
Recipe for Pumpkin Coconut Oats Squares
Makes 16 squares
Health Benefits of Coconut | Pumpkin Coconut Oats Squares
Pumpkin Puree, Desiccated Coconut and Oats come together in this super simple and healthy bake. Cut into squares and enjoy with tea, guilt-free.
Ingredients
1

cup

pumpkin

puree

1/3

cup

coconut oil

1/2

cup

yogurt

1/2

tsp

orange vanilla extract

extract or 1 tsps

1/2

cup

sugar

1/4

cup

honey

1

egg

1/2

cup

coconut

Pure and Sure desiccated

1

cup

whole wheat flour

3/4

cup

oats

1.5

tsps

baking powder

1/2

tsp

baking soda

1.5

tsps

cinnamon

powder

1/2

tsp

nutmeg

freshly grated

1/2

cup

raisins
Instructions
Prep:Preheat oven at 180 celsius.Grease / line a 9" square pan.

Mix all dry ingredients in a bowl and keep aside.

In a large bowl (~10 cup capacity) - place all wet ingredients and whisk until smooth and well combined. (If the coconut oil has solidified then gently melt it on low flame until liquid, allow to cool slightly then whisk with other ingredients)

Add the dry ingredients to this and mix gently until combined.

Scrape out the batter into a greased / lined tin.

Bake at 180 celsius for 35-40 minutes until golden and a skewer comes out clean.

Cool for 10 minutes in the pan. Cut into squares. Keep in airtight container in refrigerator.
Notes
How to make pumpkin puree using a pressure cooker
Scrape out core and seeds. Peel and dice pumpkin.
Place in a pressure pan with 1/2 cup water.
Close lid with whistle on. After 2 whistles, place on sim for 5 minutes.
Switch off flame. Once cooled, open and mash with a potato masher to a fine paste.
Pure and Sure
Website
Facebook
Twitter
Check out a collection of my favourite recipes using coconut on Saffron Trail
Stay connected with me:
YouTube- Facebook- Instagram-Pinterest -Twitter
(c) Nandita Iyer 2006-2015