Easy Eggless Chocolate cake recipe that is a must keep in your recipe file
Quite a few readers have written in asking me for a simple chocolate cake recipe (which is already there on my blog) but eggless! Some people don't eat eggs and others don't like the eggy smell in baked goods. So whatever be your reason, this is the perfect recipe for you.
Not too tough to remember the ingredients either, once you've tried it a couple of times. All ingredients used in this cake are everyday baking ingredients easily found in your kitchen.
So the next time your kid (or friend) says "I want a chocolate cake" – you don't have to look around in despair. So here's my sweet treat for you to end the year on a sweet note.
While this is a basic chocolate cake, there are several ways to dress it up. Cut it half and spread whipped cream between the two layers. Top with more whipped cream and scatter strawberries, for a sensational cake for special occasions.
Or for that matter any seasonal fruit. You could pour a simple chocolate ganache over the top and then sprinkle the top with coloured sprinkles if you're baking this for a kid's birthday.
As it is, it makes the perfect cake with tea or coffee. You can also use this recipe to make eggless chocolate cupcakes and then cover with icing of your choice.
Easy Eggless Chocolate Cake
Makes around 15 servings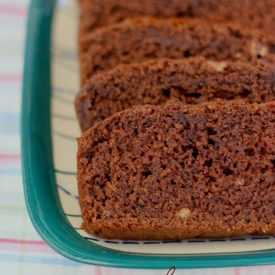 Easy Eggless Chocolate Cake
This is one cake recipe you must keep in your recipe folder - a simple easy eggless chocolate cake.
Ingredients
1.5

cups

all purpose flour

1

tsp

baking soda

1

tsp

baking powder

2

tbsps

cocoa

powder

1

tsp

coffee

instant powder .

1/4

tsp

salt

.

6

tbsps

butter

melted .

1

cup

sugar

powdered .

3/4

cup

yogurt

(dahi/curds-not too sour).

1/2 to 3/4

cups

milk

.

1

tsp

vanilla extract

.

1

tsp

malt vinegar vinegar

or regular .
Instructions
Ensure that all ingredients are at room temperature.

Butter and flour a 9" round baking tin or a loaf tin + 2-3 other smaller tins.

Preheat the oven at 180xb0C.

Over a large paper, sieve the flour, baking soda, baking powder, cocoa powder, instant coffee and salt until combined and airy.

In a large bowl, combined the melted butter and sugar by mixing together with a spatula. Whisk in the yogurt well. To this, add the flour in 3 batches, mixing well after each addition along with some of the milk to aid in mixing.

At the end of this all the flour and milk should be incorporated into the batter.

Add vanilla extract and 1 tsp vinegar and give it a final mix with the spatula. Using the spatula scrape out the batter into the loaf tin plus two other smaller tins.

The loaf will bake for 35-40 mins (until tester comes out clean) - reduce baking time for smaller cakes.

Remove on a cooling rack and after 5-10 minutes, unmould cakes and let them cool further before slicing or decorating.