I'm rarely into superlatives. In fact, I quite dislike using superlatives. But turns out, these pancakes are totally deserving of them. I'm quite the pancake ninja (like there is such a thing!) – because I make pancakes on demand for my son at least twice a week. But they are mostly the healthy types.
Poor fellow once asked me for pancakes in his tiffin box  and I was out of all purpose flour, so made a few jaggery and wheat flour based 'vella dosai' (jaggery dosai) as faux-pancakes. He came back home and told me, "Mummy, I finished what you gave me in my lunch box, but next time please don't give me roti-wala pancakes". I had to terribly hard not to break into an evil guffaw.
So now you know why I am so excited to share this recipe with you. These are the real deal, reminding you of those diners in American towns where the aroma of coffee and pancakes waft around the air like evil temptations. What I was most kicked about was the lovely colouring on them, which I suppose comes from the resting period or may be the use of egg. But the resting of the batter does make a big difference to the texture of the pancakes, so please, please do not skip this step, even if you are a terribly impatient person like me 🙂
I made these for a Sunday brunch a few months ago, along with caramelised bananas (homegrown, baby!) and a sauce I could dive into! Also, there was Shakshouka, toast, salad and Hasselback Potatoes – it was one of the best meals I had put together. It was a good day in the kitchen, indeed!
So here's my post for you, just in time for the holiday weekend. Make sure you prep the pancake batter the previous night and stick it in the fridge, so it is a breeze to prepare these utterly delicious pancakes for breakfast.
Print Recipe
Best Ever Oatmeal Pancakes
Yum
Best ever Oatmeal Pancakes - Fluffy and ready to mop up all the maple syrup or sauce you can pour on them! You MUST try them for breakfast this holiday weekend. EXTRA HUGS from your kids 🙂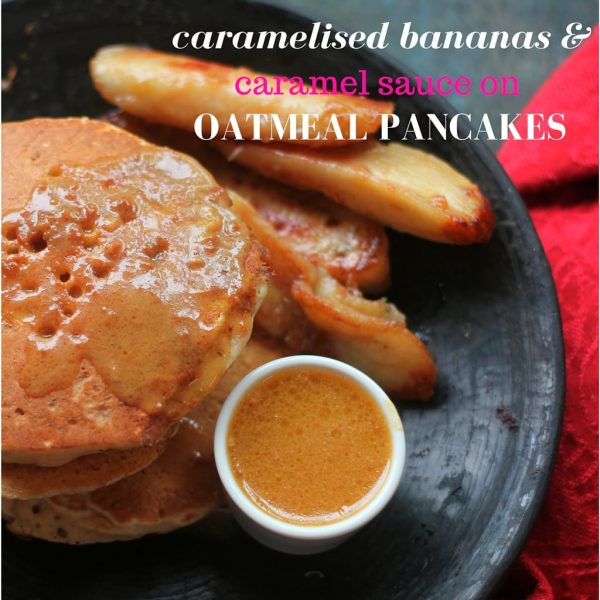 | | |
| --- | --- |
| | |
In a mixer jar, pulse the oats until you get a coarse flour.

In a large bowl, mix the oat flour, all purpose flour, baking powder, baking soda, sugar and salt.

In a small bowl or a measuring jug, whisk well the buttermilk, oil and egg. [*To prepare buttermilk, take 1 1/4 cups milk at room temperature in a jug. Add 1 tsp vinegar and keep aside for 5 minutes. You can also use yogurt whisked smooth with some water to thin it down.]

Make a well in the dry ingredients. Add the wet ingredients into this and whisk gently to combine. Cover and keep in the refrigerator for at least 1 hour or overnight is great too.

Remove the batter from the fridge 15 minutes before preparing pancakes. Grease a large flat skillet (cast iron or non stick) with a bit of oil using a kitchen tissue paper.

Once the skillet is moderately hot, pour 2 tbsp of batter per pancake, do not spread out thin. Cook on a medium flame for 1 minute or until this side is uniformly golden brown and bubbles appear around the circumference of the pancake. Flip over and cook the other side similarly, using a little bit of oil or melted butter along the sides.

Make as many pancakes in a batch as you can without over crowding the skillet. Keep prepared pancakes warm in a casserole. Serve warm with toppings of choice.
The pancakes turn out beautifully golden brown and fluffy. These are like a sponge to absorb all the toppings of your choice - be it maple syrup or honey. I love serving them with caramelised bananas and a caramel sauce.