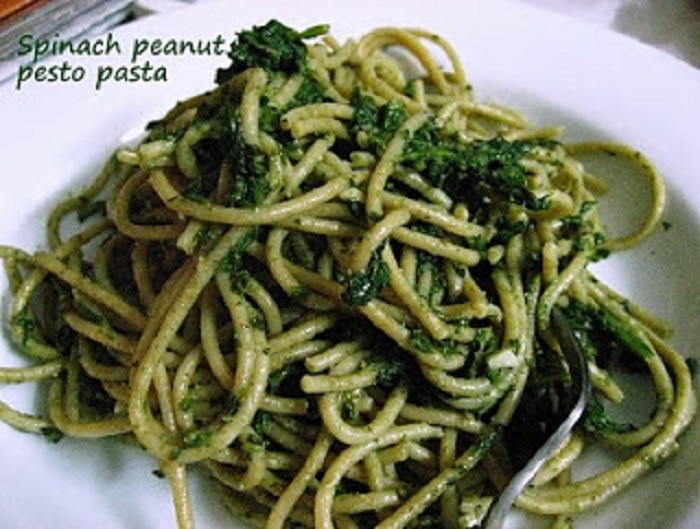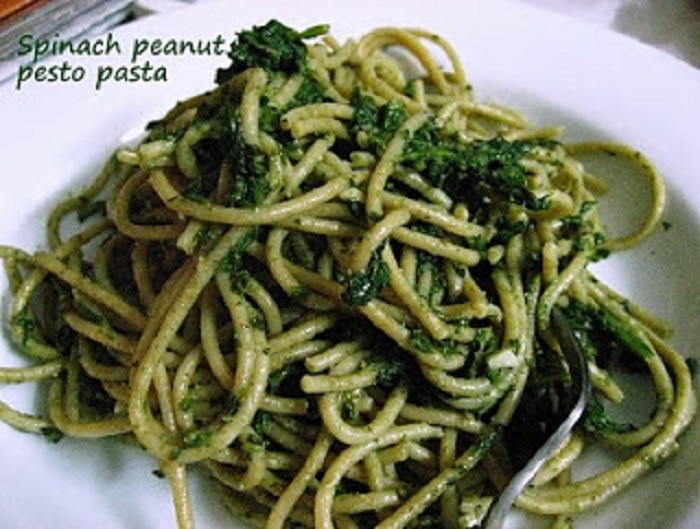 Spinach Peanut Pesto Pasta or what happens when a Maharastrian meets an Italian.
The Cooks Cottage was one of the first food blogs to go on my bookmarks list.Yesterday I visited that blog after ages to find an interesting Peanut Chutney with a very simple recipe -Roast handful of peanuts and grind with green chillies, tamarind puree and salt. Since I had time on hand, I went ahead with this – just that I did not use tamarind puree but used a fat pinch of Amchoor (dried mango) powder instead. The result was a very yummy chutney – somewhat moister than a podi because of the oils in the peanuts and the water given out by the chillies.
Even if you stop right here, this chutney can be mixed with plain steamed rice to make a Peanut Rice. Add a tadka of some mustard seeds, udad dal and curry leaves and it will make a protein rich rice dish to go with a raita. This peanut chutney is also a quick addition to a simple roti-sabzi meal. Also I'd love to sprinkle this on a large bowl of vegetable raita and devour it for a summer lunch.
But for me, it took a different route altogether…to Italy! I'd bought two large bunches of fresh spinach in the morning and they were cleaned, washed and chopped – waiting to be cooked. Since I was to make spinach and pasta for dinner and peanut chutney decided to jump over the dinner bandwagon – that's how this dish was born.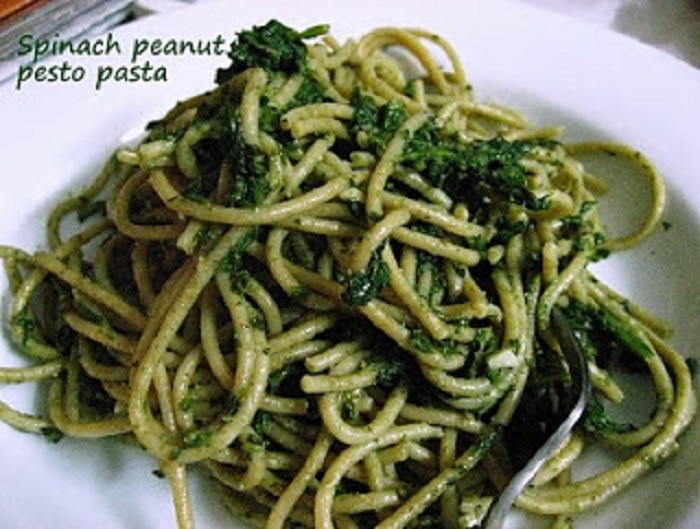 Spinach Pesto Pasta
Serves 2
Spinach Peanut Pesto Pasta
No basil, no pine nuts, and still want to make pesto? This spinach-peanut pesto is just the recipe for you. Prepare this in advance and freeze for a quick 10 minute dinner.
Ingredients
8

cups

spinach

picked, washed leaves and tender stems.

6

cloves

garlic

, peeled and minced.

2

tbsps

olive oil

.

3

tbsps

peanuts

.

2

green chillies

.

1/2

tsp

salt

.

1/2

tsp

amchoor

powder (optional).

1

tbsp

basil

dried .

black pepper

. Freshly ground
Instructions
In a large saucepan, place 1/2 cup water with a pinch of sugar and add the spinach leaves to this - allowing them to wilt on a high flame. The sugar will keep the leaves green. This will take roughly 4-5 minutes. Remove from flame and keep aside.

Meanwhile keep the peanuts to roast on a medium flame for 7-8 minutes sauteeing them off and on, so that they don't burn. Once they are done, remove and cool. Grind the peanuts after they are cool with the salt, green chillies and amchoor into a fine powder. Keep aside.

Boil the pasta as per instructions - drain saving some of the pasta water for later if required.

In a large pan, heat the olive oil - add the minced garlic cloves and the wilted spinach - saute for a minute or so, then add the dried basil, peanut chutney and cooked pasta, tossing well to coat the pasta. Check for salt and adjust. Add fresh ground black pepper and toss gently.

Serve hot or cold.
Notes
Note:
Pasta for two people, cooked as per directions - I used whole wheat spaghetti.
Taste wise this was fantastic - the peanut chutney complimented the spinach-garlic-basil tastes superbly. Nutrition wise also it made a lot of sense to me - adding the protein component in the form of peanuts to the carb and fibre rich spinach pasta was a great idea. All those who watch their calories and weight usually stay away from peanuts - but in small quantities, they are rich in unsaturated fats and are actually considered to reduce belly fat!
If your kid is not allergic to nuts, this is perfect toddler food too, probably easier to eat if the pasta is a smaller one like macaroni. Our boy loved to play with the spaghetti on my plate and our idea of placing a teeny bit of spinach and pasta on every spoon of curd rice (his dinner) was a hit idea to make quick work of his dinner 🙂
I'm sure any other nuts like walnuts, cashews or almonds will give a new twist to this taste and that's what I'll try this with next time! Do let me know how this recipe turned out for you 🙂