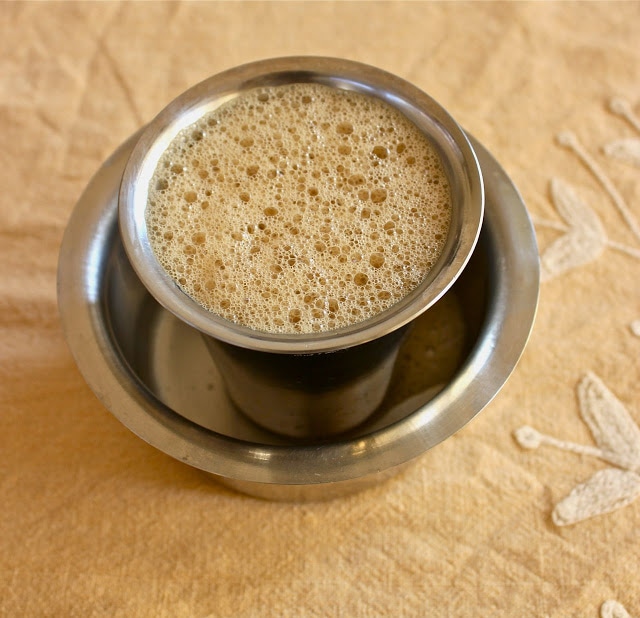 Step by Step recipe + video on how to make South Indian Filter Coffee
Filter coffee is the life-blood for most South Indians. Nothing better to wake up to that a tumbler (yes, cup wont do) of steamy, aromatic coffee! Read about how coffee is made in a traditional Tamil home and also watch a video on how to make a South Indian filter coffee in your own kitchen!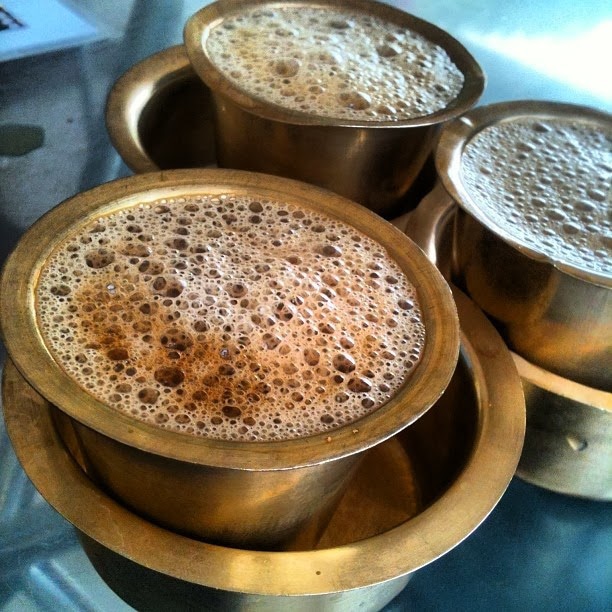 When I first learnt how to make filter coffee, the coffee decoction (brew) would always be too watery, so much so that I could easily pour half a cup of decoction into half cup of milk and still it would never be as 'strong' as I'd like it to be. Then I learnt the trick to make a really good (read that as STRONG) filter kaapi by watching my mother-in-law perform this ritual everyday. It was some serious technique leading to some seriously good coffee in the end. That's how I make my coffee nowadays and I make sure if I want that coffee fix in the morning, I get out my percolator the previous night.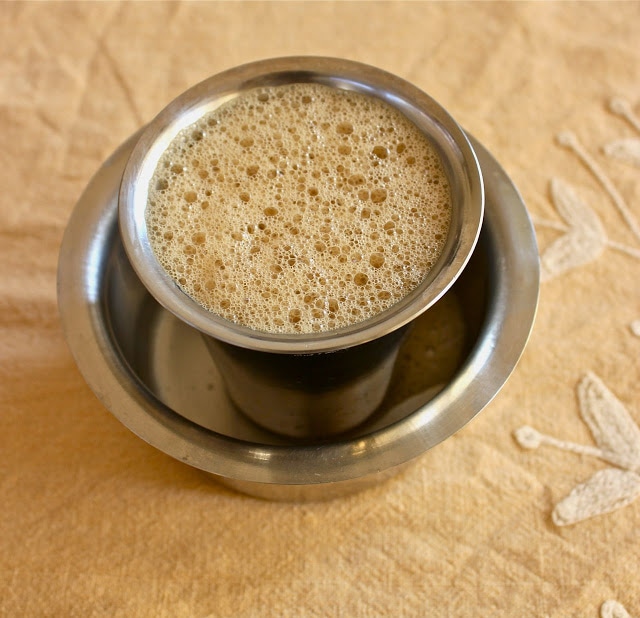 Mom-in-law's Filter Kaapi
-You'll need a traditional percolator
-Coffee powder- Store bought coffee powder where they grind the roasted coffee beans as per specification. A fine grind is used with a small percentage of chicory mixed in. Mom-in-law's brand of choice is from Vimala Coffee works in Chennai. In Bangalore, Kalmane's Koffee does a good job of roasting and grinding beans.
~Use a clean filter. Remove the lid and umbrella. Put 2 heaped Tbsp of coffee powder per person and press it down with a spoon. Keep the umbrella back and gently pour fresh water brought to a rolling boil over the umbrella in the top container.
~The water will percolate down slowly depending on the quantity of powder placed. 6-8 tbsp of coffee powder will take the decoction almost 6-8 hours to collect at the bottom. (So it's better done at night, to have your morning cuppa). If you've put a lot of coffee powder, you wouldn't have a chance to put enough water to percolate resulting in very concentrated but less quantity of decoction at the bottom. In this case once the decoction collects below, you can add more boiling water at the top to collect the concentrate 2-3 times.
~Just remember that the consequent collections wont be as concentrated as the earlier ones. You might want to collect the entire lot and mix it together to get an even concentration of the whole lot of decoction in the end.
To prepare coffee: In a tumbler (traditional steel glass) or a mug, fill milk to fill 3/4th of the glass and add decoction with constant stirring to make a coffee to suit your liking, mild or strong. Add sugar if you wish. Enjoy the aroma as you take a sip of Madras culture.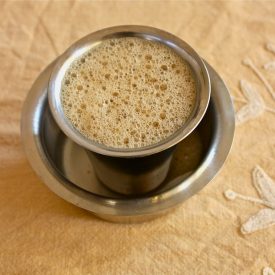 South Indian Filter Coffee
Get the details on equipment, method and video on how to make your cup of filter coffee, because everyone loves a tumbler of piping hot, aromatic and strong filter coffee!
Ingredients
3

tbsps

coffee beans

medium ground ( powder)

1

cup

water

3/4

cup

milk

1

tsp

sugar
Instructions
In the traditional coffee filter, fix the upper compartment on the lower. Add the coffee powder to the upper compartment and with the umbrella attachment, press down the powder firmly. Cover this with the umbrella attachment.

Bring the water to a boil and pour boiling hot water over the umbrella in the upper compartment, until water level nearly reaches the brim.

Keep this covered for 3-4 hours until thick coffee decoction collects in the bottom compartment.

To prepare coffee, bring milk to a boil. Mix 4-5 tbsp coffee decoction with 3/4 cup milk, adjusting as per the strength of coffee desired. Mix in sugar if required. To get a frothy top, use a steel davara-tumbler, and transfer the coffee 3-4 times between the two, until the coffee gets frothy.

Serve in the tumbler set inside a davara to serve it the traditional way!
Notes
Note:
In my opinion, filter kaapi must be drunk in a traditional tumbler-davaraa, and the coffee swished a couple of times between the two to produce delicious foam (norai) on the top. I don't think my mom-in-law approves of this though. The disadvantage being the coffee getting cold while swishing it around 😉 It is called Meter-Kaapi in some Udupi hotels as the coffee is poured into the glass from a meter's height to produce maximum foam.
This is a description of how the coffee is made at my in-laws' place, and it makes a terrific cup of coffee.
You can also try the instant electric coffee percolators or the stove top coffee maker, which give you the decoction fairly quickly and you don't have to wait for long to get your hands around that perfect tumbler of filter kaapi
Subscribe to Saffron Trail Kitchen on YouTube.
Learn quick and easy recipes. New video every Friday!
Watch me make Filter Kaapi in my kitchen 🙂
Like what you see here? Follow SaffronTrail on
Instagram
,
Facebook
and
Pinterest
.
Some of the equipment you can use to prepare a good coffee decoction:
Traditional South Indian Coffee Filter
Electric Coffee Maker
Stove top espresso maker