Recipe for a 3 ingredient coconut laddoo | Indian festive recipe| Quick Diwali Recipes
VIDEO RECIPE: Instant Coconut Laddoos on my YouTube Channel
My son is 5 and a half. While he's quite unfussy over food in general (KALA TEEKA!!), he's always running away from all Indian sweets. Sometimes, I manage to be creative and give posh names, like calling these cocoa burfis as chocolate fudge, and he may agree to taste one.
The only Indian sweet he cares for is Jalebi, that I get for him once in a while from our local sweets and chaats place, which makes absolutely delicious Jalebis in ghee on weekends. Those are worth every calorie they come laden with.
We have one kids' channel on TV and this week, I was watching the program Little Krishna with him. One of the ads that came in the commercial break had us both riveted to the screen.
It was Nestle Milkmaid's new TVC for coconut laddoo. And my son, the Indian sweets hater, was suddenly all wide eyed, as he saw the lovely little story roll out in 30 seconds. He watched with great interest the mother and son make coconut laddoos and he said, "Mummy, I want to make those with you. Please get the ingredients."
I told him that laddoos will be sweet and he may not like them. He was so enamoured by the ad that he insisted that he would love them. He reminded me every single day for the last 3-4 days and I finally got around to making them this afternoon.
He even sneaked in his finger into the stream of condensed milk like the kid in the ad does. Talk about absorbing every little detail to the T!!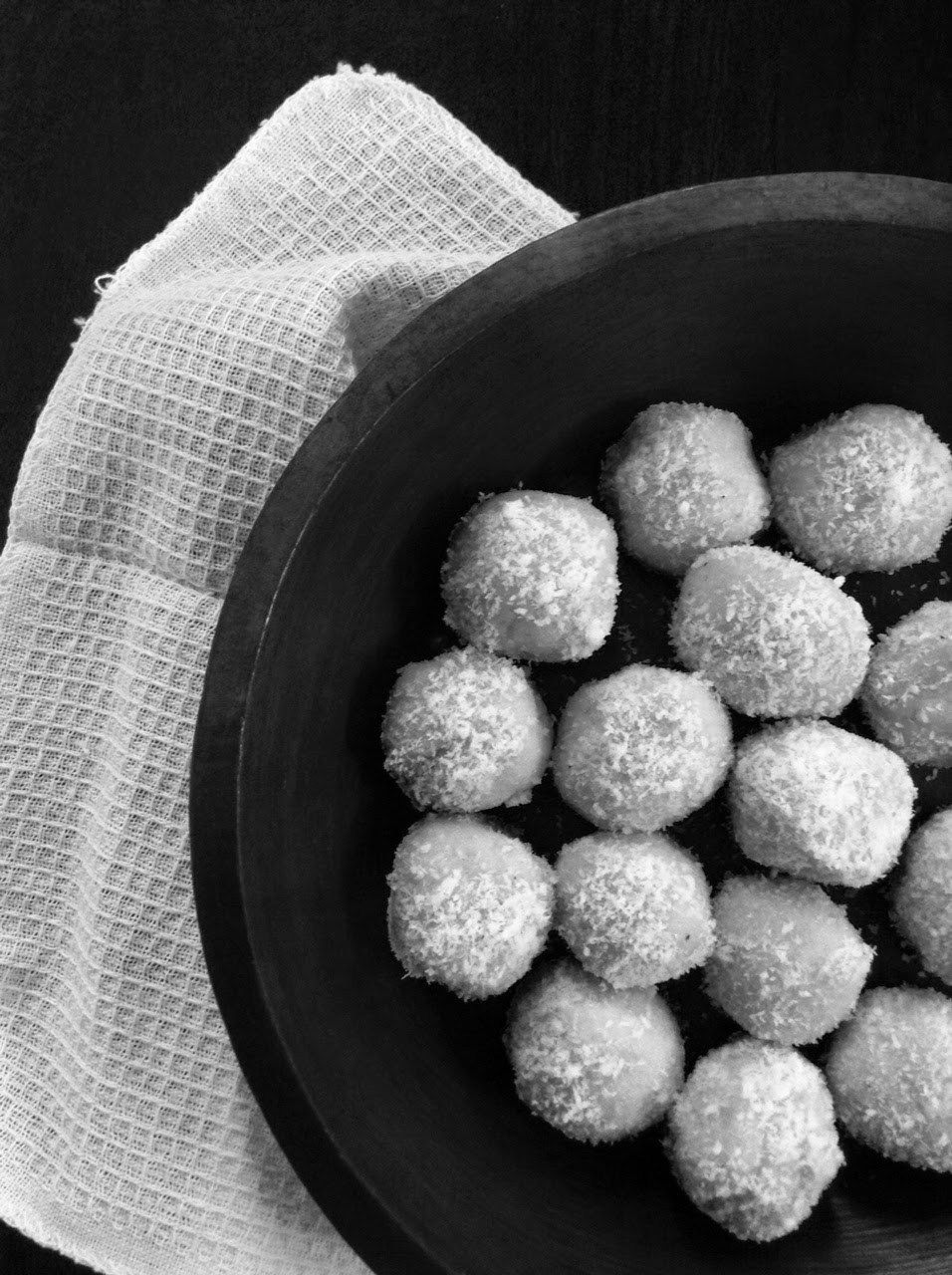 While the ad doesn't spell out the exact recipe, I have made these laddoos earlier. A friend once made this for Diwali and I had one little taste and I was hooked. It's the simplest sweet you can make for a festival.
While I made this in the afternoon, my househelp, who's quite a good cook herself, looked on in wonder and declared that it was so easy that she was going to make it for Varalakshmi Pooja herself.
These laddoos are soft and gooey as soon as you make them, and totally fudgy when you refrigerate them. I love them both ways. For 3 ingredients and less than 5 minutes of your time, this is a brilliant recipe.
Try it and you wont be disappointed. My son popped a couple of them into his mouth immediately and declared me the best mommy in the world (for the second time today)
Instant Coconut Laddoos / Coconut Fudge
Makes 24 Laddoos
Recipe for Instant Coconut Laddoo | Coconut Fudge - 3 Ingredients, 2 Minutes
This is possibly the quickest and easiest Indian sweet you (or your child) can churn out. Be it for a festival or a potluck, this is a saviour in the life of a busy cook.
Ingredients
200

grams

coconut

desiccated

400

grams

condensed milk

3 - 4

cardamom

green (seeds removed and coarsely powdered, optional)

2

tbsps

milk

powder

1/2

tsp

ghee
Instructions
In a non stick pan or heavy bottomed steel pan, on a low flame, toast the desiccated coconut for 1 minute until slightly aromatic. Remove 3 tablespoons of the coconut in a flat dish.

To the remaining coconut in the pan, add the green cardamom / elaichi powder, milk powder and almost all the condensed milk, reserving 4-5 tbsp as you may not need all of it.

On a low flame, stir them all together. In 2-3 minutes, they will come together to a ball that doesnt stick to the sides.

Grease palm with a few drops of ghee. Divide fudge into 24 portions and roll each into a ball. Roll the ball in the plate with desiccated coconut.

Do this for all 24 laddoos and then refrigerate them in an airtight container, but not before eating a couple of them while they are still warm and gooey.

To impress the kids, you can place each laddoo in a colourful cupcake liner and may be add a few sprinkles over the top!
Notes
In Hindi, this is called Nariyal ka burada. If you don't find it, use fresh coconut, or frozen coconut scrapings. Make sure they are unsweetened though.
I've tried it without milkpowder and it turns out just fine. You may reduce the condensed milk by another 2-3 tbsp, and add a little more if mixture is too dry.
With the leftover condensed milk, try my recipe for Vietnamese Iced Coffee, another addictive thing!!