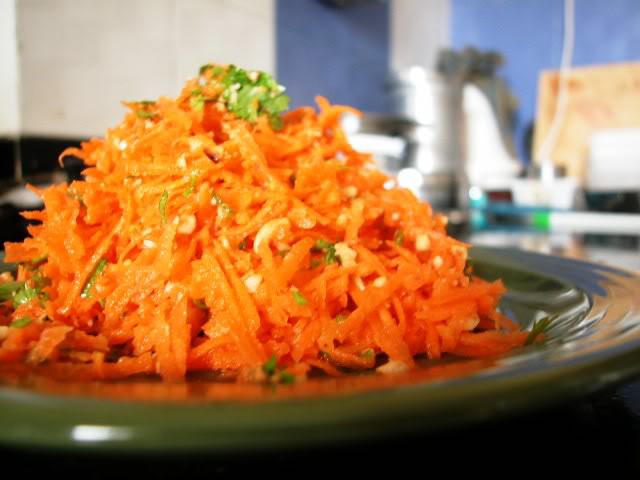 Recipe for Indian Carrot & Peanut Salad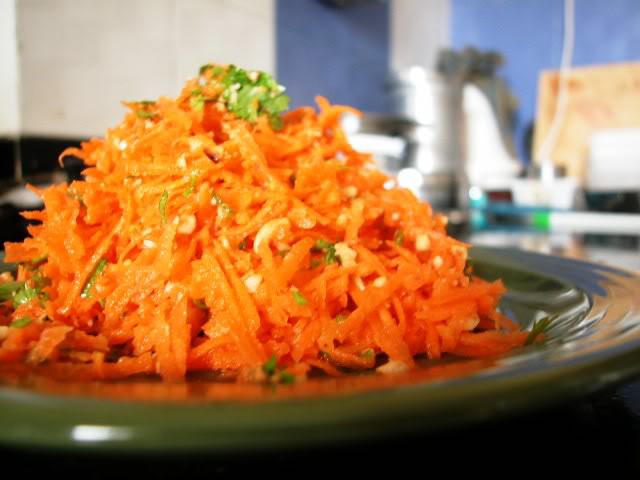 This Indian carrot peanut salad is my entry for Gabriella's Summer Salads event.
Traditionally, Indian salads are made with vegetables like carrots, cucumber, onions, tomatoes. They are either mixed in yogurt to make a raita or simply cut fine / grated with a simple seasoning. The concept of 'dressing' isn't really a part of Indian salads, which makes it much lighter and healthier
Indian Carrot Peanut Salad
Putting it together
2 Medium carrots-washed, scraped and grated
2 Tbsp roasted and coarsely powdered peanuts
1 tsp finely chopped fresh cilantro / coriander
Juice of half a lime
1 green chilli / jalapeno finely chopped or a pinch of chilli flakes
Salt to taste
Mix all the ingredients together and serve immediately
You can serve this salad as an accompaniment to kebabs, grilled fish or chicken. It's light and flavourful, sweet, sour and a little spicy from the chilli.
Note:
There can be many variations to this salad:
Use raw papaya or cucumber in place of carrots.
Use any roasted and coarsely powdered nuts instead of peanuts.
Traditionally there would be a tempering with some mustard seeds in a little oil which is put on top of the salad, but I have avoided that. You can also garnish with a bit of fresh grated coconut
Check out another traditional Indian salad-Minty Cucumber raita
Tags: Salad, Indian salad, Carrot, summer salads
(c) Nandita Iyer 2006-2015