Update:
Just realized that today is my blog's 2nd birthday. March 12, 2006 was the day I made a shaky start to this whole thing, and I'm glad, for a person who tends to get bored too soon, I've persisted. Thanks to all my friends from real life and blog life (some from blog life who've become real life friends) who have kept me going at this. Two years have simply flown past and blogging has given me a real opportunity to meet fellow food lovers from around the world, learn so many new things about food, given me lovely friends, and also a bit of fame! Thanks to all those who've been a part of my blogging journey.
Correct me if I am wrong, but this is probably the only Tibetan eaterie in Bombay. Another good thing that the SoBo-ites are missing out on as it in on the Link road stretch of the Western suburbs. With two multiplexes, one huge mall and scores of good eating options on this road, it is tough to decide where to go.
Reaching there
It is a blink-and-you-will-miss kinda place, but there's one thing you cannot miss when driving from Infinity Mall towards Oshiwara – the Lotus Petrol pump on your right. At this point, veer to your left and this small place called Sernyaa is next to a large Sansui neon sign over a shop.
The small entrance and even smaller space inside may initially disappoint you, but wait until you are greeted by the 85 year old owner Uncle John. He will welcome you like how a host welcomes guests into his house, which is a very heartwarming experience as compared to most other restaurant hosts in the city.
This Saturday was our sixth visit to the place in a span of 9 months or so. We landed up hereas we were tossing between Mainland China, Prataps Dhaba and Sernyaa to take my cousin out for dinner. Since Tibetan food sounded like novelty to her, Sernyaa it was.
The food
The food is mainly Tibetan – Soups, starters, Noodles, Rice and Main course and a small Chinese selection.
Starters
Though they have quite a variety of starters, both deep fried and stir fried, we started with Steamed Vegetarian Momos and soups. [Sernyaa special Khowa and Red Rice with baby mushrooms khowa]. This red rice, as uncle John enlightened us, is not rice, but a herb found in the hilly regions of Tibet and is extremely good for overall wellbeing.
Main course – vegetarian
Dauzien De [Rice in a clay pot cooked with vegetables and black mushrooms] – This dish can be eaten by itself as it is fairy mushy with its own sauces. One excellent dish that you must try, biting into the chewy black mushrooms is a yummy experience.
Lhasa Gyadhuk [Noodles in sizzling platter] – Noodles with veggies in flavourful sauce served on a sizzler plate
Yang Chen Chema – Snow peas, mushrooms and baby corn in hot chilli sauce
Both the noodles and the curry were excellent, spicy but not over the top. I have always found the vegetables crisp and fresh and none of the dishes use MSG (ajinomoto). Sometimes, the chef is generous with the salt though!
The meat eaters have a wide variety of options – I shall be able to give you more details in an update after my next visit.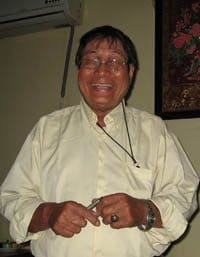 Service
We have always found the service decent and with uncle John (in the pic) popping by to ask if everything is fine, it is more hospitable than most places in this city. There is nothing great about the ambience, and sometimes one or both of the ACs are down, but that doesn't prevent us from frequenting this down-to-earth place serving good food.
The portions are large and a generous meal for three came to Rs.500.
The six odd tables are always full and the people always keeping coming back to this tiny place in Bombay with flavours of Tibet.
Sernyaa Tibetan Chinese Kitchen
185, Adarsh Nagar, Oshiwara Link Road, Andheri (W), Mumbai
Phone 66784645, 65741005, 9820531935
More on Tibetan Cuisine
Althought we eat out atleast once a week, I don't end up posting reviews here, because I feel taking pictures of food in the restaurants attracts too much unwanted attention 🙂 I am slowly getting over it and hope I shall be posting more in the 'Eating Out' section!