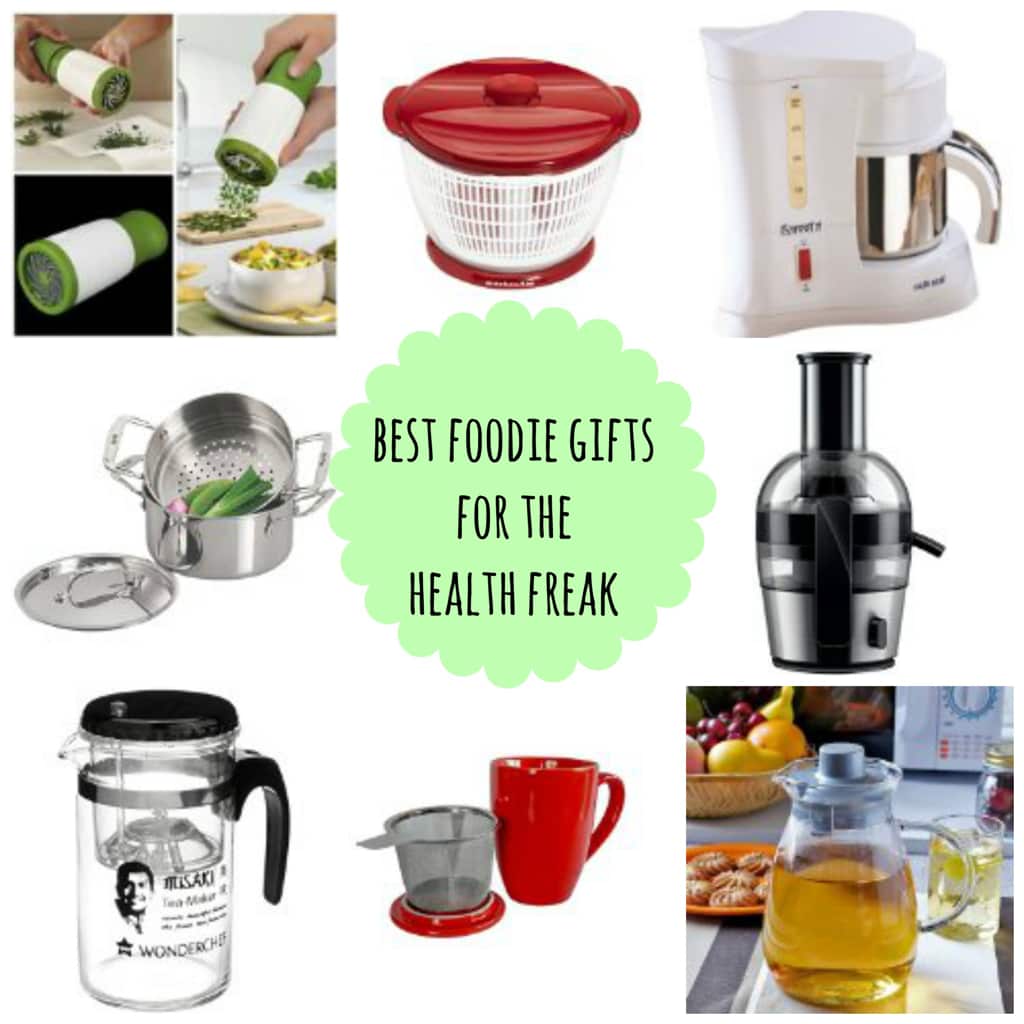 This gifting guide is for those who like to cook and eat healthy. Nothing like some cool gadgets and tools to make cooking fun. Some old favourites & new finds here!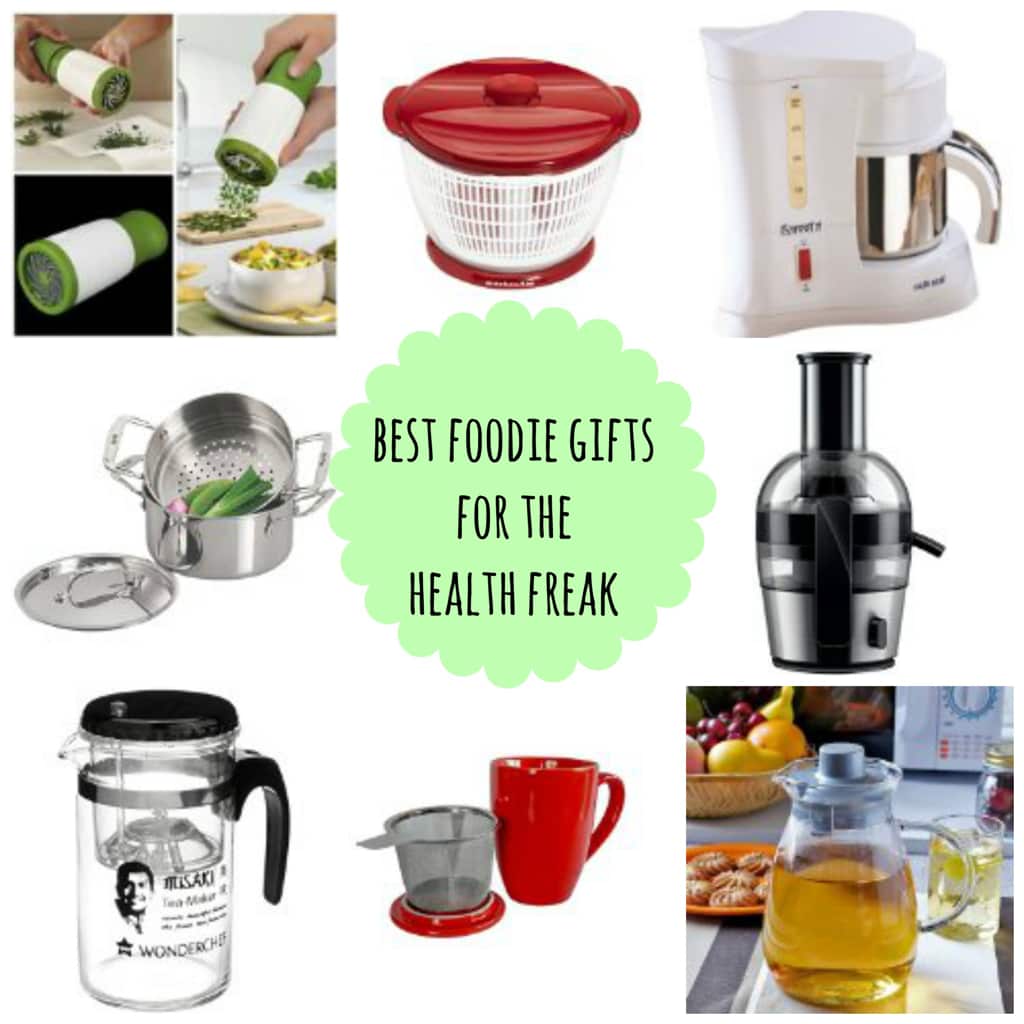 13 perfect gift ideas for the health-conscious foodie /
Come December and there's this sense of ringing away the old and ringing in the new. With Christmas and a new year just around the corner, it's time to reminisce about the good and learn our lessons from the not so good. I'm not big on resolutions but I do get into an introspective mood and set myself a couple of mantras to follow in the future. And hopefully not just for the one year to come.
Talking about the more fun things associated with the festive spirit, I have compiled a gifting guide for you, and this list is all about healthy cooking and eating. If you are looking for gifts for the health conscious person, then you will love my list (or so I hope).
These cool gadgets and tools to add the fun element to healthy. So gift your friends or gift yourself, to keep up with your healthy lifestyle resolutions for 2016.
13 perfect gift ideas for the health-conscious foodie
Salad Spinner – This colander like box helps dry out washed salad greens with a manual pump operated fan. Washed and perfectly dried salad leaves make all the difference in preparing a restaurant quality salad, as the dressing clings on to the leaves well making it a juicy flavourful salad.
Herb Mill – It's common knowledge that finely chopped fresh herbs add a ton of flavour to dishes. A chopping board and a good knife do give you the desired effect, but this cute gadget does the same, all you need to do is twist the top. It's works as a table top gadget for garnishing plates too. The flavour from fresh herbs help cut down the requirement of salt, so double benefit there!
Tea infuser – Make your own blend of tea at your work table and sip this healthy infusion through the day. You get a good dose of antioxidants and no more bad tea from the office vending machine. Choose loose leaf green tea, add a few cloves or rose petals or any other herbs of choice to make interesting blends, that will make you reach for your healthy cuppa day after day.
Direct Ceramic Infuser – Brew your tea straight into your mug with this beautifully designed Glenburn Direct into the mug infuser. Choose from the blue, red or yellow coloured mug.
Easy to Clean Juicer – If you are a regular reader of my blog, you might know that this baby is my new love. I use this juicer around 2-3 times a week, getting my fair share of extracts from a ton of greens, veggies and fruits in a variety of combinations. A good investment for your family's health! I do recommend eating fruits and veggies whole, so juices are not a replacement for that! My detailed review can be found here.
Glass Jug – For those who find it difficult to drink water ( I am one of them), infusing a clear jug of water with herbs, slices of citrus fruit and spices like a stick of cinnamon etc. make the water more palatable. It is also a visual treat. The things we do to get our 8 glasses, I tell you!
Drip Coffee Maker – If you are a lover of South Indian filter kaapi, this drip percolator gives you the best decoction without trying too hard. A lot of my relatives have been using this brand for years with no problems whatsoever. Get a packet of freshly roasted and ground coffee beans to use with this machine. This one is going to be your friend for life.
Organic Extra Virgin Olive Oil – Use it in salad dressings or as a drizzle over hummus or sautéed vegetables, this has a beautiful flavour and while you are at it, reap the health benefits too. To know more about this, you can read my post here.  Also check out Pure and Sure Organic Coconut Oil
School / Office Lunch Box – I'm not a fan of plastic lunch boxes.  I do succumb to packing in Tupperware at times, for the sheer convenience, but I try and use stainless steel as far as possible. These cute looking lunch boxes with a steel lining inside make my job packing school lunches easier! These are also available as two-tier boxes.
Stainless Steel Steamer – I'm a fan of most Alda products, especially their cooking utensils. The stainless steels ones are heavy based and real work horses. I'm sure they will last for a long time to come. This steamer is perfect for steaming momos or puddings or even vegetables like broccoli. Steam cooking ensures that water soluble vitamins are not washed away in the water on boiling them in water.
Microwave Chip Maker – Love your chips but afraid of the calories? This Mastrad Top Chip Chip maker will make chips out of anything, sans the oil. Go all gourmet with apple chips, carrot chips and more!
Herb seeds combo – Nothing beats the freshness of freshly snipped home grown herbs. If you get some sunshine in your window sill or balcony, you can grow herbs. And it's a gift that keeps giving all year long, as long as you take good care of it!
Another thing I have my heart set on is the Spiralizer, the gadget that converts vegetables like carrot, zucchini, radish etc. into noodles. So much fun right? Unfortunately, I haven't found a brand with good reviews online. This is one thing I want to gift myself for the new year 🙂 If you have bought one online in India, let me know, please?
Do let me know if I missed something interesting!
What's on your wishlist?
Please note that this post has affiliate links and Saffron Trail will earn a small commission if you purchase the product from these links. They will not cost any extra to you though. I will only recommend products that I use personally and trust for my family.