This post has the Recipe for Vegetarian Dhansak – a veg version of the Parsi Dhansak
Dhansak is a delicious Parsi dish made using a mix of lentils and vegetables and the classic recipe is Mutton Dhansak. But because we vegetarians shouldn't deprive ourselves from trying out this utterly superlative tasting dish, of course we need to have a vegetarian dhansak version too! Right?! While the meat loving Parsis will label 'Vegetarian Dhansak' an abomination, my meatless dhansak is a tasty dish, with the stamp of approval from my Parsi friends 🙂
Parsis are members of the Zoroastrian community that migrated from Persia to India over 1000 years ago to escape religious persecution. Most of them concentrated in the state of Gujarat, adapting the local language and culture as their own. Their cuisine is a unique blend of the vegetarian Gujarati food and the meaty cuisine of Persia.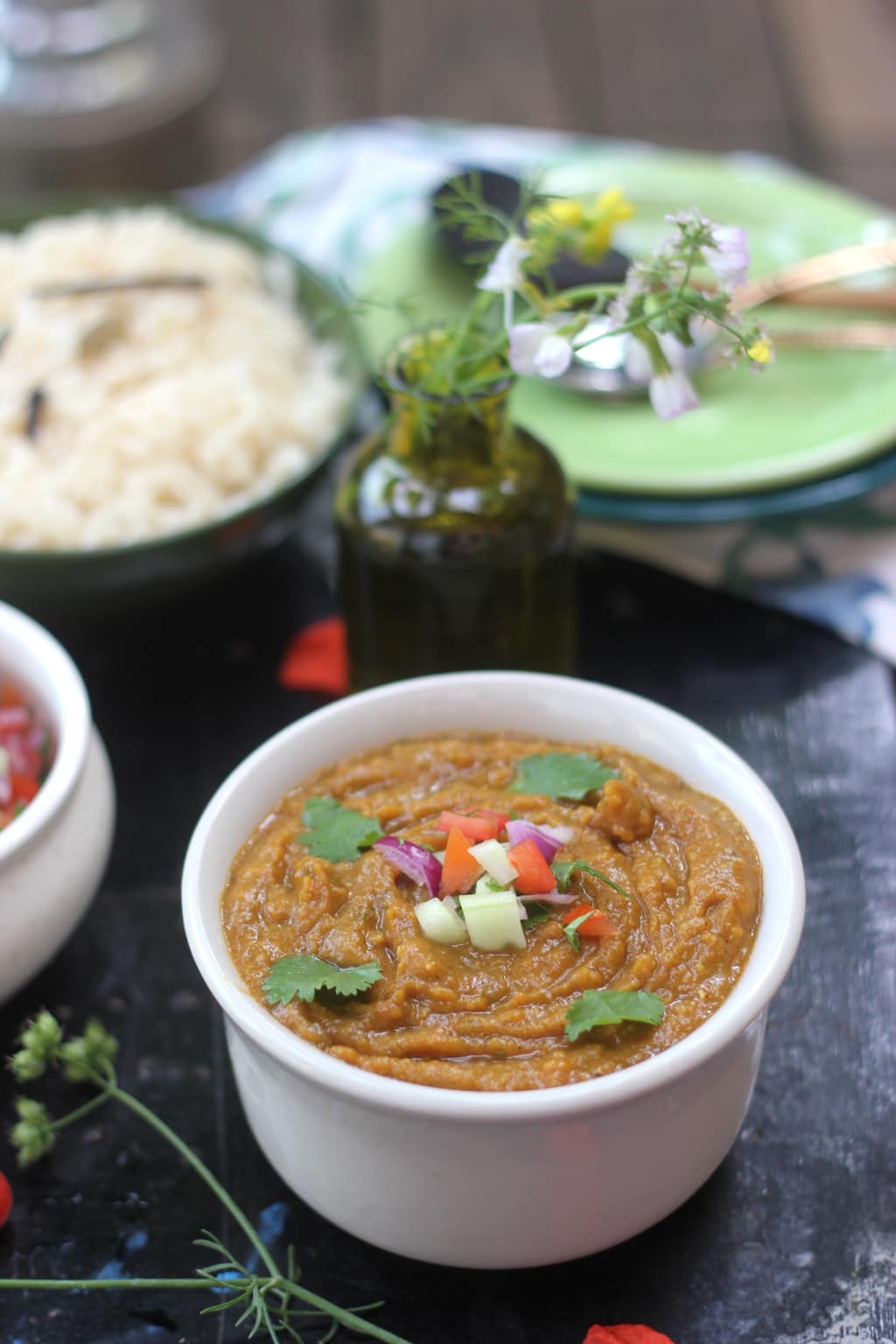 My Parsi caterer friends, Kurush and Rhea Dalal highly recommend Mangal Dhansak Masala, so I usually order a batch of masalas from their website. Their chai masala is truly heady! They deliver all over India.
There are 3 parts to this recipe. Prepping and cooking the vegetables, cooking the lentils and preparing the curry paste. It is a little elaborate alright but the complex flavours of the dish are totally worth it.
I recommend trying this for your next dinner party, where you can wow your guests with this Parsi Vegetarian Main Course – Vegetable Dhansak, Brown Rice and Kachumber.
Veg Dhansak / Vegetarian Parsi Dhansak
Dhansak is a delicious Parsi dish made using a mix of lentils (dhan) and vegetables (sakh). My vegetarian version comes with the stamp of approval from my Parsi friends 🙂 You must try this!
Ingredients
1/3

cup

Tur dal

(dry split yellow lentils)

2/3

cup

masoor dal

(dry pink lentils)

400

grams

pumpkin

golden

1

small bunch

Spring onion

greens

2

cups

Methi

greens (fenugreek leaves)

2

Brinjal eggplant

/ small

1/2

tsp

Turmeric

powder

1 - 2

tbsps

Ghee

6

cloves

Garlic

1.5

inchs

Ginger

root piece

2

Onions

medium sized

4

tomatoes

Ripe medium sized

1/2

cup

Tomato

puree

2

tbsps

Masala

Mangal Dhansak *

1.5

tsps

Salt

Water

(as required in recipe below)
Instructions
Place the lentils in a bowl, wash thoroughly. Pressure cook with 3 cups water for 1 whistle and for 15 minutes on sim. Once cooker is cooled, open the lid, mash the lentils with a ladle and keep aside. (Watch how to cook lentils in a pressure cooker)

While the lentils are cooking, peel, deseed and chop pumpkin into large chunks. Slice the stem end of the eggplant and chop into quarters. Slice the spring onions (only greens) into batons. Finely chop the fenugreek leaves. Place in a pressure cooker with 1 cup water, pinch of turmeric powder and salt and cook for 1 whistle and 5 minutes on sim.

Peel and finely slice the onions. Chop the tomatoes roughly. Peel garlic cloves and crush to a coarse paste along with sliced ginger root and a pinch of salt.

Heat the ghee in a deep, heavy bottomed pan. Add the freshly prepared ginger-garlic paste and sliced onions. Salute on medium flame until onions turn somewhat golden.

Add the chopped tomatoes, 1/2 tsp salt and stir continuously on high flame, until the tomatoes turn into a pulp.

Add the Dhansak masala powder (readymade or see substitute recipe at end of post), and stir well until it is incorporated into the onion-tomato base, for around 3-4 minutes.

To this add the mashed lentils, coarsely mashed cooked vegetables, add up to 1/2 cup water and bring to a simmer. Dhansak has a thick consistency, so add water cautiously. Taste and add up to 1/2 tsp salt as required. Simmer for 4-5 minutes on a low flame.

Traditionally, dhansak is served as a smooth puree, so once cooled you can blend this into a puree and reheat when ready to serve.

Serve hot with Parsi Brown Rice or plain steamed rice and a kachumber (Parsi style onion-tomato-cucumber salad) on the side.
Notes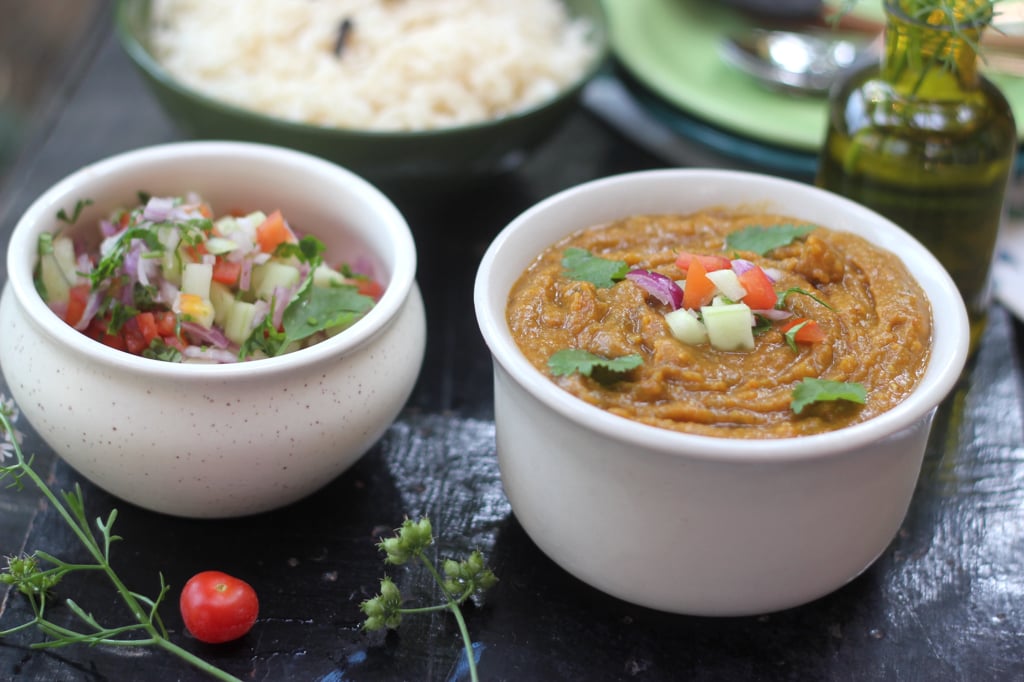 This recipe makes enough dhansak to serve 6 people. Even if you are just 2 at home, it is worth making and saving half of it for later. It tastes better after the flavours have sunk in for a day or so. It will keep for 2-3 days in the refrigerator, in an airtight container.
*In case you cannot find a ready Dhansak Masala, dry roast the following and grind to a fine powder and use this spice powder instead: 6-7 Red chillies, 1 tsp cumin seeds, 1 tbsp coriander seeds, 2 pieces of 1" cinnamon sticks, 2 green cardamoms, 6 pepper corns
You can easily make this a vegan dhansak by replacing the ghee with any vegetable oil.
I do hope you will give it a try. The flavour of this lentil dish is like no other and I promise you'll totally fall in love with this.
Check out a simpler version of a Parsi Dal: Rhea's Parsi Masala Dal, and this one uses Mangal Dhansak Masala as well.