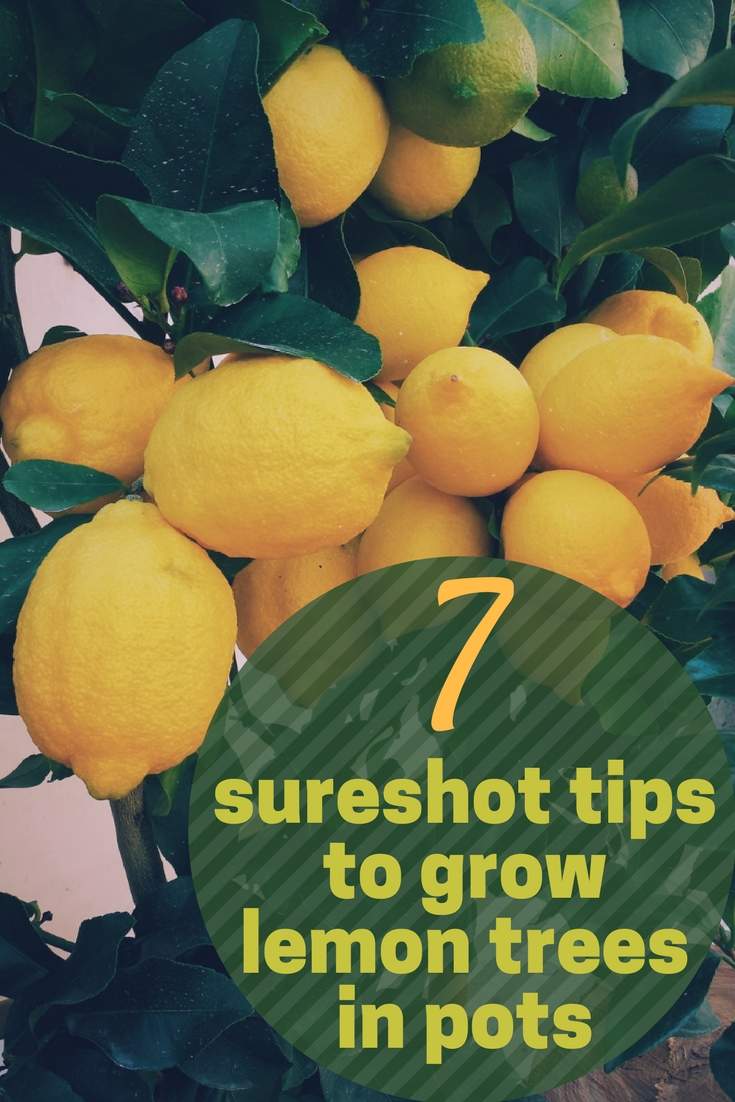 You can successfully grow a lemon tree in a pot – read on to get all the details!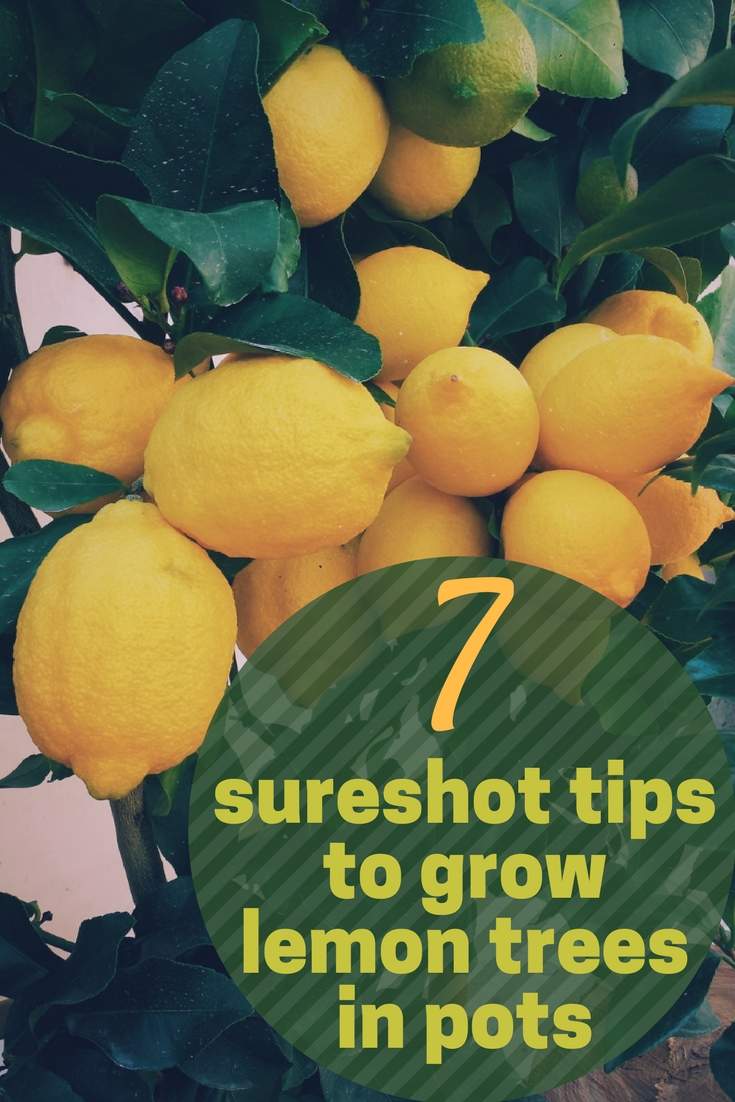 Pin
Those who follow my gardening life on Instagram may know that I have been struggling with a lemon tree planted in my garden. It is finally showing some signs of flowering and fruiting. I will share with you in another post on the steps I took to make my lemon tree productive.
So in your enthusiasm, you have brought home a lemon plant from the nursery…
What is to be done now??
This post is all about growing a lemon tree in a pot or growing a lemon tree indoors. It is very much possible, and sometimes, a better option than growing in a garden, because of the controlled environment. Sometimes, unseasonal rain, and lack of sun in the spot where your lemon tree is growing can cause a lot of damage, which can be easily rectified if your lemon tree is in a pot.
So are you all set to grow a lemon tree either on your sunny balcony or in a sunny spot in the garden? Imagine the steady supply of juicy lemons for lemonades, mojitos, salad dressings and pickles! My mouth watered a bit, even as I typed that.
So start dreaming about all this already, because at the end of my post, you will feel confident enough to undertake this project.
Trust me, I have scoured the internet – both websites and Youtube videos and not found all this information in one place. It's a lot of research that I'm compressing into one easy post for you!
Don't miss this post:  6 BRILLIANT YOUTUBE CHANNELS FOR HOME AND KITCHEN GARDENERS
1. SELECTING A LEMON PLANT
Select a good quality, high yield plant from the nursery. A grafted lemon plant works best as it will start yielding fruit in the same year. A plant grown from seed will take nearly 5 years to start fruiting. Choose a plant with a couple of fruits and a few blooms, so you know that it is a fruiting grafted variety. Ask your nursery people for more information. I would highly recommend making a trip to the nursery and not ordering this online.
2. SELECTING A POT FOR LEMON TREE
While you are at the nursery, pick up a 14" pot – plastic works well because it retains the heat which a lemon plant loves. If you prefer terracotta, that is fine too. Make sure the pot has a good number of holes for proper drainage.
3. THE ALL IMPORTANT SOIL MIX FOR LEMON TREES
Now for the mix. Lemon or any other citrus plant needs well draining light soil. A compacted mass of a soil in the pot will not help the growth of the feeder roots from the tap root system. After a lot of reading and research – I have come to this formula. A regular potting mix is equal parts garden soil, cocopeat and compost. For lemon, instead of 1 part garden soil, I dilute the garden soil with 50% sand for faster draining and lighter soil. You can buy sand from any garden / construction store.
So ideal potting mix I have prepared for a lemon tree is:

30% compost
30% cocopeat
20% garden soil
20% sand
I learnt from a gardening series with expert Monty Don to use thermocol (styrofoam) bits at the bottom of the pot. This not only lightens the pot weight but also ensures the roots don't stay soggy. To pot the plant, put in a layer of thermocol bits at the bottom of the pot. Top with 3-4 handfuls of compost. Tap well to remove any air pockets. Place the plant on top of this (minus any plastic cover it came in) and shovel the prepared potting mix all around the plant so that it is held in the centre. Top with 1-2 inches of the prepared mix as well. Water well until the water comes out from the drainage holes.
4. MULCHING
A lot of websites and experts recommend keeping the top layer of the plant covered with mulch, to avoid the weeds which lemon plant hates.
5. POSITION OF THE LEMON TREE
When it comes to a lemon tree, it is all about location. Keep your newly potted plant in semi shade and not full sun, so that it gets adjusted to its new home. Once you see new leaves cropping up, time to move it to full sun, where the plant gets at least 5 hours of good sunlight. South-facing is the most optimum position for the plant. If you are growing the lemon tree in a pot in the balcony, then keep note of the direction of maximum sunlight and place accordingly.
6. WATERING THE LEMON TREE
A newly potted plant needs to be watered well every alternate day – deep watering is essential so that the root ball gets the necessary hydration. Once the plant is somewhat established, watering can be tapered to twice a week and then once a week or so. A good test is to poke the soil with your finger. If more than one inch of the soil is dry, then better to give the lemon tree a watering. Summers may need more watering so keep an eye on how dry the soil is. Lemon tree in a pot needs more careful watering than that in the ground as the roots cannot spread outside of the pot in search of water.
7. LEMON TREE FEEDING
Citrus plants are demanding in terms of nutrition, so make sure you feed it adequate well rotted compost every two months, apart from any other nutrients that it may specifically need, such as potassium, magnesium etc. When you are growing lemon tree in a pot, each of these problems can be addressed to separately.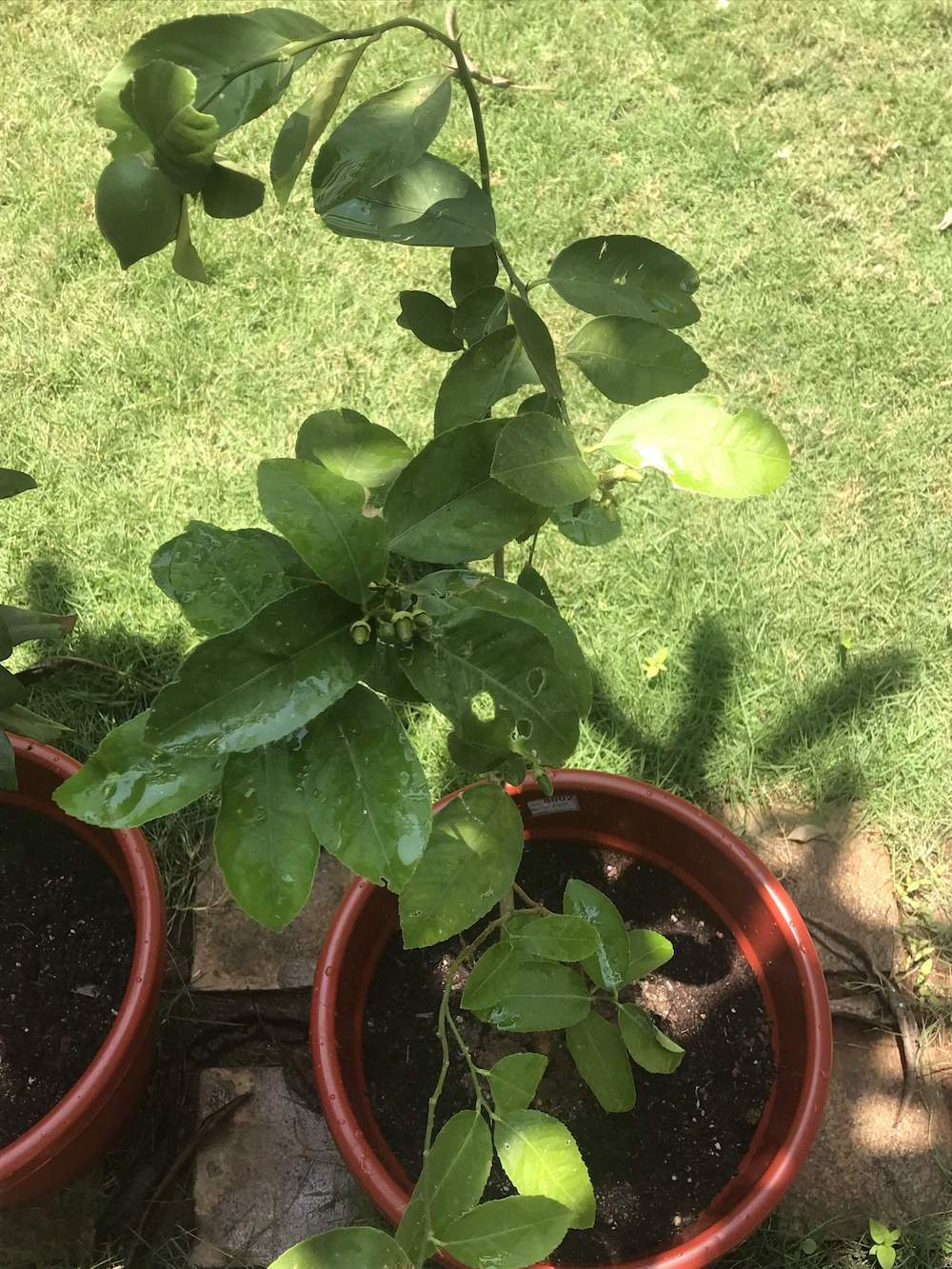 Pin
So this is my lemon plant in a pot and I have potted this today. You can see that I've chosen a plant with a few lemons on it already. Fingers crossed while I continue to dream of a bumper crop this winter!
Don't miss this post: