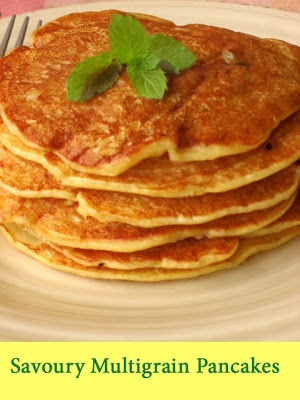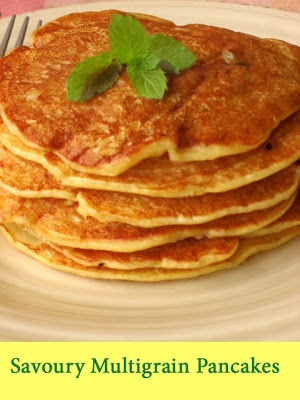 A recipe for savoury multigrain yeast pancakes 
When yeast is used in pancake batter, it does away with the need for eggs, milk or baking powder. Kerala cuisine regularly uses yeast to make a variety of aapams.
These savoury pancakes made from a mix of flours, can be made savoury or sweet. Since we are more the savoury breakfast kinds, I have used onions, green chillies and salt. You could easily replace this with brown sugar or jaggery and serve the pancakes with fruit compote or maple syrup.
Feel free to use up any flour you have. Sometimes, we have a little bit of a variety of flours left over. This is a great way to clean up the flours in your pantry. I would like to try this out with ragi and buckwheat flour along with the rice and whole wheat flour.
Recipe for Savoury multigrain yeast pancakes
Serves 4 people, number of pancakes depends on the thickness and size
Savoury multigrain yeast pancakes
These savoury pancakes make for a quick breakfast or dinner. The key ingredient here which isn't usually used in pancakes results in soft fluffy pancakes. And that does away with the need for eggs, milk or baking powder.
Ingredients
1/2

cup

cornmeal

1/2

cup

chick pea flour

1/2

cup

rice flour

1/2

cup

whole wheat flour

1 1/2

cups

water

(plus some more to adjust consistency)

1 1/2

tsps

instant dry yeast

1

tsp

sugar

1

tsp

salt

1

onion

sliced thin

2

green chillies
Instructions
Mix all the flours and salt in a large bowl with a fitting lit.

In a smaller bowl place the yeast with 1/2 cup hand-hot water and 1 tsp sugar. Cover and keep aside for 10 minutes until frothy and bubbling.

Pour this activated yeast with another cup of water in the bowl with dry ingredients.

Add the finely chopped chillies and sliced onions. Mix well and cover with a fitting lid. Keep aside for upto 1 hour, till the batter is risen and bubbly.

Heat a greased non-stick or cast iron skillet over medium flame. Before the skillet gets very hot, pour a ladle full of batter and let it spread naturally. Do not spread out thinly with the ladle. Use a few drops of oil around the edges if necessary. Wait for 30 seconds to a minute until there are holes around the edges. Flip over and cook for another 30 seconds to a minute until the pancake is well cooked and golden brown.

Serve hot with coriander-mint chutney or as it is.